BYU Basketball: Lone Peak trio looks to put Cougars back in national spotlight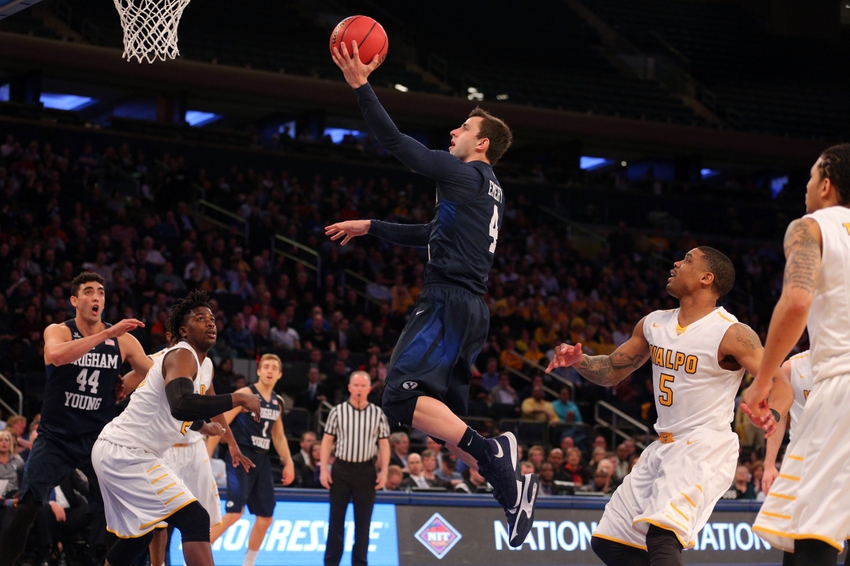 Eric Mika, Nick Emery and T.J. Haws set to lead BYU basketball throughout the 2016-17 season.
Through the first four games of the season, BYU is undefeated, led by a trio of talented underclassmen who are combining to score more than half of the Cougars' 88 points per game. These three players are much older than their class would indicate due to their two-year Mormon missions.
They also have something else in common.
Sophomores Nick Emery and Eric Mika, along with freshman T.J. Haws, attended Lone Peak High School in Highland, Utah. Emery and Mika graduated in 2013, while Haws graduated a year later.
The three took the high school basketball world by storm during the 2012-13 season. They led Lone Peak to a 26-1 campaign, including going 6-1 against teams that were nationally ranked. They also won the mythical high school national championship.
Nick Emery was named Utah's Mr. Basketball by Deseret News, T.J. Haws was named class 5A MVP, and Eric Mika was selected to the class 5A All-State team. They dominated high school basketball that season and all three committed to BYU as top 60 recruits, according to ESPN.
The trio ended up taking their missions at different times, and this is the first season that they have played together since their 2013 high school championship. They already have BYU looking like a contender in the WCC and a threat to major conference teams in March.
Emery and Haws have proven to be a dynamic backcourt pairing and are averaging a combined 24.8 points per game on almost four threes per contest. BYU is known for their high paced offense – they are currently second in the country in adjusted tempo – predicated on playing inside-out. The threat of Emery and Haws' shooting has helped open up the paint for their teammates, and Mika in particular has feasted on all the space down low.
It is hard to put into words just how dominant Mika has been to start out his sophomore season. The 6'10", 240 pound big man is averaging 20.8 points, 11.8 rebounds and 2.8 blocks per game. And oh, by the way, he is doing that in just 23 minutes per contest. Mika currently has an otherworldly +63.1 net rating and is 15th in the entire country with a 42.6 PER (player efficiency rating).
Mika had a really impressive freshman year two seasons ago, but he received limited touches playing alongside some of the best players in BYU history such as Tyler Haws (TJ's older brother) and triple-double king Kyle Collinsworth. He was effective, but only used 22.5 percent of possessions when he was on the floor.
This year, Mika is leading BYU using 31.3 percent of possessions. He has not disappointed so far with a 63.6 effective field goal percentage.
Probably the biggest improvement in Mika's game, outside of his increased usage and confidence, is the continued development of his shooting touch. He is by no means a dominant shooter (he has yet to attempt a three), but he is shooting 82 percent from the free throw line, compared to just 61 percent in his freshman season.
He has also showcased an improved face up game. While he is most comfortable bullying defenders on the block, his ability to face the basket in the post and hit jumpers between 10 and 15 feet has made him virtually unstoppable on the low block.
Mika has been an absolute beast to start the season, and while Emery and Haws have been great, they still have a lot of room for improvement. They were two of the more talented scorers in the country coming out of high school, and if they can come close to matching the production Mika has provided, BYU could see themselves advance past the NCAA Tournament's first weekend this March.
This article originally appeared on