BYU basketball: Cougars' attitude is making them special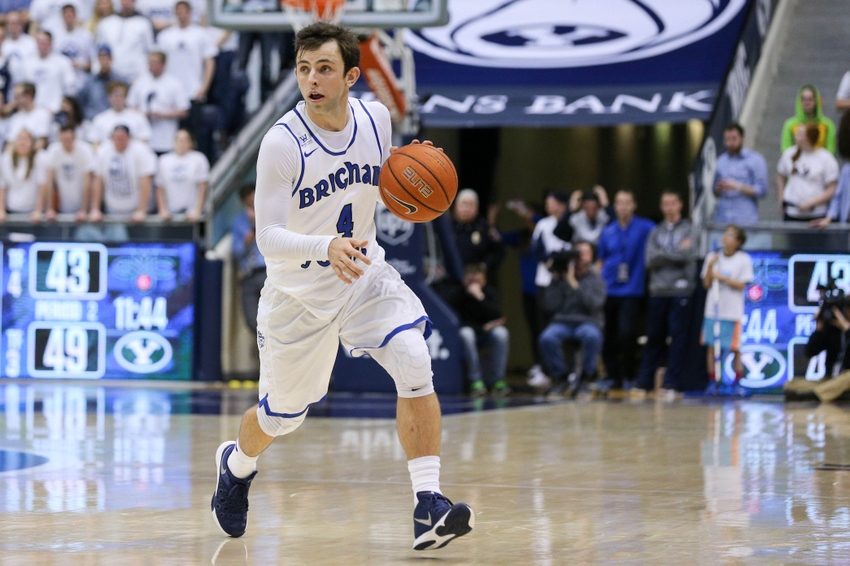 The BYU basketball team is currently undefeated, but the Cougars' record on the court isn't nearly as exciting as their attitude on the floor.
The BYU basketball team is 4-0 on the season and is staring at a matchup with the Valparaiso Crusaders in Las Vegas.
The Cougars haven't just been winning games, they've been destroying teams. Their smallest margin of victory thus far was nine points against Princeton. Their other three wins? They've won by a combined 83 points.
Head coach Dave Rose, along with every BYU basketball fan has been waiting for this day. When the Cougars finally got all that talent on the court. It took a long time, but BYU is being led by the heralded Lone Peak Three and the results are. . . stunning.
Boston-centric sports writer Bill Simmons once said that a basketball team takes on the persona of its best player. He was referring to the shift in the Boston Celtics to ship away Paul Pierce, Ray Allen and Kevin Garnett to go young. KG led the C's to a NBA title, and the team became a gritty, trash-talking powerhouse. Going young meant giving Rajon Rondo the keys to the car, so the C's became a temperamental mess.
More from Lawless Republic
Taking this west, think about the BYU basketball team the past few years. The Jimmer Fredette years were calm, cool and collected, mainly because Jimmer would score on anyone at anytime. Plus, there was an element of toughness because Jimmer (and Jackson Emery) were both low-rated recruits who wanted to out work everyone else.
After Jimmer, there was Noah Hartsock, Brandon Davies, Tyler Haws and Kyle Collinsworth. Each of those players were talented in their own right, but those teams were characterized by bad losses and poor play in big moments.
That's due partly because the talent on the roster was lacking, but it's also worth noting that none of those players were particularly clutch. None of them were the assassins that Jimmer was. Granted, that can't be expected year in and year out, but I think that's why many of those BYU basketball teams were unable to make a splash.
This is purely me conducting an eye test, but I often felt like no one wanted the ball in the final seconds (except for Matt Carlino and Chase Fischer, for better or for worse). The Cougars would play hesitant, or at least it felt that way.
No more. It took these young, new-look Cougars just four regular season games, but I'm sold.
These guys are killer. They've got the swag necessary to be a great hoops team and the confidence to put away any team.
Why? Look at the best player(s).
Eric Mika dominates the post. He's posted double-doubles in three of BYU basketball's four games, but it's more than that.
I couldn't dig up a video of it, but against Princeton, Mika was tied up with Hans Brase. The whistle blew, but Mika didn't stop going for the ball, eventually wrenching it away from Brase.
The basketball belongs to Mika.
A few plays later, Mika went full-KG. The whistle blew the play dead and Princeton took a shot. Mika rose up and snatched it. No free makes. He won't give you the satisfaction of watching the ball rip the net.
The basketball belongs to him. No ifs, ands or buts.
Similarly, watch Nick Emery play. I'm still campaigning to nickname him "The Villain," because he's easily BYU basketball's most hated players. Other fans hate him, other players get visibly frustrated with him, and I love it.
He's the type of guy that just gets under your skin. He jaw-jacks, he's a pitbull defensively, and he's always trying to make a play. You can't go around punching people in the face, but I appreciate the fire from him.
See? "The Villain" is a pretty good nickname, right?
Sure, he'll jack up a 3-pointer eight seconds into the shot clock, but I'll take a cold-blooded guy like that over a guy that seems hesitant.
Finally, TJ Haws is the true definition of a silent assassin.
He's got an incredible feel for the game, and he's a flashy playmaker for BYU basketball. Just check out this play from the Cougars' 30-point win over St. Louis.
Haws dropped 20 points in his collegiate debut, just the fourth freshman in BYU basketball history to do so.
He's surprisingly quick, a really great ball-handler, and he'll shake and bake defenders before hitting pull-up 3-pointers.
Haws lets his on-court game speak for itself.
Between Mika, Emery and Haws, the Cougars are in really great hands. It's been special watching the identity of this team form, and I love where it's going.
BYU basketball might become the villains of the West Coast Conference. The team that's gritty and nasty and chirps all night long.
And you know what?
That sounds awesome.
There will undoubtedly be growing pains this season – the Cougars are too young to not have moments, or even stretches, of poor play. But the good will far outweigh the bad this season.
I think it's within the realm of possibility to go 3-1 against St. Mary's and Gonzaga this year in the regular season. I also think getting to the WCC title game is a realistic goal.
Obviously one can't predict injuries, but assuming the core of this group stays healthy, the ceiling for BYU basketball is a high one.
Want your voice heard? Join the Lawless Republic team!
One just needs to look at the leaders of this team. BYU basketball finally has its big three. Mika brings the toughness, Emery brings the swag and Haws brings the cold-bloodedness.
I'll bring the popcorn.
This article originally appeared on