BYU Basketball: Can Cougars recover in time to face USU?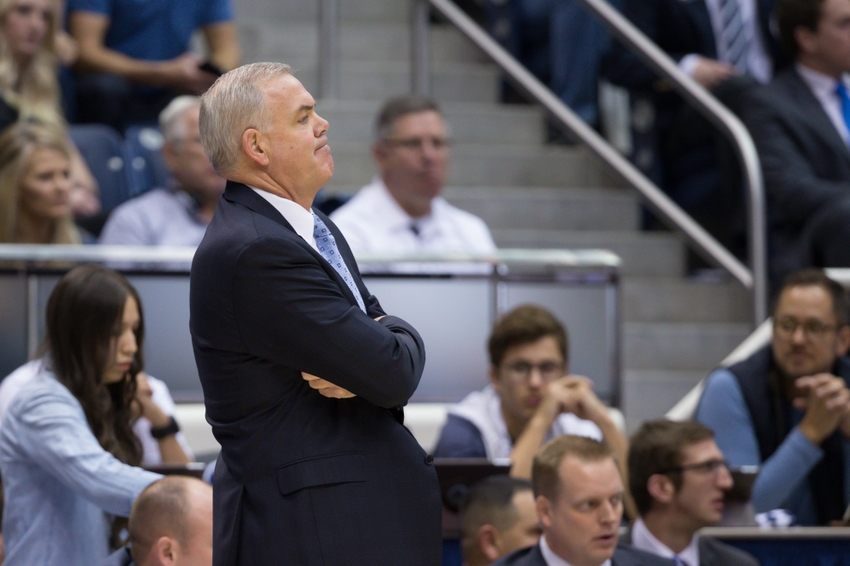 A perfect storm resulted in BYU basketball's worst home loss ever. Can the Cougars rebound for a tough neutral site game against a hungry USU team?
I may just be terrible at predicting basketball games.
When BYU basketball played Princeton on November 14, I conservatively called for a loss for a young team against a senior-laden one. I was wrong, and BYU basketball picked up a solid victory.
I believed the Valpo game would be a tough test, but most likely the Cougars would pull it out. That they didn't was not a large surprise, considering the youth and some of the whistles, but still, wrong. 
And I was sure the Cougars would cruise over the progressing but fledgling program that is the UVU Wolverines. The talent, venue, and history were all on BYU basketball's side.
I'm pretty sure I wasn't alone in this thought.
I thought it when the Cougars were down 16-20 early in the first half. I still thought it when the Wolverines led by 10, when they hit eight of their first nine 3-pointers, and when they had a deep banked three at halftime to retake the lead. Every time BYU would rally, only to have the Wolverines snatch the comeback away like a dollar on a string. But I still held on.
It wasn't until deep into the second half, when only five minutes remained on the clock, that realization dawned. That again, I was so very, very wrong.
Yet another deep shot fell, one of a record 18 3-pointers for a foe at the Marriott Center. The UVU lead ballooned to 16. And I and thousands of watchers everywhere knew that BYU basketball would drop its first loss ever to their neighbors in Orem.
The perfect storm required came together. The cauldron of youthful mistakes, suspect defense, career-high shooting and incredibly sub-par officiating created a loss for the Cougars that 97 times out of 100 would be a win.
History shows that Dave Rose teams don't lose twice in row, especially outside of conference play. History just got 18 treys shoved down its throat.
So now the Cougars must pick up the pieces. It won't be an easy task, against a feisty instate rival in Utah State. The annual game at the D̶e̶l̶t̶a̶ ̶C̶e̶n̶t̶e̶r̶  E̶n̶e̶r̶g̶y̶ ̶S̶o̶l̶u̶t̶i̶o̶n̶s̶ ̶A̶r̶e̶n̶a̶  Vivint SmartHome Arena is against the Aggies this year.
You can be sure that USU will be ready to pounce on the reeling Cougars. It matters very little that the Aggies have struggled to find themselves a bit since longtime coach Stew Morrill retired. They have the same record as BYU, 4-2, on the early season. Of course, opponents like NJIT, Bristol, and Idaho State don't exactly make a compelling case at greatness.
Still, it's a tougher schedule than Utah's.
BYU basketball appears to have a big chink in its armor, and this is the perfect game to see someone take a stab at it. Don't be surprised if you see a lot of instant double-teaming in the post. BYU's big men have yet to show they have the passing acumen to make teams pay for it.
Add to that, it will be a true neutral site, as the Aggies' student section traditionally has a great showing in the home of the Jazz. They will be hungry after another football loss at LES Saturday.
BYU basketball's shocking loss Saturday won't exactly inspire reciprocation from the Roar of Cougars student section, either. Especially because unlike their Logan-based, bovine equivalent, they don't get a free trip down on UTA.
The ROC can feel free to take that as a challenge.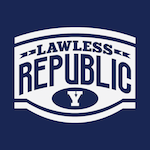 Apply to Lawless Republic.
Start your application process by filling out the fields below
A rare third-consecutive loss for the Cougars looms as a distinct possibility. History says that the Cougars win in VSHA (seriously, has anyone come up with a good way to shorten that name yet?). But if the same team that gave up a record 114 points at home shows up, I predict that the Cougars will lose.
By recent logic, this prediction will result in BYU winning by 30.
More from Lawless Republic
This article originally appeared on