Butler Basketball: Kamar Baldwin's game winner helps Butler escape Northwestern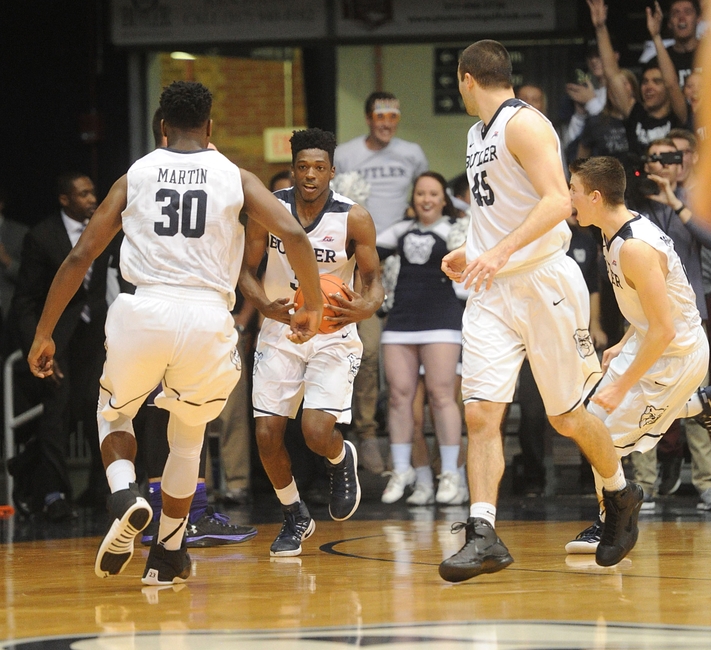 Butler basketball improves to 2-0 thanks to their freshman point guard.

70

68
Kamar Baldwin wasn't ranked in ESPN's top 100. He didn't receive offers from a plethora of high major schools. And he was only labeled as a three-star talent by ESPN coming out of Apalachee High School.
But putting all rankings aside, Baldwin has already overachieved and has looked like a core piece to the puzzle moving forward.
In Butler's second game of the season, the freshman point guard hit a game winning step-back jump shot with 0.5 seconds remaining to lead the Bulldogs to an impressive 70-68 victory over the Northwestern Wildcats at Hinkle Fieldhouse on Wednesday night.
The youngster showed zero fear in his first major college game, as his production went beyond just a last second go-ahead dagger.
Baldwin was a force throughout the night on both ends of the floor. He used his quickness and speed to attack the lane, and his dangerous three point shot to keep the defense honest. He scored 11 points on 5-of-8 shooting, dished out three assists and grabbed three rebounds.
His true impact throughout the night came on the other end of the floor though. Baldwin's pressure defense, never-ending motor and quick hands resulted in multiple Northwestern turnovers and shaky offensive possessions. He finished the game with three steals, but he deflected multiple passes and got his hands on the ball in some dribble drive situations.
He was so active and effective that he played 28 minutes on Wednesday and was in over veterans Tyler Lewis and Avery Woodson late in the game.
Baldwin was the hero but he wasn't the only impact performer for the Bulldogs.
Kelan Martin scored a game high 22 points on 6-of-16 shooting and Andrew Chrabascz added 13 points and seven boards. Butler shot only 38 percent from the field, 30 percent from beyond the arc and recorded only seven assists, but they turned the ball over just eight times compared to 16 Northwestern giveaways.
The Bulldogs ran consistent high pick-and-rolls and made a concerted effort to run their offense through Chrabascz in the post.
With Northwestern's lacking front court, this was the perfect game plan for Chris Holtmann. The Bulldogs controlled the interior for most of the night, as they added 12 offensive rebounds and got occasion easy buckets at the rim.
Holtmann's team struggled defensively though, which helped keep Northwestern in the game for most of the night. The Wildcats' ball and player movement caught the Bulldogs off-guard. Chris Collins' unit shot 48 percent from the field overall and 45 percent from beyond the arc, while dishing out 14 assists on 24 field goals.
Bryant McIntosh was surprisingly quiet for most of the night, but Vic Law was on fire (17 points) and Scottie Lindsey played well in the second half.
While this leads Butler to a 2-0 record, this Gavitt Games match-up will be looked back on in March as a critical game for both teams.
The Bulldogs and Wildcats are both expected to be in the mix for the NCAA Tournament when March rolls around. However, now the Bulldogs have the upper hand if they do happen to land on the bubble. They have other chances to pull out quality wins during their non-conference schedule, but losing a game on their home court this early in the season would not be beneficial.
For Northwestern, they too have a few more opportunities to build their resume before Big Ten play. They have the Legends Classic in New York (they will face Texas on Monday) and play Dayton in the middle of December. But this game against Butler was a true road test against a high-caliber opponent.
They missed the ball on a big time opportunity, which will greatly impact their chances of making their first ever NCAA Tournament. And of course, they have Baldwin to thank for that.
More from Busting Brackets
This article originally appeared on