Butler Basketball: Bulldogs bounce back with big win over Cincinnati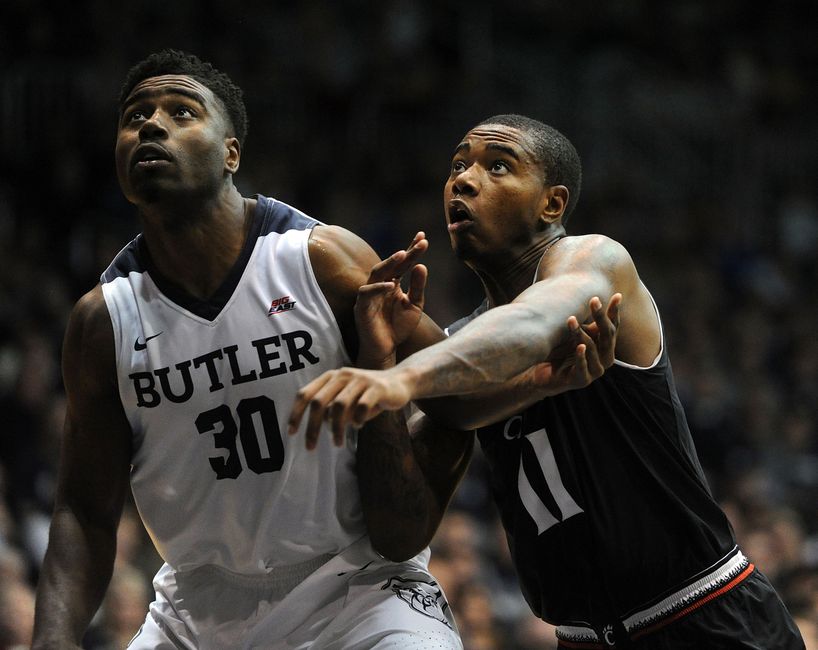 In a battle of two ranked teams, Butler basketball took down the Cincinnati Bearcats in front of a sold out Hinkle Fieldhouse.
VS.
| | | | |
| --- | --- | --- | --- |
| | 1 | 2 | T |
| Bulldogs | 35 | 40 | 75 |
| Bearcats | 35 | 30 | 65 |
Just two days removed from their first loss of the season to Indiana State, 16th ranked Butler returned home and knocked off 22nd ranked Cincinnati in the back-end of a home-and-home. A far different team than the one that beat the Bearcats on a last second Roosevelt Jones buzzer-beater last season, the Bulldogs continued to impress, notching their ninth win in non-conference play.
Kelan Martin once again led the Bulldogs in scoring with 20 points on 6-of-14 shooting, despite coming off the bench for the first time all season. On the other hand, Troy Caupain had the hot hand for Cincinnati, shooting 9-of-15 for 22 points.
On the whole, it was a competitive game, but Butler held the lead for the majority of the afternoon. They took advantage of hot shooting by the entire roster, going 8-of-20 from behind the arc. Along with their shooting from deep, the Bulldogs were deadeye from the free throw line.
When it came down to crunch time and Butler was looking to protect the lead, they did not back down. Butler followed the lead of their point guard Tyler Lewis, who was 7-of-8 from the stripe, and buried fouls shots to the tune of 21-of-26 (80.2 percent).
From the perspective of Cincinnati, this was one of their weakest games on the glass. Despite being known as a physically dominating team in the paint, the Bearcats out-rebounded Butler by just one.
Along with this, the tremendous efforts from Caupain (22 points, five rebounds) and Gary Clark (14 points, 12 rebounds) were not enough cover up the poor play of leading scorer Kyle Washington. Washington, who was averaging 17.3 points and 9.0 rebounds entering this match-up, fouled out after 19 minutes, where he totaled just seven points and zero rebounds. The Bearcats are going to need more production from him in big games for them to succeed.
On the whole, it was Butler who stepped up in front of the sold out Hinkle Fieldhouse crowd and took the victory. The reward: A date with Indiana.
More from Busting Brackets
This article originally appeared on