Blowout of UMKC Gives Bill Self 600th Win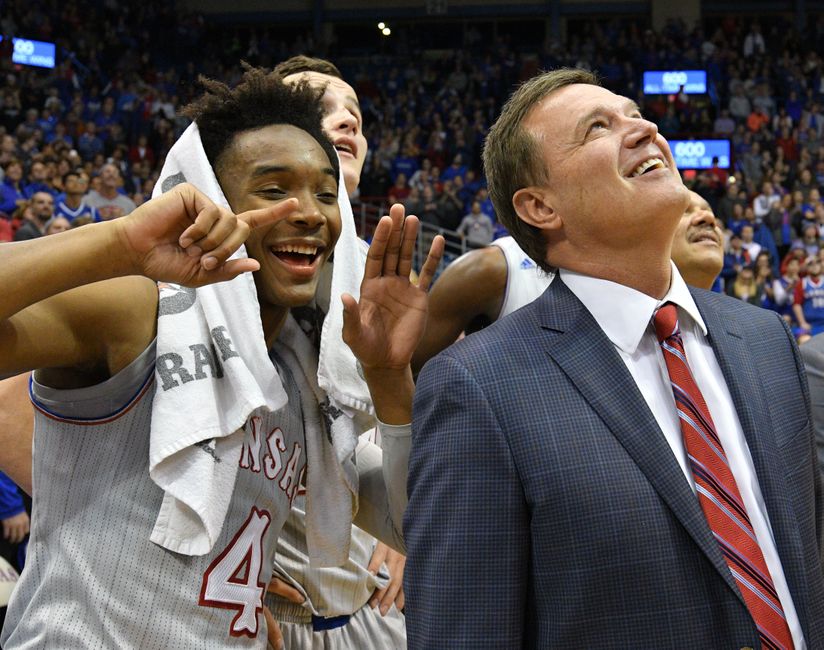 On a night that ended with a Bill Self's historical 600th win, the Jayhawks were clicking on all cylinders against the UMKC Kangaroos.
UMKC had one of their better teams in recent years, though you wouldn't know it from the 105-62 beating they took from Kansas basketball last night. The victory was Bill Self's 600th win as a head basketball coach. Once again, Frank Mason dominated on the court and the stat sheet. He was the leading scorer with 30 points and added 5 rebounds, 5 assists and 3 steals with no turnovers in 31 minutes. Even more impressively, Mason shot 11-14 overall and 6-7 behind the arc.
KU's hot shooting continues
Mason wasn't the only Jayhawk hot from deep. Devonte Graham was 6-8 for all of his 18 points. Overall Kansas shot 15-27 (55.6%) on three pointers to set a record for most made triples in Allen Fieldhouse. The 18 makes were one short of the record for most made three pointers overall. All of the long shots resulted from UMKC playing a zone that dared Kansas to make shots.
While the big men are improving, they are still a work in progress. The Jayhawks passed well into the post, with too few of them being converted. It didn't matter which big as Landen Lucas, Carlton Bragg and Udoka Azubuike all struggled against the smaller Kangaroos. The most effective big in the game was wing Josh Jackson with 19 points, 12 boards and 5 assists. Coach Self complimented his game saying "
I thought Josh (Jackson) had his best game since he's been here. He totally dominated the game early with his passing and offensive rebounding. – Bill Self
Second half a blowout
While the game wasn't expected to be close, it got blown wide open at the start of the 2nd half when Kansas went on a 20-1 run to extend their 16 point halftime lead. From that point, it was only a matter of how many points would be scored. It marked the 19th game of the Self era that the Jayhawks had hit the century mark, extended the home court winning streak to 47 games and was the 750th win for the team in Allen Fieldhouse. Of course the biggest milestone of the night was the 600th win in Coach Self's career. After the game, KU showed a video of former players sharing their thoughts on Self.
More from Through the Phog
This article originally appeared on