Baylor Basketball: Will the Bears finally live up to expectations?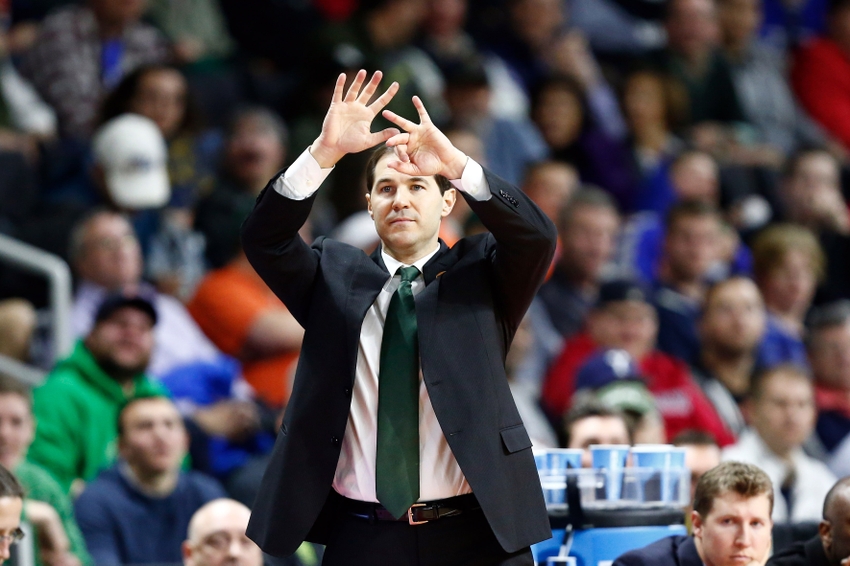 This could be the season that Baylor basketball finally lives up to expectations.
Maybe I'm insane, maybe I'm not. Year in and year out, Baylor head coach Scott Drew has loads of talent on his team down in Waco. Yet year after year, I'm left feeling like Baylor should have been so much better than they were.
But maybe, I'm just being too hard on Drew. Sure, he's lost in the Round of 64 in the NCAA Tournament in each of the past two seasons. In those seasons, his teams were a four-seed and a five-seed respectively. They definitely should've at least won their first game in the Big Dance.
Before that though, of the past three teams Drew took to the Big Dance, two of them made the Elite Eight and the other made the Sweet 16.
So maybe I am being too hard on Drew. Maybe I'm searching too hard for evidence to justify pre-conceived notions. Regardless, this season might be a make or break one for Drew's reputation. At least in my mind.
That would be because Drew could, conceivably, have the best backcourt in the Big 12 this season. That's no short order with Devonte' Graham and Frank Mason III playing for Kansas, and Monte Morris, Naz Mitrou-Long, and Matt Thomas playing for Iowa State. Plus, there's guys like Jawun Evans and Phil Forte at Oklahoma State.
The Bears will have Miami transfer Manu Lecomte, who will be joined by their leading returning scorer in Al Freeman, another returning starter in Ishmail Wainright and the extremely talented King McClure.
Clearly, that's already a logjam and only three of those guys can start. Three of them are 6'3″ or smaller, and college basketball teams, or any basketball team after the high school level, generally doesn't start that many players who are that short.
Freeman will start for sure, and for obvious reasons. Freeman should make a huge leap this year after starting last year blazing hot in 2015-16. After arguably being their best player on the team in November, he went into conference play and shot just 38 percent from the floor and 32 percent from the three-point line.
But again, that doesn't mean he didn't show flashes of the player he could become. As bad as he was throughout most of conference play, in eight February games, he shot 40 percent from three and 44 percent from the floor. And I already mentioned his November performance, where he averaged over 17 points per game on a blazing 52 percent from three.
When he's shooting the ball well, he's close to unstoppable since he finishes at the rim so effectively. He shot 61 percent at the rim last season, which was on-par with most of the Big 12's best guards like Monte Morris and Buddy Hield.
Wainright probably gets penciled in at the three, mostly because 1) he's a returning starter and 2) he has by far the most size out of any of their options. The Baylor website lists him at 6'5″ 235 pounds.
Wainright is that cliche player where an announcer would probably say "his contributions to the game don't show up in the box score." Admittedly, 90 percent of the time that statement roughly translates to "he's currently very raw, but has a high motor."
With a guy like Wainright, there may be some truth to that statement. His on-papers stats don't jump out at you, six points, four rebounds, and two assists per game, but if you squint just a little bit, you can see the contribution.
He shot 40 percent on threes last season. He only took two per game, but any floor-stretching in the current era of basketball is essential. He averaged almost two offensive rebounds per game, an extremely high number for someone who doesn't primarily operate in the paint. Of his 58 offensive rebounds, he had put-back baskets on 23 of them. His presence is part of what made Baylor one of the best offensive rebounding teams in the country last year.
His 90 assists were also second on the team. He's not great at it, but he is capable of running the offense for small stretches. The fact that he managed a 2.0 assist-to-turnover ratio while not being the primary ball-handler is pretty impressive.
So, Wainwright has the potential. Ignore him, and he can hit an open corner three, or sneak down the baseline for a put-back off of a miss. This all makes him playable on offense, which is important when you consider his defensive capabilities.
DraftExpress raved about what he can do on the defensive end in their scouting report on Big 12 draft prospects:
Typically, Baylor has played a significant percentage of their defensive possessions in a 1-3-1 match-up zone that at times can hide players deficiencies, but also hinder their ability to showcase individual defensive talents. Wainright's physical tools shined through nevertheless, namely his ability to guard the ball and play the passing lanes, evidenced by his average of 1.6 steals per-40 as a junior.

When Baylor did match-up man-to-man, his versatility became apparent based on his game-to-game defensive responsibilities, guarding Buddy Hield of Oklahoma one day and Georges Niang of Iowa State the next. His ability to move his feet defending the ball handler, chasing guards off a variety of pin down screens and defending and recovering guarding the big in a pick and roll action highlight his potential value. His ability to guard multiple positions could be his calling card in the future.
Lecomte and McClure is when the water gets a bit murky.
In Lecomte's last season he played, in 2014-15 for Miami, he averaged eight points and 1.8 assists in 22 minutes per game. He also shot 45 percent from the three-point line and 43 percent from the field.
He had some big games, including a 23-point performance in Cameron Indoor Center against Duke.
Although Freeman and Wainright are especially capable of running the offense, Lecomte is really the only point guard among these four. He didn't really show it, posting an assist rate of just 18 percent over his two seasons at Miami (that wouldn't have placed in the top 10 in the Big 12 last season). However, playing with Angel Rodriguez and Ja'Quan Newton, he was never the team's primary ball handler, so there's reason to expect he could do better.
Lecomte is primarily a shooter. But so was Lester Medford and Kenny Chery, and they were both good point guards for Baylor in the past.
That leaves McClure coming off the bench. He could potentially turn into quite a weapon for Scott Drew. It was a small sample size, but McClure actually led the Bears in offensive rating last season.
With Taurean Prince gone, McClure might be the best shooter that this team has. He shot almost 38 percent from downtown last year on over two attempts per game. This makes him a perfect weapon off of the bench.
If Freeman or Wainright aren't shooting the ball well, McClure can make an immediate replacement and be an immediate threat. In 22 minutes against Oklahoma last season, he scored 17 points on 7-of-8 shooting.
Regardless of who starts and who comes off the bench, Drew has options this year. He may not have the big recruits like Perry Jones or Isaiah Austin, but he has experience, and depth.
With Freeman and Johnathan Motley, he has two stars. And with Lecomte, Wainright, McClure, and guys like Terry Maston, he has some very good role players. Maybe, just maybe, this is the year everything actually comes together.
This article originally appeared on