Baylor Basketball: Is this finally Johnathan Motley's year?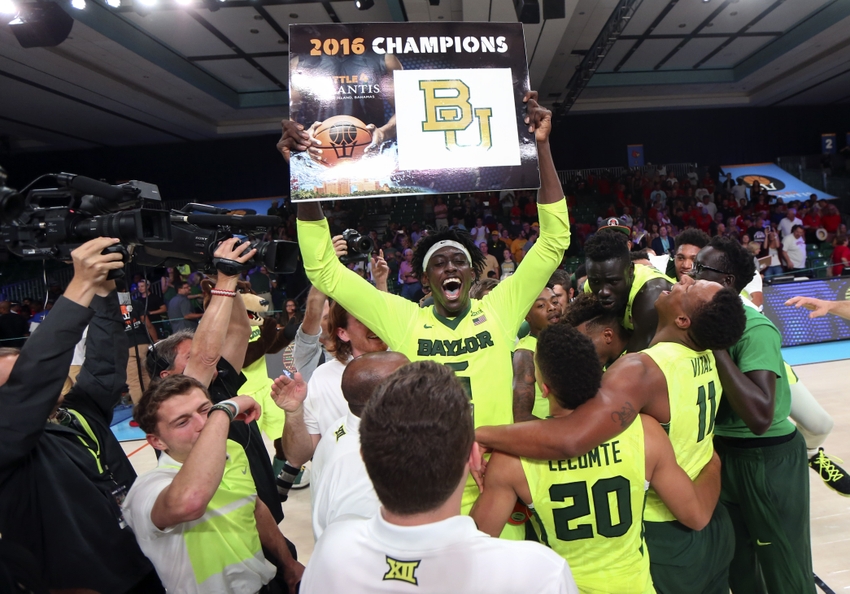 Baylor basketball's forward had an outstanding Battle 4 Atlantis tournament.
After what has been an exceptionally good first two weeks of the season, the Baylor Bears find themselves ranked ninth in the recently released AP Poll. The Bears have quality wins over Oregon, VCU, Michigan State and Louisville, which has helped them earn a top-10 ranking and one vote to be the number one team in the nation.
While Baylor has an experienced roster with numerous different weapons that they can throw at opponents, the best player on their team is 6'10" junior forward Johnathan Motley.
Motley is currently averaging 17.8 points, 7.0 rebounds and 1.8 assists per game, while blocking 0.8 shots, shooting 52 percent from the field and hitting 85 percent of his free throws. All those numbers (with the exception of the blocks) have increased from last year, showing that Motley is ready to take the jump that was expected to occur in 2015-16.
Consistency has been the number one concern for Motley over the last couple of seasons though. He has all the potential, athleticism, tools and talent in the world, but his numbers haven't exactly been stable throughout his career.
To be fair to Motley, he was a three-star recruit, received only a few offers from major programs out of high school and was thrown immediately into the fire in his freshman campaign. Motley played major minutes from day one (26 in his first game against McNeese State) and was a starter on an NCAA Tournament team.
Baylor Basketball: Bears win Battle 4 Atlantis with stunning second half rally versus Louisville
Not many three-star freshman can produce on a nationally competitive team while also adjusting to the speed of the game.
Motley began his freshman campaign with two double digit games and had monster performances against Texas A&M (22 points and 11 rebounds) and Oklahoma (24 points). But Motley also tailed off for stretches. He finished with single digit points in six straight games during the non-conference portion of the schedule (including two zero point games) and had 13 straight games under 10 points during conference play.
In his sophomore year, Motley would show off his NBA potential some nights and would completely flop on others. The forward dropped 21 points and 10 rebounds against Savannah State, had 27 and 13 in a win over Iowa State and put up 22 and nine in 31 minutes against TCU. But he also scored zero points three times during the season, against New Mexico State, Northwestern State and West Virginia.
He also had a lot of outings where he wasn't much of a factor on the glass despite having a size and athletic advantage over most college bigs.
But this season, Motley has not only been consistent, he has been dominant for stretches of games.
Besides his opening day suspension due to a violation of NCAA rules, the junior has scored in double figures in his first five games. Against Michigan State in the Battle 4 Atlantis, Motley recorded 26 points and grabbed six boards.
He was nearly unstoppable in the first half of that game and was terrific down the stretch against Louisville in the Battle 4 Atlantis championship. On Monday, he was named Big 12 Player of the Week.
Motley's ability to run the floor, finish around the rim, rebound with the best of them and hit occasional outside shots is key for Baylor. Why? Because he's one of the leaders of this roster. The Bears aren't going to remain a top-10 team and a Big 12 contender without Motley playing like a man on a mission.
While his consistency has been shown in just a small sample size, this truly seems like the year that Motley has an opportunity to break through, help his team win more games than expected and leap up NBA draft boards. If that is the case, Baylor has a chance to be in Phoenix in late March.
More from Busting Brackets
This article originally appeared on