At 6'5″ Bonzie Colson is Notre Dame's Top Big Man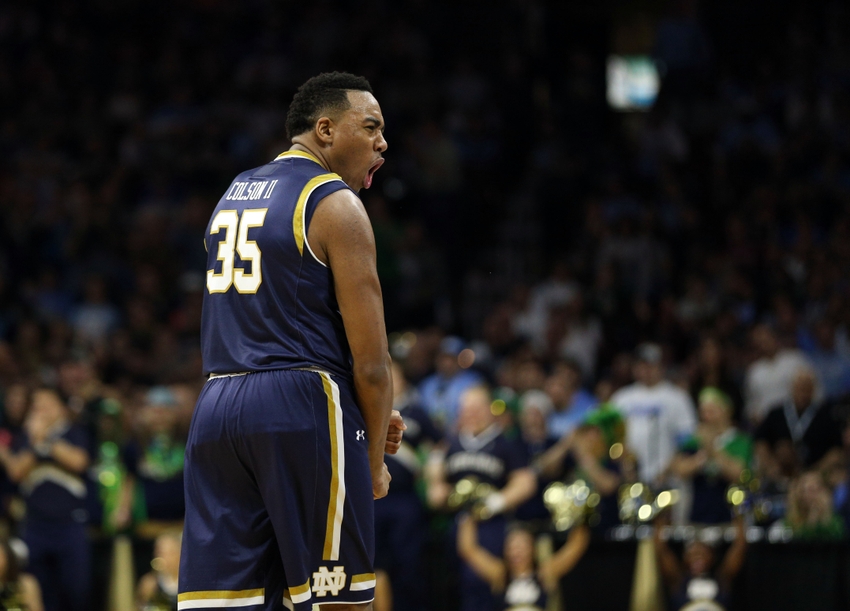 The biggest concern for Notre Dame this season is who can fill the void in the paint. So far, the Irish have found an unexpected leader as their big man.
Bonzie Colson isn't your typical big man. At 6'5″ tall, he could easily be mistaken for a shooting guard or small forward. For Notre Dame, though, he's their leading rebounder.
This season, Colson averages nine rebounds per game and has quickly become a star for the Irish. Leading the team in points and rebounds per game, Colson is evolving into one of the best all-around players in college basketball.
For the Irish, this unexpected growth in Colson's game is something they're hoping to take advantage of. So far, Notre Dame fans have questioned how well the Irish can play against top NCAA teams without a true big man. When they face teams like North Carolina and Duke, defending the boards is going to decide the outcome of the game.
Maybe head coach Mike Brey and the Irish already have it figured out, though. It seems that Coach Brey hasn't tried to give extra minutes to the other forwards on the team. It appears that the fifth man spot is being split between Matt Ryan and Martinas Geben.
This could be because of the trust Brey has in Colson. At 6'5″ 225lbs, Colson is definitely a small post player. In fact, he's smaller than some of the guards on Notre Dame's roster. That hasn't stopped him from performing, though.
Colson may just be the post player Notre Dame is in search of. He may not be the typically sized forward, but he sure plays like one.
As a junior, Colson may just be getting started. His small frame is going to make it difficult for NBA teams to draft him as a post player. Of course, his ability to score will still get him to the pros. It may, however, stop him from leaving a year early. For Notre Dame, that's a dream come true.
He's already made his mark in just four games. As Notre Dame begins to face tougher teams, Colson's play will be a key factor in the Irish's success. But don't let his size get you worried. He's already proven he can out-rebound just about anyone.
When the Irish begin to play teams like North Carolina, Colson will have a real test. How well he plays against guys like Kennedy Meeks is going to determine if he can lead this team to another NCAA Tournament run.
To take a guess, it's a safe bet to say Colson will give any big man trouble this season. Maybe, as fans and analysts search for Notre Dame's answer down low, Mike Brey already found it.
This article originally appeared on