ASU WBB: Season Preview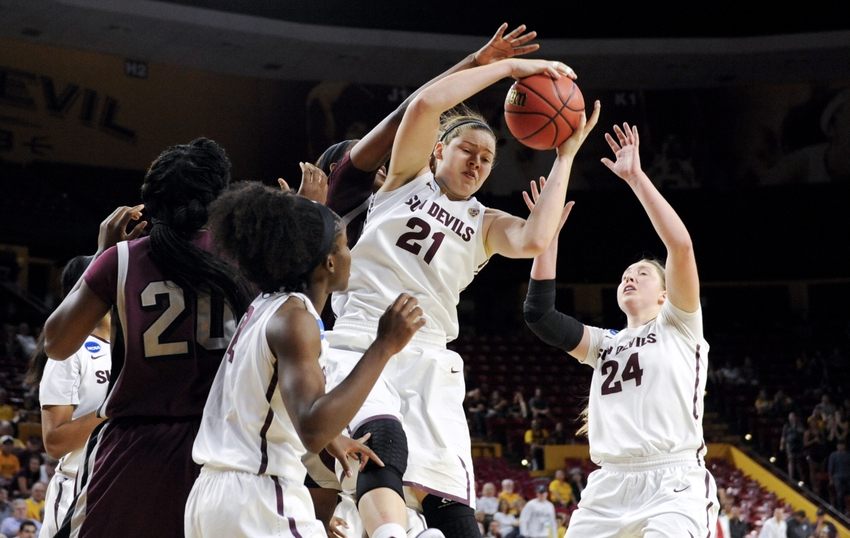 After finishing the season with 26 wins and a share of the Pac-12 regular season title, Arizona State women's basketball head into the 2016-17 season with an exciting mix of young and experienced players.
The Sun Devils enter this season with high expectations after receiving a No. 2 seed in the NCAA Tournament last season. Arizona State had a long, but successful season finishing 26-7 and 16-2 in the Pac-12. ASU recorded wins last season over Final Four participants Washington and Syracuse, tournament-bound teams Florida State, UCLA, Stanford and played Kentucky and South Carolina to the wire.
That resume earned the Sun Devils a No. 2 seed in the NCAA Tournament, the highest seed in school history. They defeated New Mexico State in the first round, before having their season end with a loss to Tennessee in the second round. The careers of accomplished players Peace Amukamara, Elisha Davis, Arnecia Hawkins, Katie Hempen and Eliza Normen came to an end.
While last season ended prematurely, there is a lot of excitement about this season's team. Arizona State bring back senior forwards Sophie Brunner, Kelsey Moos and Quinn Dornstauder. Brunner finished last season as leading the team in scoring, rebounding, field goal percentage and steals earning All-Pac-12 honors. Dornstauder played in every game last season, finishing with 9.7 points per game and 4.5 rebounds per game. She finished seventh in Pac-12 blocks per game (1.3). Moos was another valuable contributor, finishing last season second on the team in rebounds per game and third in steals and field goal percentage. Brunner and Moos each missed at least five games last season due to injuries. At Pac-12 Media Day, head coach Charli Turner Thorne said four players had to have surgery right after the season, including Brunner and Moos. The team is fully healthy heading into the season, leading to people seeing the best versions of Brunner and Moos.
More from Devils in Detail
These three players will look to be the leaders of the team this season welcoming in a highly-touted freshman class. Arizona State is bringing in a Top 10 recruiting class according to ESPN. The class includes two five-star recruits, one four-star recruit and two three-star recruits. Jamie Ruden, a 6'1″ center from Minnesota, and Reili Richardson, a 5'9″ guard from California are the headliners of the class. The other three high-potential players include guards Robbi Ryan, Sydney Goodson and Kiara Russell. The are the new wave of guards coming into Tempe this season. It will be interesting to see how Thorne handles each of their minutes, including returning guards Sabrina Haines and Armani Hawkins. They have some big shoes to fill, but this group of guards have the potential to be special.
Arizona State is coming one of the hardest schedules in the country last season, and it doesn't get any easier this season. After beginning the year with games versus Illinois State, San Jose State and Marquette, they will head to Las Vegas for the South Point Thanksgiving Tournament. The first game of the tournament will be their first major test as they'll face sixth-ranked Maryland. Terrapins are a perennial contender, led by senior Shatori Walker-Kimbrough, and they will be looking to get back to the Final Four this season. In December, ASU will host the ASU Classic and could potentially see Florida, who was ranked in both preseason polls and reached the NCAA Tournament last season. Then a week later, Arizona State will travel to Kentucky to face the Wildcats. Kentucky defeated ASU in the season-opener last season in overtime. That's a tough non-conference schedule heading into Pac-12 play.
The Pac-12 finished as arguably the best conference in the nation last season. The Pac-12 had four of their five NCAA Tournament-bound teams selected as a Top 4 seed last season. Washington was a No. 7 seed, and they joined Oregon State in reaching the Women's Final Four. This season, the conference is deeper as the talent pool grows. UCLA was the media and coaches pick to win the Pac-12. Bruins are led by star guard Jordin Canada, who was one of the nation's leaders in assists. They are deep, talented and experienced and will be there to the end. Stanford, led by Hall of Fame head coach Tara VanDerveer, is always a contender. The Cardinal are led by senior forward Erica McCall, who had a breakout season averaging 14.9 points per game and 9.4 rebounds per game. Washington is bringing back guard Kelsey Plum and forward Chantel Osahor. Plum averaged 25.9 points per game last season, leading the Pac-12 and fourth in the nation. Osahor averaged a double-double last season, finishing with 10.1 points per game and 11.3 rebounds a game. Oregon State and Cal also feature exciting players, as the Beavers bring back Sydney Wiese and Cal brings back Pac-12 Freshman of the Year Kristine Anigwe.
The Sun Devils know every game in the Pac-12 will be difficult. Last season was a good learning experience playing these teams tough night-in and night-out. There will be growing pains this season with the young backcourt, but they are extremely talented and something ASU fans should be excited about. Arizona State has the perfect mix of youth, talent and experience, and this team will look to contend for a Pac-12 championship and have a deep run in the NCAA Tournament.
This article originally appeared on