ASU WBB: New Year, New Backcourt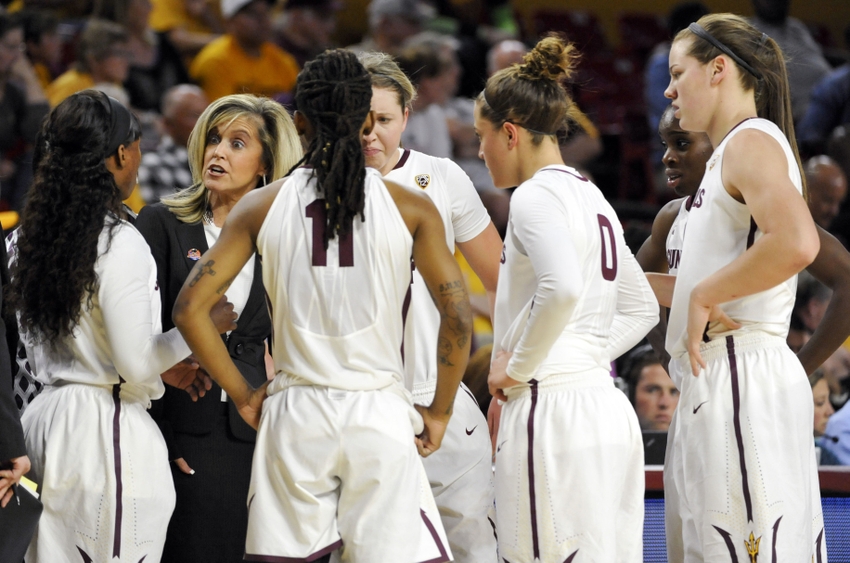 Coming into the 2016-2017 season, the Sun Devils are preparing for another successful year. The Devils finished last season with a 26-7 record overall and an impressive conference finish of 16-2.
Though there are many returning upperclassmen leading the team, the backcourt has tough competition to test for those frontcourt players this season. Of those backcourt players, two are returning for the Devils this season, sophomore guards Armani Hawkins and Sabrina Haines.
Hawkins is coming in this season with not a whole lot of playing time under her belt, but was able to get some experience by scoring in seven of 10 games she played in and made an appearance in the NCAA Tournament last season.
Last season Haines contributed many points to the team in crucial games that helped get the win. She earned Pac-12 All-Freshman honorable mention honors and led the team in free throw percentage (86.7/39-45), she was second in 3-point FG pct. (31.9/15-47), and finished in fourth for 3-pointers (15). Haines also led totals in the postseason in scoring with 19 points/5-7 FGs, and rebounds with 6.
Haines is expected to step up her game even further this year to help the Devils as they work to redeem themselves in the Pac-12 Tournament.
More from Devils in Detail
Four freshmen recruits made it onto the backcourt this season and are hopeful to contribute to the Sun Devils' already strong team. These freshmen include Reili Richardson, Kiara Russell, Robbi Ryan, and Sydney Goodson, three of which were on ESPN's Top 100 recruits.
As a senior, Richardson started in all 30 games played and led her team to a record of 29-4 and a Division-I state title for her school. She averaged 24.0 points., 7.0 rebounds, 5.0 assists, 5.0 steals, and 1.2 blocks, leaving her expected to do well and make an impact, even as a freshman, this season.
Russell was decorated with honors during her high school career. She was named a Ms. Minnesota Basketball finalist, a Gatorade Player of the year finalist and was named to the Star Tribune First team, along with being named to the All-State Second Team her senior year and selected to play in the Minnesota Girls Basketball All-Star Game. During her senior year, she led the team with an average 22.33 points, 4 steals and 4 rebounds which helped her team achieve a 20-8 record.
Ryan was honored with being a four-time First Team All-State selection and two-time Gatorade Player of the Year in Wyoming and was named Ms. Wyoming Basketball in 2016. Her athletic abilities were also awarded in soccer and volleyball, making her a very well-rounded and decorated athlete to bring to the Sun Devil team.
Goodson earned the title of Denton Chronicle's Co-Offensive Player of the Year in 2016 for averaging 17.6 points, 3.7 assists and 2.9 steals per game and was able to sink 41 percent of her 3-pointers, making her a dangerous threat both offensively and defensively. Being a key player for her team, Goodson lead her school to back-to-back 5A championship titles her junior and senior years which is promising for the future of this Sun Devil team.
With the combination of a couple returning players and a strong freshman recruitment class, the backcourt has a lot to offer to the team this season. There will be extra hands on deck gaining experience and pushing the front court to work hard this season in hopes of making it past the first round this year around in the Pac-12 Tournament.
This article originally appeared on