ASU WBB: Frontcourt Preview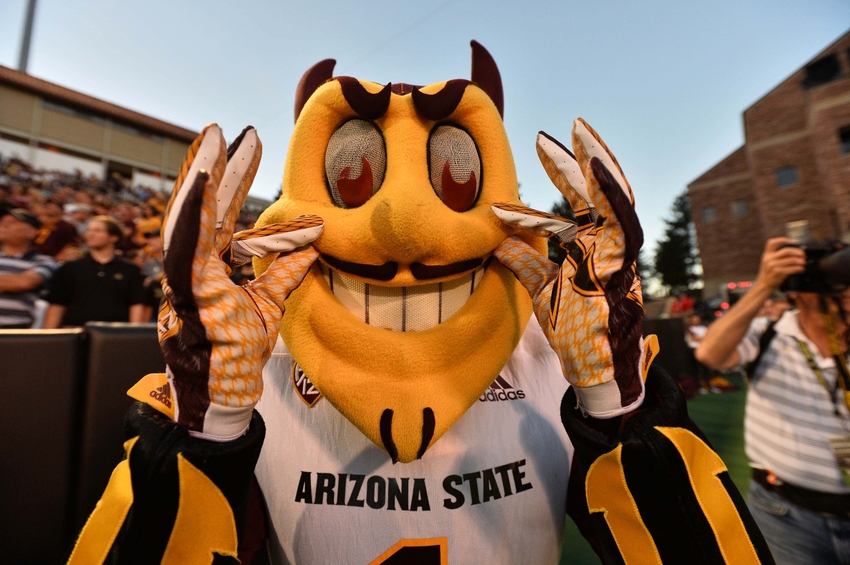 Arizona State rolls into the 2016-2017 season coming off one of the best regular seasons in program history. The Sun Devils went 26-7, while only losing two games in conference, earning them the number two seed in the NCAA tournament.
The postseason was another story as ASU lost to Cal in the first round of the Pac-12 Tournament, and lost to Tennessee in the second round of the NCAA tournament.
The Sun Devils lost their entire starting backcourt, but they're bringing back their dominant starting frontcourt., including senior forwards Sophie Brunner and Kelsey Moos alongside senior center Quinn Dornstauder.
Brunner is the Devils best player and a possible All-American this season. She is ASU's active leader in points, rebounds, assists, and steals while leading the team in points and rebounds last year with 10.7 and 7.4.
At the Pac-12 media day, ASU coach Charli Turner Thorne said, "I absolutely think that she'll be right there as one of the best forwards in the nation."
Although Brunner was so dominant last year and was nominated for the Wade Trophy (The best women's college basketball player), she was out for five weeks due to injury, and had to have surgery at the end of the season. As long as she can stay healthy this year, Brunner will ASU's dominant offensive force and may turn into the best player in program history.
More from Devils in Detail
Opposite Brunner at forward is senior Kelsey Moos, Moos has started 89 of 91 games in her three years in Tempe. In those three years with the Sun Devils, Moos has been either first in rebounds, only behind Sophie Brunner.
She is ASU's workhorse, as she grabbed five or more rebound 19 times last season and was also a Pac-12 defensive honorable mention. Like Brunner, Moos also had injury problems, as she missed five games last season and also had surgery at the end of the season. Moos is second best to Brunner, but she is one of the best defenders on ASU with her biggest asset being her rebounding.
Senior center Quinn Dornstauder has played in 95 career games in her three years at ASU, but it was just last year that she finally moved into the starting role. Last season, she averaged 9.7 points, 4.5 rebounds, and a team high 1.9 blocks.
Dornstauder is a strong offensive presence having three of the top four scoring performances for ASU including a team-high 25 vs. Washington. Dornstauder has continued to get better every year, boosting all her numbers significantly from year to year, including getting her free throw percentage up 15 percent to 74.1. She will be looking to continue that trend in her senior season as a down-low presence for the Sun Devils.
After those three senior starters, there is a very inexperienced bench. The most experienced player is senior center Sara Hattis; Hattis is a graduate transfer from Texas. At Texas, Hattis had been playing both basketball and volleyball, but has now given up volleyball.
"If I was able to dedicate to one sport, I probably could be at a different level than I am now," Hattis said.
She averaged six minutes a game last season and will give the Devils veteran depth at the center position.
The other Center on this team is sophomore Charnea Johnson-Chapman. She played in 25 games last year, while averaging 6.1 minutes per game.
She did not show too much in her freshman season, with highs of eight points and five rebounds. She adds depth and may be able to earn the starting role next season when Dornstauder and Johnson-Chapman leave.
One forward coming off the bench is sophomore Kianna Ibis. Ibis played in all 31 games last season averaging 2.8 points per game. She has a lot of upside, in her final nine games last season; she connected on 59 percent of her shots and she was a double-double machine at her high school in Nebraska, averaging 20.2 points and 15.2 rebounds. She may have to wait a year, until the seniors leave, but Kianna Ibis will be a dominant low post presence to come for ASU.
The only freshman on this frontcourt is forward Jamie Ruden. Ruden was part of ASU's top-10 recruiting class, as she was the number 39 recruit according to ESPN. The five star prospect from Rochester, Minnesota averaged 20 points four years straight in high school.
ESPN gave Ruden a positive analysis, saying she is "Strong, stretches the defense to the arc, soft touch, workhorse on block, catches and finishes vs. contact."
Like Ibis, Jamie Ruden will also benefit from the seniors leaving next year, but for now she will be able to learn from Brunner and Moos and should be able to see some time for the Sun Devils this season.
The Sun Devils are primed for another great season, but will have to adjust with several new players. Luckily for coach Charli Turner Thorne and the Sun Devils, the entire starting frontcourt will be back to teach the newcomers.
The seniors will be able to lead this team, while the underclassmen can learn and get ready to take their spot next season. Hopefully, they can build off their Pac-12 co-championship and number two tournament seed, while continuing that success deep into the tournament, they certainly have the players and coach to do it.
This article originally appeared on