ASU WBB: ASU vs. Maryland Preview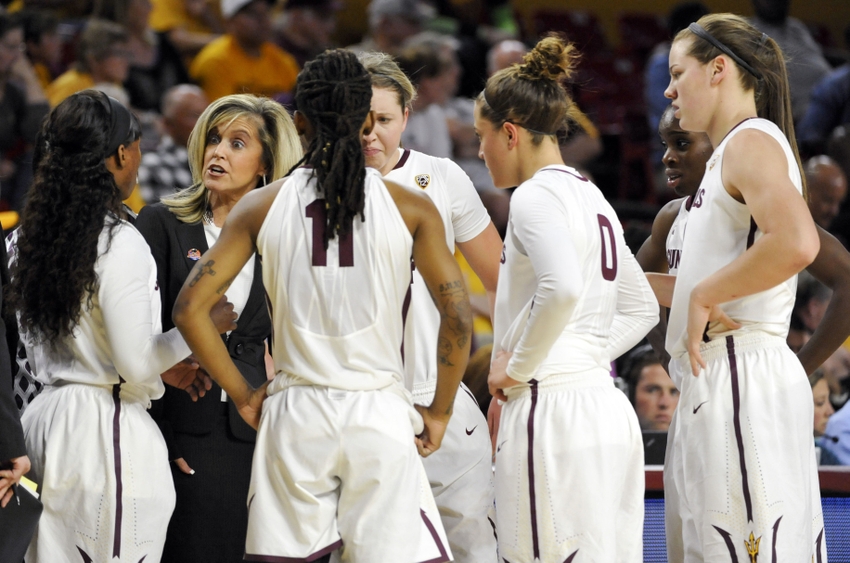 The Sun Devils enter the South Point Thanksgiving Tournament in hopes of redeeming themselves from an embarrassing loss Saturday against Marquette. Not being able to sink their shots proved detrimental to the team, and the lack of senior support left young players scrambling to pick up the slack.
Entering into the tournament, Arizona State opens with a tough game against No. 6 Maryland. The Terrapins have won all of their games so far this season, three of which they scored triple-digits in. Though the Sun Devils will be the toughest competition the Terrapins will have faced so far this season, the pressure is on for ASU even more so after blowing an easy game last week.
Maryland has a fairly young team this season, but is equally balanced with experienced upperclassmen leading on the front court and a significant height advantage against the Sun Devils.
The Terrapins are sinking their shots consistently with seven of their players shooting at least 50 percent from the field.
Key players ASU needs to watch out for are senior guard Shatori Walker-Kimbrough and senior center Brionna Jones. Walker-Kimbrough is a dangerous shooting threat, averaging 62 percent on her field goals and 52 percent from the three, and then having Jones shooting 68 percent and is a threat in the paint for the Devils.
More from Devils in Detail
After finishing strong in the last game at Marquette, freshman Robbi Ryan lead the team in points scored and was an impact player with high hopes of doing the same against Maryland.
More is needed to be seen from senior Kelsey Moos, who was unable to put any points on the board against Marquette. If the squad wants so survive against a highly-ranked and aggressive team like Maryland, they need Moos to bring her A-game in order to lead the team again.
Sophie Brunner is expected to step up as well and make a stronger impact along the perimeter to get the Devils on the board and prove dangerous to Maryland.
As for senior center Quinn Dornstauder, she will need to come out fighting this game in order to get some easy layups in for the team. The key is to be aggressive because the Maryland post players will be hovering over her and will likely draw fowls if she can push through.
The Devils have a chance to make this an interesting game to say the least, but they will desperately need to make some changes from their last game and hope that their shots are able to find their way in. If the team can get some lucky shots in early, they will have the confidence to continue and play their aggressive style and really put some pressure on a strong Maryland team.
The game will be played in Las Vegas, Nevada with tip off at 2 p.m.
This article originally appeared on