ASU WBB: Arizona State vs. Illinois State Recap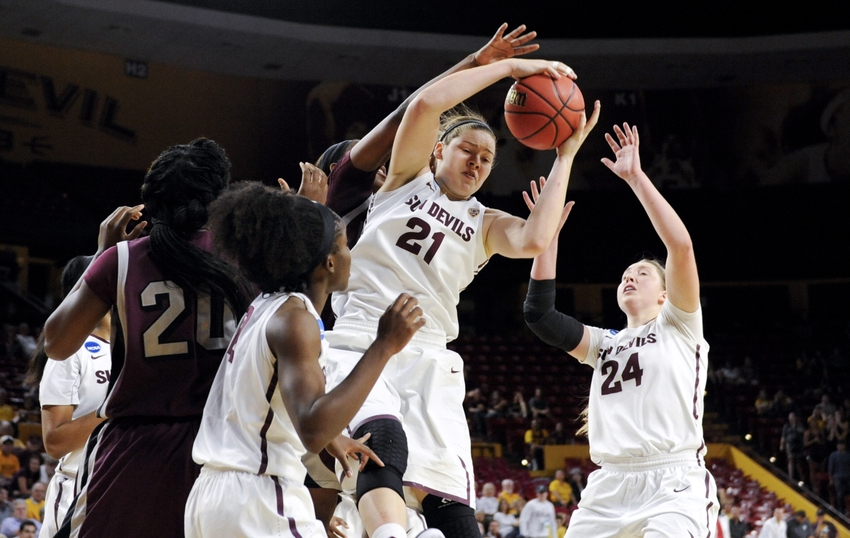 The ASU Women's Basketball team started off their season Friday against the Illinois State Redbirds and came out on top 76-40.
The early surprise was freshman Kiara Russell got the start at guard for the Devils alongside sophomore Sabrina Haines in the backcourt. In the frontcourt, it was the usual seniors in Sophie Brunner, Kelsey Moos, and Quinn Dornstauder.
From the opening tip, ASU knew they had a major size advantage and exploited it; the Sun Devils kept pounding it down low to forward Sophie Brunner and Center Quinn Dornstauder.
By halftime ASU had a commanding 41-20 lead and Brunner led all players with 7 points and 6 rebounds
Another lineup surprise was sophomore Charnea Johnson-Chapman got the nod at backup instead of senior transfer Sara Hattis. They both didn't have much offensive production in 21 combined minutes, but they kept their low-post presence.
After the game, head coach Charli Turner Thorne talked about the all-around performance of the team.
"On any given day, we can get something different from all of those players," Turner Thorne said.
That philosophy was evident Friday night, as every player got in the game and all but one scored. The Devils are deep at every position and they are trusting enough to be able to play anyone in any game
"I'm going to get people opportunities to play", Turner Thorne said.
"Having that deep of a lineup is a strength of ours," senior Sophie Brunner added, "we can rely on a lot of people".
More from Devils in Detail
ASU used size to their advantage, most noticeably on the defensive end where they forced the Redbirds into 27 turnovers and collected 17 steals and 10 blocks. They also didn't allow Illinois State a three-pointer all game.
"We definitely wanted to pressure their guards, take away the threes," Turner Thorne said.
The defensive intensity was a major factor, most noticeably from the young backcourt in Russell, Haines, Reili Richardson, and Robbi Ryan.
"Reili and Robbie are essentially like starters for us, they're that good" Turner Thorne said.
Possibly the best guard was sophomore Armani Hawkins, whose sister Arnecia Hawkins graduated last season, led all players with 14 points in just 12 minutes of action.
The team as a whole didn't have a great shooting night, as they went 28-67 from the field, 63% from the line, and 37% from three.
Senior Kelsey Moos led the team along with Armani Hawkins with two threes a piece. That allowed the Sun Devils to spread the floor and let the young guards throw it inside for the experienced frontcourt. At times, the frontcourt was having trouble with missed layups, but that didn't hurt ASU too much.
"We're just scratching the surface", Turner Thorne said of the Sun Devils 76-40 win.
The Devils didn't play a perfect game by any stretch and the team knows it, but they came out and played with a great intensity, and their young talent was evident.
ASU will try to continue that intensity Sunday night against San Jose State, a team that Turner Thorne compared to the Phoenix Sun's seven seconds or less offense.
This article originally appeared on