ASU WBB: A Star Athlete in Her Final Year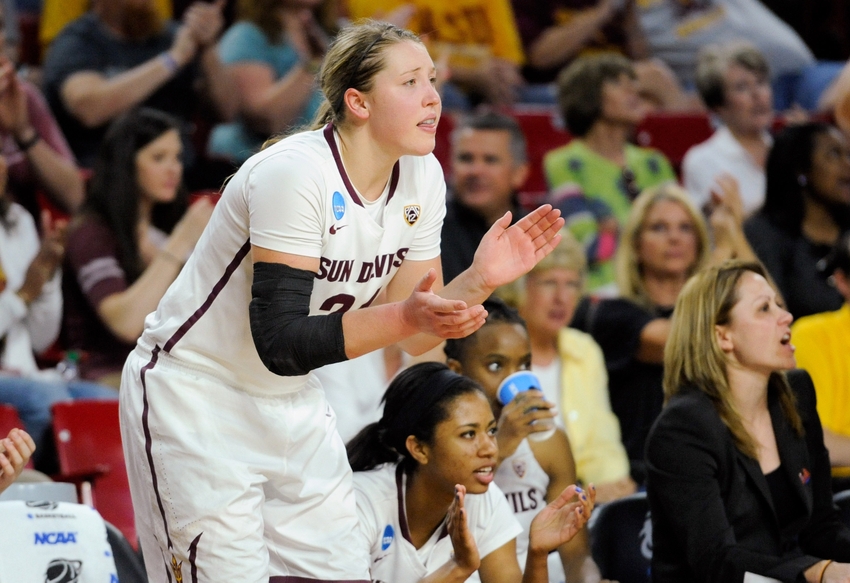 Over the course of her career at ASU, senior forward Kelsey Moos has made a great impact in building up the success of this program. On the court she shows the strength and aggression that has made her a key player on her squad and in the Pac-12.
During her freshman season, Moos made herself known in the conference. She started in 31 of 32 games that she played in and led the team in rebounds with 6.6 per game, while also tying for second in field goal percentage with 49.7.
She progressed through the season bettering herself and setting new career highs in points per game as well as dominating in rebounds per game, which helped her squad gain some crucial wins against top teams. At the end of her freshman season with the Devils, Moos was awarded the 2014 Pac-12 Freshman Honorable Mention and was ready to continue getting stronger and building up with her team.
Following her stellar performance during her first season, Moos entered into her sophomore year with high expectations. Unfortunately, she was out a few games of the season due to an injury and had to work her way back into the starting line-up which she did quickly once returning to full play.
Once back, Moos's presence was known and she even contributed to crucial rebounding and points scored in comeback wins against Stanford and in the NCAA tournament against UALR. Though she didn't have quite the stand-out season as she did her first year, Moos continuously fought to build up her squad and lead them into a very successful season.
More from Devils in Detail
Last season, the Devils had a stand out season finishing 26-7 and 16-2 in conference. Moos was battling injuries and missing games throughout the season, but was still able to finish second on the team in rebounds and offensive rebounds, as well as third in steals and field goal percentage. She was also able to score a season-high 17 points against Oregon and grabbed another team-high of eight rebounds in a win against Cal.
Finishing off the season, the Devils were upset in the Pac-12 Tournament with a loss against Cal and again in the second round of the NCAA Tournament against Tennessee. Concluding the season, Moos was awarded a Pac-12 Defensive honorable mention recognition thanks to her impressive performance during the season, despite the injuries.
Coming into her final season with the Devils, Moos has a few returning seniors by her side as well as a slew of young players ready to learn from her leadership. On Friday, Moos and her squad kicked off the season with an easy win over Illinois State. Though the Devils took, and maintained, the lead early on in the game, there were some apparent "first game jitters" that kept them from playing to their full potential. As the game progressed, however, Moos took control of the court and worked hard alongside her teammates and even broke a personal record for most steals in one game, finishing with six.
Moos and her squad face tougher competition on Sunday against San Jose State, followed by other solid teams to prepare them for conference play starting late December. With hopes high and a win to start the season, Moos and her squad prepare for Pac-12 play in hopes to redeem themselves from the first round upset they faced almost a year ago.
This article originally appeared on