ASU MBB: Takeaways From the Victory Over Tulane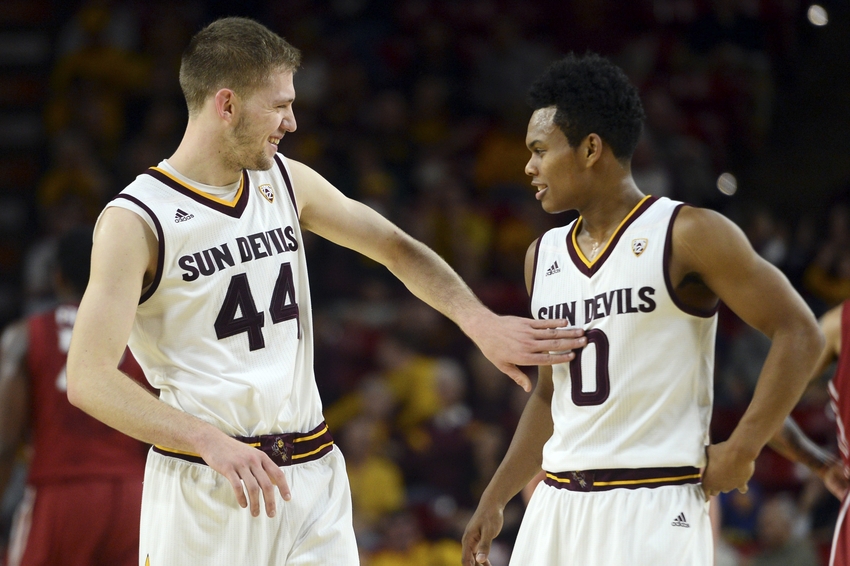 The Sun Devils prevailed in their 80-71 victory over Tulane this afternoon.
Torian Graham scored a game-high 22 points on about 57% shooting to secure the victory in the fourth game of the young season. The Sun Devils have now won 1 game and lost 1 game in the Tire Pros Invitational and will face Davidson this Sunday. Here are three things that stuck out in this game.
1. The Sun Devils do not need to rely on Tra Holder.
While Tra Holder was anticipated to be the leader of this young Sun Devils team, he's not the only player capable of stepping up. Clearly, the likes of Shannon Evans II and Torian Graham have proven themselves to be reliable sources of perimeter defense and, more prominently, perimeter shooting. The duo combined for 8 three-pointers on 50% shooting from behind the line this afternoon, absolutely torching the Green Wave and providing great momentum leading into their victory. Holder, however, was a no show, shooting just 29% from the field for 8 points and two assists. Despite the disappointing outing for Holder, the Sun Devils still managed to pull out a nine point victory, proving that they don't need to depend on the scoring and playmaking ability of Tra Holder.
More from Devils in Detail
2. ASU can overcome their lack of size, it'll just take some extra effort.
While known as a notoriously small team, the Sun Devils still managed to overcome their lack of size and strength in the victory over the Green Wave this afternoon. Tulane scoring leaders Melvin Frazier and Cameron Reynolds are known for their overwhelming size at the guard positions with Frazier at 6'5 and Reynolds at 6'7, but ASU's guards overcame this difficulty and clutched out the win. This conveys that size doesn't mean everything, and while it would be beneficial for Bobby Hurley to add some larger players to next year's roster, the Sun Devils can still win games with their smaller lineup.
Without playing a single player who is officially listed as a Center, the Sun Devils still managed to grab thirty rebounds on the game, including 9 offensive boards. The feisty and energetic playstyle of the Sun Devils has allowed for them to scrap on the glass and contend with larger lineups, which will prove to be crucial as they begin to face off with larger and more athletic lineups in the coming weeks.
3. The three-pointer will continue to be an incredibly valuable asset for the Sun Devils.
The onslaught of deep range shots by the Sun Devils accounted for thirty-six of the Sun Devil's eighty points this afternoon on a respectable 41.4% from behind the arc. If ASU can move the ball crisply and find open shots around the perimeter, they'll continue to have great success this season.
A common theme through the first few games has been that when one player seems to lose the hot hand from behind the arc, someone else will pick up the slack. That continued tonight as Holder and Oleka struggled while Evans II and Graham shined from deep. At any given time, there will be a dependable shooter on the floor, and as long as they can work as a team and find that open man, they'll continue to put up great shooting numbers. They've also proven themselves to have impeccable range, considering that Shannon Evans II, Kodi Justice and Torian Graham all hit incredibly deep and difficult shots throughout the contest. With such ability from the 3-point line, they'll be incredibly difficult to defend throughout the season.
The Sun Devils will face off with Davidson in their final game of the Tire Pros Invitational this Sunday in Orlando, Florida.
This article originally appeared on