ASU MBB: Sun Devils take on No. 18 Purdue in Jimmy V Classic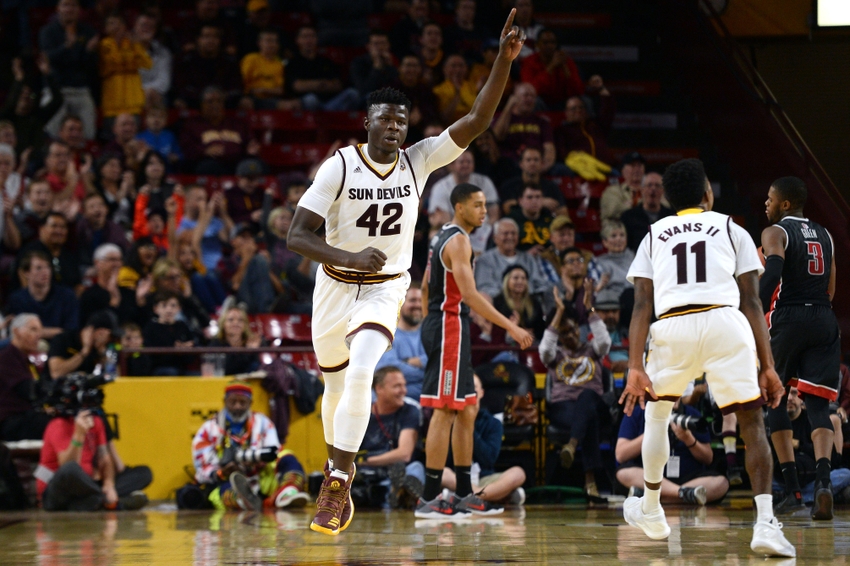 After a brief home stand, ASU Basketball is back on the road to play No. 18 Purdue at Madison Square Garden in the Jimmy V Classic.
In a 97-73 victory over the UNLV Rebels,  Arizona State men's basketball head coach Bobby Hurley proved that his team can defend its home court. The Sun Devils are now 15-6 at Wells Fargo Arena since Hurley took over the program in April 2015.
The next step of Hurley's rebuild is learning to win on the road and at neutral locations. ASU is 5-14 under Hurley playing away from Tempe, Ariz including a 1-3 mark this season.
Following a dismal showing against then-No. 1 Kentucky in the Bahamas, the Sun Devils now face another difficult neutral site opponent in the Purdue Boilermakers.
In 2016, Purdue is currently 6-2 with its two losses coming at home to Villanova and on the road at Louisville. However, the team has not yet notched a notable victory.
More from Devils in Detail
While head coach Matt Painter's team isn't as skilled as Kentucky, the Boilermakers are of the most physical teams and are very effective in using their frontcourt to space the floor.
An undersized Sun Devil team will have its hands full with 6-foot-9 forward Caleb Swanigan and 7-foot-2 center Isaac Haas, Purdue's two leading scorers. While trying to limit the production of the big men, ASU will have to keep an eye on the perimeter as the Boilermakers shoot 43.3 percent from beyond the arc.
For Hurley's team, the outcome of the game will come down to how much his backcourt can push the tempo without getting sloppy. Against UNLV, the team only had eight turnovers opposite 18 assists.
Playing a run and gun style without committing a lot of turnovers allows guards Tra Holder, Shannon Evans II and Torian Graham to spread the floor and shoot a lot of threes, something Hurley expressed would be a big part of the offense in the preseason.
The trio played its best collective game on Saturday when all three players scored over 20 points and knocked down a15 combined three-pointers. Evans led the way with a season-high 28 points.
With ASU bigs Ramon Vila and Jethro Tshisumpa both averaging less than 15 minutes per game, the backcourt will need to be a big factor. Additionally, forward Obinna Oleka will be looked to for another big game as he faces arguably his toughest test of the year.
A win over Purdue would provide a huge resume-boost for the Sun Devils before Pac-12 play begins. It would also be the second-straight year ASU wins against the No. 18 team as they defeated No. 18 Texas A&M at home in 2015.
ASU and Purdue will open the Jimmy V Classic before No. 5 Duke takes on No. 21 Florida in the second game of the doubleheader. The Sun Devils tip off at 5 p.m. MT and the game can be viewed on ESPN.
This article originally appeared on