ASU MBB: Sun Devils go for Weekend Split Against OSU
Dylan Carter/FanSided via Devils in Detail

Fansided
ASU Basketball will travel to Corvallis to face Oregon State on Saturday after nearly pulling an upset over No. 13 Oregon on Thursday night.
The Arizona State men's basketball team (10-13, 3-7) has struggled as of late despite having the second-highest scoring offense in the Pac-12, averaging 81.2 points per game. They have lost six of their last seven games and rank eighth in the conference standings.
Closing games has been an issue for head coach Bobby Hurley's team, as four of their seven losses have been by a margin of six points or fewer. However, earning a win over ASU is not a cakewalk as they have challenged all four of the conference's top teams on the road.
More from Devils in Detail
The Oregon State Beavers (4-19, 0-10) are a team still searching for an identity and are the only team in the Pac-12 searching for its first conference win. Most recently, the Beavers are coming off a 71-54 loss to No. 5 Arizona and haven't won a game since December.
After playing three ranked opponents in their last six games, this a critical game for the Sun Devils. The Beavers have been in a nosedive for much of the season and forward Tres Tinkle will again sit as he continues to rehab a broken wrist.
The last time these teams met, Gary Payton II and the Beavers ended Arizona State's season in the first round of the 2016 Pac-12 Tournament, winning 75-66. Junior guard Tra Holder struggled offensively with 10 points on 4-11 shooting but hasn't scored fewer than that against a conference opponent since.
For the Sun Devils, junior guards Shannon Evans II and Tra Holder will look to carry the scoring load after combining for 45 points against Oregon. Both players have grown as shot selection has improved on the perimeter and there have been more aggressive drives to the rim.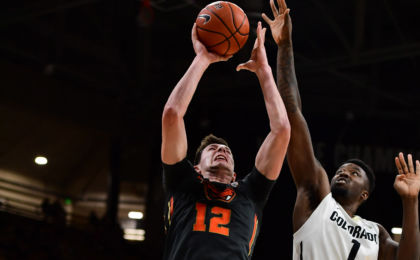 Oregon State forward Drew Eubanks has been a silver lining for the Beavers as the sophomore is averaging 14.8 points per game on 59 percent shooting, 8.3 rebounds and 2.3 blocks. Eubank's size and skillset should lead to increased minutes for Arizona State's freshman forward duo of Jethro Tshisumpa and Ramon Vila.
Another notable weapon for Oregon State head coach Wayne Tinkle is Stephen Thompson Jr. The sophomore guard is entering the game with a hot hand, averaging 22.8 points and 42.3 percent shooting from deep over his past four games.
Injuries have not been kind to the Beavers this year, resulting in the loss of the aforementioned Tinkle. The sophomore was averaging 20.2 points and 8.3 rebounds per game prior to his injury.
Turnovers have been a huge issue for OSU, where they rank last assist to turnover ratio in the Pac-12. Additionally, they score the the fewest points and assists in the conference with 64.1 and 12.2 respectively.
The defensive hustle that guard Kodi Justice and Evans II are known for will be a key to this matchup in making OSU's freshman backcourt of Jaquori McLaughlin and Kendal Manuel uncomfortable early. If the perimeter players can disrupt the passing lanes and apply pressure, they'll continue to dominate the turnover margin and create opportunities in transition.
Arizona State and Oregon State will tip off from Gill Coliseum at 4 p.m. MST and the game can be seen on the Pac-12 Network.
This article originally appeared on