ASU MBB: Sun Devils Come Back Against San Diego State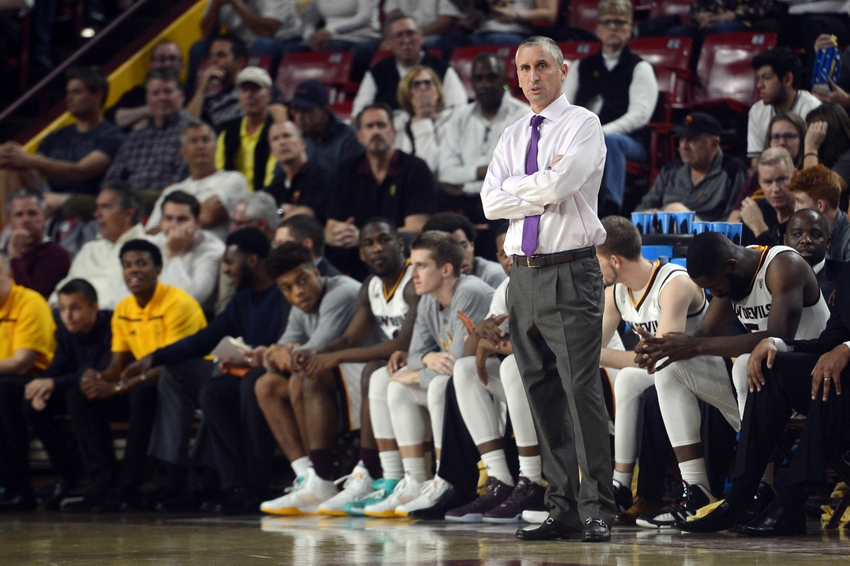 After an embarrassing loss to No. 18 Purdue, the Sun Devils came back against the San Diego State Aztecs to win 74-63. Bobby Hurley's Sun Devils exploded in the second half after trailing the Aztecs the entire first half.
Hurley's small-ball basketball, however, continues to prove effective as junior guards Tra Holder and Shannon Evans II led the team combining for 32 of Arizona State's 74 points.
Struggling with turnovers and shooting in the first half, the Sun Devils got back into their groove to improve their record 6-4 for the season. ASU's slow starts continue to persist into the season as the Sun Devils trailed as much as 10 points in the first half.
More from Devils in Detail
The Sun Devils' also ran into a heavy amount of turnover trouble in the first half as the Aztecs capitalized 15 points on 13 turnovers. Junior guard Trey Kell proved to be a heavy threat for ASU, forcing live ball turnovers and dominantly playing the passing lane, as he finished the night with 20 points, 5 steals and 4 rebounds.
Entering the second half, Evans, Holder and fellow junior guard Kodi Justice exploded big for the Sun Devils displaying the full force of ASU's three-point shooting ability. All three guards sparked the Sun Devils' momentum each sinking a three pointer to tie the game 34-34 within the first three minutes of the second half. Wasn't long until the Sun Devils pulled away 41-38 with a three-pointer from Evans, a lead they would continue to hold for the rest of the game.
Despite the number of turnovers, the Sun Devils' defense displayed their ability to adapt in the frontcourt. The Aztecs who, in the first half, scored 20 of their 32 points in the paint were forced to the backcourt as ASU held the Aztecs' front court points to 10 for the second half. San Diego State struggled as the Sun Devils pushed them behind the arc, going 6-24 from the three point line.
Adding to the Sun Devils defensive display, ASU won the rebound battle with 34 rebounds to the Aztecs' 30.  Senior forward Obinna Oleka put on an aggressive performance all over the floor, finishing the night with 15 points, 12 rebounds, 2 steals and a block. Freshman guard Sam Cunliffe also stepped up for ASU's defense, recording 6 rebounds for the night.
The Sun Devils will bring the game back to Tempe on Saturday, December 17, against New Mexico State.
This article originally appeared on