ASU MBB: Preseason Roundtable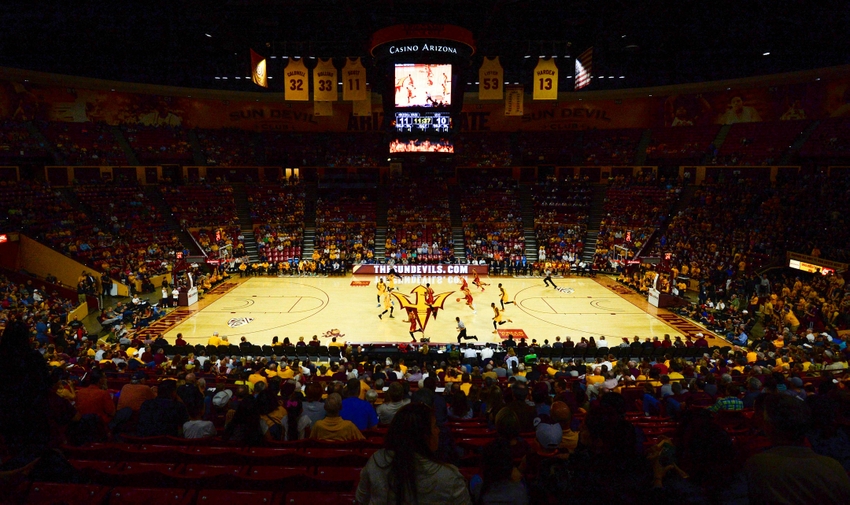 Just days separate the Arizona State men's basketball team from its Nov. 11 home opener against Portland State. In the final week of preparation, the Devils in Detail coverage team presents its preseason roundtable to break down some of the questions that loom after a busy offseason by head coach Bobby Hurley.
1. Who will be Arizona State's best player this season?
Zach Pekale: As much as Tra Holder has grown since the midway point of his freshman year, Shannon Evans II will be the best player to suit up for Arizona State in 2016. Evans sat out last season per the NCAA transfer rules after following head coach Bobby Hurley to ASU from Buffalo. After a year off, Evans is going to be huge for a young Sun Devil team. He is aggressive in driving to the hoop but is also comfortable with his outside shot. Defensively, his presence is where he will shine. Noted for a high motor, Evans II is an excellent on-ball defender and uses his speed to add pressure on the perimeter and has quick hands. While his box score might not be the most flashy, his impact on the game will be the greatest.
Tyler Strachan: Assuming he stays healthy all season, it'd be tough to see anyone other than Tra Holder being the best player for the Sun Devils in 2016. Holder was the team's top scoring threat and main distributor last season. Give him an offseason to work on his game and surround him with teammates better suited for Bobby Hurley's system, and things start to look even better for the junior point guard.
Alyanna Harina: I think it's hard to see anyone other than Tra Holder as the best player for the Sun Devils this season. Despite being ASU's leading scorer last year, he's now surrounded with a very guard heavy team, one that'll hopefully show more distribution and fit into Bobby Hurley's system. It'll be great to see him in action and think that he, along with Shannon Evans will be something to see in the backcourt.
More from Devils in Detail
Dylan Carter: Without a doubt, the best Sun Devil coming into the 2016 season will be Tra Holder. Between the guidance of Bobby Hurley and his immense offensive skill set, Holder is on track to break out. If he can improve defensively and can push himself further as a playmaker, Holder will be on a lot of people's radars in the coming week
2. Where do you predict ASU will finish in the Pac-12
Zach: Despite the major offseason additions of Sam Cunliffe and Jethro Tshisumpa (White is sitting out with an academic redshirt) along with the transfers of Evans and Torian Graham, this team is still a year away from becoming a serious Pac-12  competitor. There are still questions to be answered in a frontcourt with three players who have never registered a minute of college basketball. That said, this team is much better than last season. I expect that Year Two of the Hurley era will go much more smoothly and that this team will finish eighth in the Pac-12 standings
Tyler: Before I rain on the parade with my prediction, I'd like to acknowledge that there are plenty of things to be excited about when it comes to this team. I already laid down some pretty high expectations for Tra Holder, and with a top-25 recruiting class coming in, things are sure to be interesting in Tempe from day one. That being said, I'd be shocked if ASU finished anywhere above eighth or ninth in the conference this season. It's difficult to win ballgames night in and night out with a frontcourt as thin as Arizona State's will be this year, and I think their overall lack of size will make them look more like pretenders than contenders in the Pac-12.
Alyanna: As much as I'd like to give ASU even a middle of the pack ranking, I don't think I can. It's only Hurley's second season with the Devils and the program is still very much in the building process. I do believe that there are many good things about the program, with the number of players that are able to create their own shots and make plays happen, like Holder, Kodi Justice and Sam Cunliffe. But overall I do think that the Sun Devils could finish seventh at best and tenth at the worst, mainly due to the lack of depth in the front court.
Dylan: Determining ASU's position is incredibly difficult due to the wide-scale uncertainty of the team. Bobby Hurley is a fantastic coach, but we don't quite know how his system will play out. ASU also took in five well qualified freshman recruits this season to develop and grow under Hurley's techniques which could easily create a positive impact. Our lack of size could be a very big issue, with only two active players taller than 6'10" and six players shorter than 6'5. With all of the varying factors, it's hard to rank ASU any higher than ninth in the Pac-12, but I'd like to remain optimistic and say that I wouldn't be surprised if they reached as high as seventh.
3. Is there still a glaring weak point on this Sun Devil team despite bringing in a top-25 recruiting class?
Zach: Many coaches have used the phrase "you can't teach size" and this statement still applies to the Sun Devils. The additions of four-star big man Jethro Tshisumpa and Ramon Vila help but both are very raw prospects. Losing Romello White and Vitaliy Shibel to an academic redshirt and torn ACL leave ASU without its two most efficient offensive big men. The lack of size on the offensive end will be the Sun Devils' achilles heel.
Tyler: The major hole is the front court. ASU's lack of depth and size at the four and five spots has been well-documented this offseason, and for good reason too. It won't be shocking if the Sun Devils get absolutely killed on the block this year due the collective lack of experience amongst their big men. However, if Jethro Tshisumpa is able to contribute right away as a freshman, that could go a long way towards lightening the impact of their problems down low.
Alyanna: Size. It's been talked about. Hurley himself has admitted to the lack of depth and size in ASU's frontcourt, and with the size he does have with Jethro Tshisumpa, who Hurley has credited to have "the best raw athletic tools," I don't think is college-ready enough. I think his lack of experience will show and it'll be obvious with such a perimeter heavy team that the Sun Devils will be lacking in the key. It'll be that lack of depth and size that'll be the most glaring weak point this season.
Dylan: The most important weak point to take notice of in this season is going to be the Sun Devils' lack of size. Not only is the roster lacking size in the frontcourt, but the guard rotation remains generally small. While small-ball tactics do seem to be the biggest basketball trend of the past few years, it can be easily beaten by attacking the rim, grabbing boards, and bullying smaller defenders inside, so this won't be a true viable option for the Devils against larger teams. As previously stated, the impact of freshman Jethro Tshisumpa is going to be massive in determining the winning ability of the Sun Devils this year, as he is the tallest and most athletic player on the team but he can't play all forty minutes as a freshman.
This article originally appeared on