Arkansas Takes Their First Loss of the Year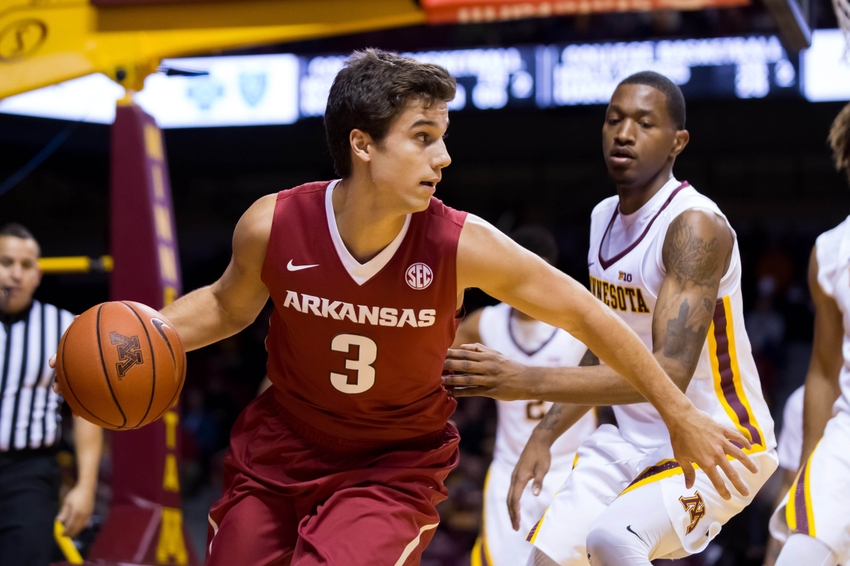 Arkansas just couldn't ever get it together on the road at Minnesota, losing 85-71 and moving on to 3-1.
The Hogs fell and fell hard tonight on the road. Minnesota is a pretty good team but on a night where they are shooting 60 percent from beyond the arc, it's just not Arkansas' night.
The Razorbacks didn't play anywhere close to their potential but there were some obvious differences in the two teams. The most glaring difference is how outsized Arkansas was. That was one of the things I was worried about going into this year. Arkansas is a team of smaller shooting guards with one go to big down low. If you look around the country at some of these other teams, Arkansas is going to be outsized often.
At the end of the first half, the Razorbacks had 12 personal fouls, 13 turnovers, no three-pointers and were only hitting 28.1 percent from the field. Offensively, they had nothing. Minnesota figured out how to shut down the range from Hannahs and Macon and without it, Arkansas really can't win.
As much as I hate to say it, it looks like this team is very one dimensional. I'm not saying all is doomed but against these better teams, Arkansas is going to have to find more ways to get the offense going than relying on the three. I still have hopes that Anderson can get it worked out.
Defensively, Arkansas just couldn't get any kind of pressure. Hardly any of the shots the Golden Gophers took were pressured. When you build your program on speed and can't control the tempo to create disruption, you're gonna have a bad day.
Next, the Razorbacks go back to Bud Walton to take on the Mount St. Mary's Mountaineers on Monday, November, 28 at 7:00pm. Hopefully, the Hogs can bounce back and take care of business.
More from Razorbackers
This article originally appeared on