Arkansas Progresses in Win over Lumberjacks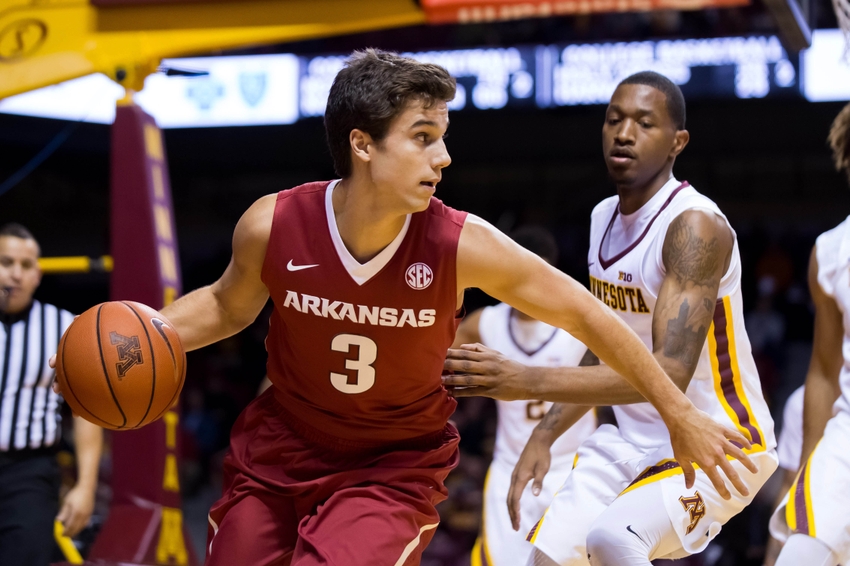 Arkansas overcomes a slow start to get the 78-62 win over Stephen F. Austin to move to 5-1 for the season.
The Razorbacks had a bit of a slower start but rallied before the half to get the lead over the Lumberjacks. The Hogs showed a lot of progress defensively, which is something Mike Anderson really wanted to see.
Arkansas actually played up to their Fastest40 play style. The most telling stat of the game that accurately represents the defensive play tonight is the turnovers by the Lumberjacks. The Razorbacks forced a stunning 21 total turnovers during their win.
Offensively, you might as well get used to having a lot of guys scoring single digit points with a few hitting the low double mark. Tonight, the Razorbacks had 10 scorers with only Hannahs and Kingsley in the double digits. Hannahs led with 15. When you have this many guys that can put up a ton of points but spread the love like this group does, it's just gonna be common place to see.
Last year was the year of Moses and Hannahs undoubtedly but something has changed. Hannahs, who is known for his jaw-dropping distance beyond the arc, hasn't hit a three-pointer since the Minnesota game. The reason being is he has become more of an inside player which is fine. This season you have a more guys like Macon, Barford, and Jones who can score from deep.
Kingsley, however, is about as slow starting in each game as I am when I wake up in the mornings. Against Mount St. Mary's, Moses had 1 point at the half. Fast forward to tonight, Kingsley has 2 points at the half. I gotta give him credit for the improvement percentage but the preseason SEC Player of the Year has got to get motivated early and overcome his starting woes.
Want your voice heard? Join the Razorbackers team!
Grabs The Soapbox
I'm gonna finish this a bit preachy so bear with me. To all the fans in the NWA area close enough to go to games without any real hassle, your lack of support is getting a bit ridiculous. I get there are some circumstances but you can miss me with most of your excuses.
Another coach commented on the lack of support for Mike Anderson and this team. You are embarrassing our state and team every time someone sees a game on T.V. and it looks like an open practice. You are the same people that will pay far more to pack out a stadium for the football team lead by a coach with a 10-22 record in the SEC but say you won't support Mike Anderson, who has a .545 record in conference and a .652 overall record at Arkansas.
I don't know if you are aware but there are some kids on this team doing some pretty cool stuff that grew up DREAMING OF BEING A RAZORBACK and playing in front of crazy Arkansas fans. A final note. For those thinking Anderson can't recruit and is in the group of fans I am talking to, find a new hobby because you have no clue what you are talking about. Kids want to play for more than the 4,705 fans that showed up tonight. Do better. Woo pig!
This article originally appeared on