Arkansas Gives Southern Illinois A Beat-down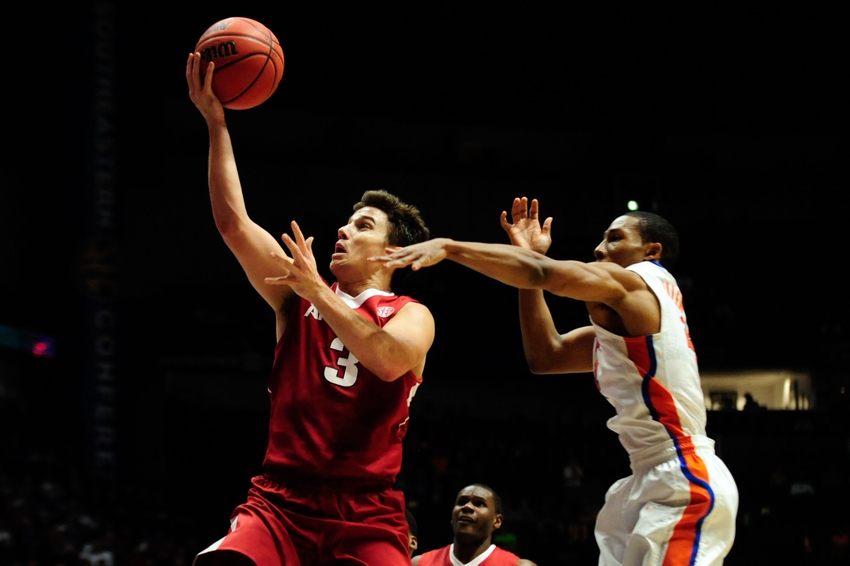 As expected, Arkansas takes down Southern Illinois 90-65 in their second game of the season. Arkansas moves on to a 2-0 start for the season.
Like I predicted in my pregame article, Arkansas had no trouble handing the Salukis a loss by double digits. The Razorbacks played the kind of ball the fans have come to love by putting on a 3-pointer clinic.
The Hogs shot 13-23 from beyond the red line. Hannahs was on fire through the first half, shooting 3-3. He would ultimately shoot 5-5 before his first missed three-pointer. Macon had two fall back to back and shot 4-6 from the three.
Offensively, the Razorbacks were on fire. The team had 4 players in double digit scoring with two more players on the cusp with 9. At the half, Arkansas outscored SIU 22-2 from the bench. From the foul line, the Hogs shot a solid 81 percent as well.
Arkansas' defense was much more improved from this past Friday. They started off slow to rebound but once they got it going , they were rolling. As a team, they had 38 rebounds. Kingsley led the Hogs with7 rebounds and Hannahs came in right behind him with 5.
Some fans might say they did all this against a bad team but the reality is SIU is a mid-major team that had 20 wins last season. Arkansas played a solid game but more importantly, the Hogs progressed from game one.
Players of the Game
Moses Kingsley- Kingsley may have only hit 4-10 from the field but he hit 7-7 from the free throw line. Along with his 15 points, Kingsley had 5 block shots and 7 rebounds. The biggest thing was he avoided his habit of getting into foul trouble.
Dusty Hannahs- Dusty's 3-point game was lit. He led the team in scoring with 19 points and had 5 rebounds himself.
Daryl Macon- Just get used to hearing this name. Macon is going to be a force to be reckoned with this season and could be what the Hogs were missing last year. I am really looking forward to seeing what he can do against real competition.
C.J. Jones- It was his first game as a Razorback but he looked really good. Jones had 11 points shooting 3-5 from the field and 2-4 from the three.
Arkansas is off to a good start and is looking to keep it going on Friday when they take on UT Arlington. The game will be at Bud Walton Arena at 5:00 p.m. and will be on the SEC Network + or WatchESPN. Woo Pig!
This article originally appeared on