Arizona Wildcats Take on the Bears of Northern Colorado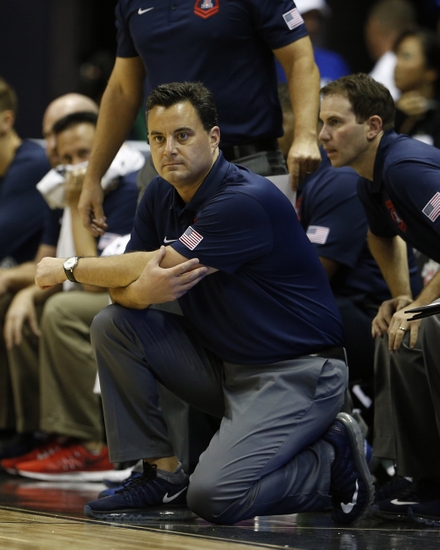 The Arizona Wildcats are 3-0 after beating Sacred Heart in the first round of the Las Vegas Invitational. The second round kicks off tonight as Arizona takes on the Northern Colorado Bears.
Thanksgiving time is typically reserved for people to gather with family and friends to give thanks. In the college basketball realm, Thanksgiving is reserved for Invitationals and Tournaments. For the Arizona Wildcats, the Las Vegas Invitational is calling their name.
Coming off a 30 point victory over Sacred Heart University, the Wildcats face Northern Colorado in their second game of the Las Vegas Invitational. Tonight's game is at home in Tucson with tip-off at 7:00 pm MST/6:00 pm PST.
The Wildcats will have another big advantage with height, size and athleticism. The front court players for Northern Colorado stand 6'7″ and 6'8″. Dusan Ristic and Lauri Markannen both stand 7'0″, Chance Comanche is 6'11" and Keanu Pinder is 6'9″.
Just as we saw Friday night against Sacred Heart, you can expect Sean Miller to look inside early and often. This is another game where Arizona should dominate rebounding and second chance point opportunities.
Dusan, after having a disappointing first two games, had a strong showing Friday night. He posted his first double-double of the year with 13 points and 15 rebounds. I personally have been critical of Dusan, so it was very pleasant to see him play well.
Lauri continued to show why is being considered a lottery pick next year, leading the team with 22 points, scoring in a number of different ways. Coach Miller mentioned after the game that he would like to see Lauri get more touches. With a smaller front court like Northern Colorado, Lauri should have more touches than any other player tonight.
Chance and Keanu can expect to have another solid night coming off the bench. Plus, the two are a change of pace and style for Arizona. If the Bears' front court seems to have a quicker step on Dusan and/or Lauri, Chance and Keanu will give the Wildcats a better shot at staying with the opposing players. Their stats may not stand out to the normal eye, but they have had a big impact on Arizona's defense and rebounds.
Northern Colorado, who comes into tonight at 1-2 on the year, shouldn't be taken too lightly. The Bears finished 10-21 last year. Their most recent loss was to Santa Clara, Arizona's next opponent, 88-72. The Bears will look to their best player, Jordan Davis, throughout the game.
Davis comes into tonight's game averaging 24 points, five rebounds and six assists. Against Santa Clara, Davis scored 23 points, to go along with seven rebounds and 10 assists. He is a true play-maker and understands his role for the team.
Limiting Davis's offensive touches will be key for the Arizona guards tonight. Kobi Simmons, Kadeem Allen, Parker Jackson-Cartwright and Rawle Alkins will all more than likely have their shot at shutting Davis down.
Miller demands a lot from his guards on the defensive end. The only way UNCO has a chance in this game is for Davis to go off. Since Davis is the only scoring threat for the Bears, Miller can throw one player after another at Davis, forcing him to be uncomfortable.
Another key for tonight will be getting to the foul line. What used to be the Achilles heel for Arizona, the Wildcats are shooting very well at the line., and is currently is at 78% through the first 3 games, averaging 29 attempts a game.
Getting to the line is also a great way teams with lack of depth to get a few breaks. Miller has a 7 1/2 man rotation, with the half being Allen since he's still not at 100% health. Arizona is looking at three games in five days. Any extra breaks the Wildcats can grab will be beneficial.
Sean Miller said it best last week: November games are great for learning. The schedule doesn't look the greatest. But with a young team, these kind of games are lessons. The first two games the Wildcats came out slow. Against Sacred Heart, the Wildcats put together their best full game of the year. The team is young and still growing together.
The Bears are the next lesson for the Wildcats. Look for this team to flex their muscles all night. BEAR DOWN!
Game Information:
Location: McKale Center (Tucson, AZ)
All-Time Series: Arizona leads 2-1 after dismantling the Bears back in 2010. The two teams split a home and home series back in 1959-1960 & 1960-1961.
Spread: Arizona -32
This article originally appeared on