Arizona Basketball: Wildcats would benefit from a Gumby Revival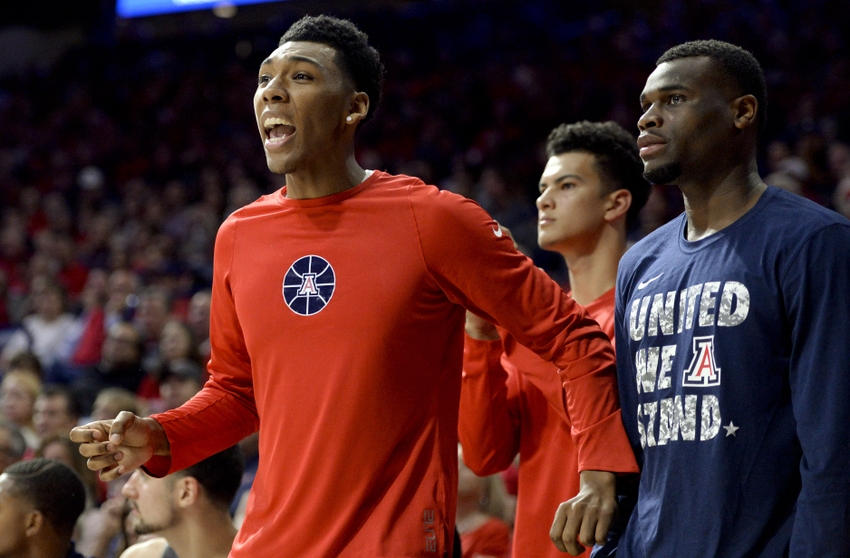 In the mid to late1980's the Arizona Basketball bench referred to as"The Gumby's" will go down in history as one of the most cohesive teams with loads of chemistry. The Gumby's were a huge factor in the team's road to the Final Four.
Arizona Basketball is known for walk-on's becoming beloved Wildcats throughout their program's history. The Gumby's, as they self-proclaimed their team, were loved and fondly remembered by most long-time Wildcats fans. With all the mishaps and injuries our Cats have suffered in the past couple seasons, we thought it was a good time to revive the Gumby Squad.
What is the Gumby Squad?
The 1988 Wildcats were the school's first Final Four team, and one of the most beloved teams in Arizona Basketball History. Why? Because they were fun, they loved basketball and their teammates. They played team ball, and the bench cheered on their teammates on the court with fervor.
They understood the concept of team basketball. That said, it was in an era where there weren't so many one-and-done's coming in and out of basketball programs. But still, the concepts are relevant today.
Steve Rivera, back in 1996, wrote about the Gumby's and listed the qualities required to be in the Gumby Squad as offered by the Gumby's themselves:
Your enthusiasm has to always to there.
You've got to be ready to step up and play.
Be willing to do whatever it takes to help the team.
You have to have a great team. You don't see teams cheering much when they're not winning.
You have to have great camaraderie.
You have to know what your role is.
Rivera's Source: Bruce Fraser (Gumby Leader 1986) and Matt Muehlebach, original Gumbies.
If you are a newer Arizona Wildcats fan or student, you may not have ever seen the video of the Arizona Wildcats basketball team in 1987-1988. The 80's rap video, produced by one of the Gumby's, Harvey Mason Jr., and features these Wildcats:
NBA greats


Sean Elliott (currently a sports broadcaster)
Steve Kerr (now the Golden State Warriors Head Coach)
Jud Buechler (now an Assistant Lakers Coach)
Sean Rooks (passed on this year)
Anthony Cook
Tom Tolbert

MLB legend Kenny Lofton (currently a film producer)
Craig McMillan, Harvey Mason (Seven-Time Grammy Award Winning Music Producer), Brian David, Craig Bergman, Joe Turner, and Matt Muehlebach (Current Pac-12 Analyst)
The team's Arizona Basketball Hall of Fame Head Coach Lute Olson.
The 1988 team was so adored by fans, our own Zona Zealots contributor Brad Malone and his brother Sean are making a documentary named "88" about them. The film is currently being edited, and they have enough film for two movies which includes interviews from former players, coaches, writers, and sportscasters.
Which brings us to the premise of this article. So who could revive and contribute to a new Gumby Squad for 2016?
Arizona Basketball: Gonzaga wants payback from the Wildcats who will be short-handed, Trier traveling with team
Arizona just brought on two new walk-ons: Freshman Guard Kory Jones (6-foot-3, 170) from Virginia and red-shirt sophomore Tyler Trillo (5-foot-11, 160). You may not be too familiar with their names because they weren't recruited along with Arizona's 2016 class.
Tyler played his prep career at Terryville HS in Connecticut was honored as a two-time First Team All-State selection during totaling 1,380 career points. From high school, Trujillo continued his basketball career by playing NCAA Division III ball as a freshman at Roger Williams University in Bristol, R.I. Tyler sat out a year and came to Arizona as a red-shirt sophomore.
Kory Jones played prep basketball at Westfield HS in Chantilly, Virginia and assisted in leading his Westfield Bulldogs to the 2016  state championship, in Virginia's 6A division.
These "newbies" join walk-on freshman Jake Desjardin and sophomore Paulo Cruz. Desjardin joined the Cats with the 2016 Arizona freshman class.
Let's not forget that there are more players on the bench right now that aren't currently playing but support the team from the bench. We also cannot forget Talbot Denny who is recovering from a pre-season injury sitting on the bench with Ray Smith who will remain with the team, but will not play basketball due to his career ending injury. There is also Allonzo Trier. He can lead the bench until he gets back on the court. Maybe they can even produce a 2016 Rap Song by getting the Digital Guru's or Sawyer Gieseke to help?
The only walk on that saw any action against Gonzaga was Paulo Cruz in the last couple of minutes. So why just sit on the bench? Let's get it going fellas! We need to get you actively engaged in getting the crowd involved when things are on the downside, and visibly supporting and cheering the team the entire game!
Take a page out of the Monmouth University bench of 2015-16. Any great play on the court was met with these types of shock and awe antics from the bench players on the side line.
With the Wildcats situation the way it is today, we are just looking for a way to give the players on the court and the bench new life to keep going. There's nothing to lose, and everything to gain. So what do you say Arizona Basketball? Is it time to revive the Gumby Squad? WE SAY YES! JUST DO IT! BearDown!
This article originally appeared on