Arizona Basketball: Wildcats rolls over visiting Sacred Heart 95-65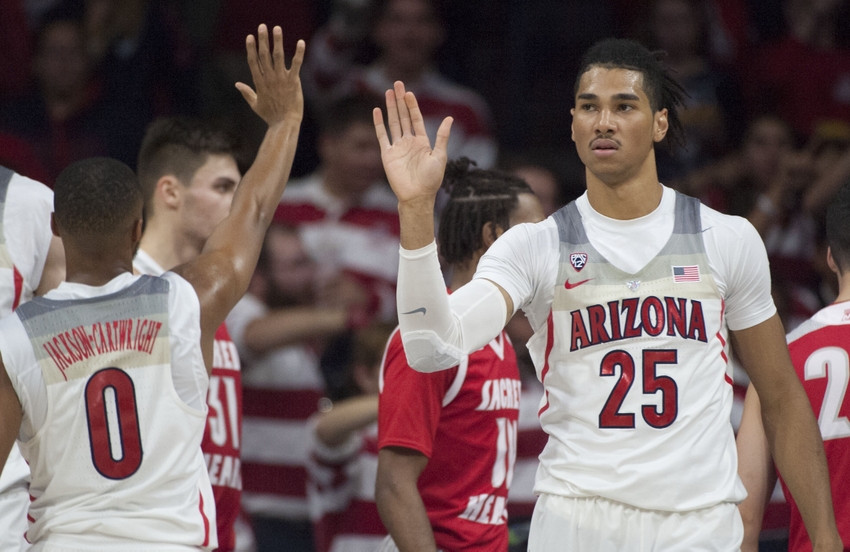 The Arizona Basketball team used a big offensive performance last night, to defeat visiting Sacred Heart University in McKale Center.
The Wildcats were all business last night as the Arizona Basketball team took on Sacred Heart. Following their close game vs. CSU Bakersfield just a few days earlier, the Wildcats were still uncertain of senior Kadeem Allen's status for this game.
Lo and behold, Allen did play, albeit not playing much. Sean Miller said the type of injury he had, it wouldn't have made it worse playing. Even so, it is hard to justify playing him in this situation, given the small bench the Wildcats have at this time and the fact Arizona ended up winning this one by 30-points.
With sophomore Allonzo Trier still on the bench playing cheerleader, the Wildcats made quick work of the Pioneers, taking a 24-point lead at halftime. At one point in the game, Arizona was shooting over 60 percent from the field, despite the abysmal performance from behind the arc. The Cats made a dismal four out of 33 three-pointers.
Arizona would pace themselves to a big win, defeating Sacred Heart by a final of 95-65. The Wildcats had six players in double figures, with freshman phenom Lauri 'The Finnisher' Markkanen leading the way with 22 points.
A Great performance last night by the Wildcats and the victory moves them up to 3-0 on the season, with Northern Colorado and Santa Clara up on the schedule next week.
The status of Trier is unknown, although social media has buzzed about a possible return. No verified source as of yet, only one site put out the statement. Should that happen, and we will let you know when there is a verified source, Allonzo will make a good team an even better team. And with Allen likely being 100 percent soon, that only means better things ahead for Arizona.
We are excited to see basketball underway and love the newcomers on this team. Great win last night, and BearDown, Arizona!
This article originally appeared on