Arizona Basketball: Wildcats' depth in major disarray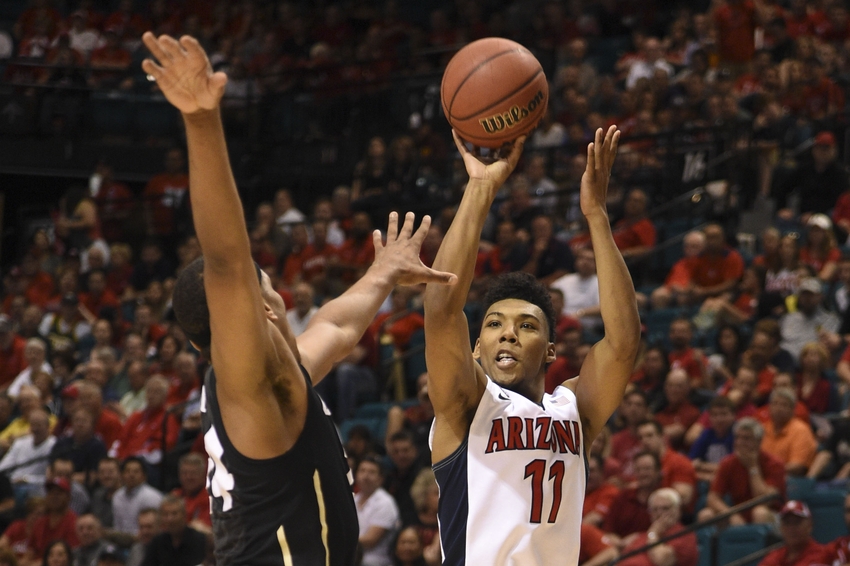 Is Sean Miller and Arizona basketball in massive trouble heading into the 2016-17 season?
The Arizona Wildcats, who are ranked 10th in the AP Preseason Poll and 11th in the USA Today Coaches Poll, are losing bodies rapidly.
They've already seen their five-star shooting guard, Terrance Ferguson, depart to play basketball overseas and their four-star point guard Justin Simon transfer to St. John's, but the Wildcats still were hoping to have the pieces to compete for a Pac-12 championship and beyond.
Now that is in serious question due to multiple different concerns on and off the court.
First, Arizona's top returning scorer and the team's best player, Allonzo Trier, did not play in Tuesday night's exhibition match-up against the College of Idaho. Trier, who was dressed in street clothes, is not currently injured, instead, there have been rumblings about the status of his eligibility.
This not the first time this preseason that Trier has sat out at an event. Trier was supposed to take part in Pac-12 Media Day at the end of October, but Arizona sent two replacements for their star player even though he was listed on the official Media Day schedule earlier that same week. The guard also sat out Arizona's Red and White Scrimmage weeks ago.
Head coach Sean Miller has denied comment numerous times, while athletic director Greg Byrne has not opted to speak about the matter either.
If Trier isn't able to play this season or is dealt a significant suspension, Arizona will lose their best shot creator, one of their leaders and a confident guard who can bail the Wildcats out in late game situations.
He averaged 14.8 points, 3.3 rebounds, shot 47 percent from the field and drilled 36 percent of his threes in his freshman campaign. While he's not much of a playmaker at this stage (1.1 assists per game), he is a dynamic scorer who plays with no fear.
The second concern is in regards to Ray Smith. The redshirt freshman was unable to play all of last season due to a torn ACL, and is now dealing with another injury. In the Wildcats' preseason game on Tuesday, Smith injured his leg after coming off the bench. He left for the locker room twice before departing for good with 12:39 left in the 1st half. Smith was helped off the court and did not remerge.
Arizona's Ray Smith will be further evaluated today, per a school spokesman. Left exhibition game last night with injury.

— Jon Rothstein (@JonRothstein) November 2, 2016
"Tough night for us, watching Ray go down. It certainly didn't look good; we'll know more in the next couple of days," Miller said after the game, according to The Daily Wildcat. "I think that trumps everything else tonight.
"It's heartbreaking. I don't have any words to really couch it, make it better than it really is, it's just awful."
Smith was a four-star recruit and was ranked 29th in ESPN's top 100 in the class of 2015. He has NBA potential as a versatile defensive piece, a potential stretch four and an effective rebounder around the rim. Unfortunately, Smith hasn't played a single game since high school and already has suffered two torn ACLs.
No. 10 Wildcats Dismantle the Yotes in an Exhibition Game Opener
But that wasn't all.
Miller announced before the exhibition showdown that sophomore forward Chance Comanche is suspended indefinitely due to academic reasons.
"Chance Comanche will not play in tonight's game due to his own lack of academic responsibility," Miller said in a statement. "As a member of our basketball program, you are a student and an athlete, and you are expected to do the best of your ability in both areas.
"It is not an option to compete and be held accountable on the court but not in the classroom. This suspension is indefinite."
Comanche only averaged six minutes and 1.9 points per game last season, but he is projected to play a larger role in 2016-17. With Ryan Anderson and Kaleb Tarczewski, the team's top two rebounders and best big men from last season, gone, Comanche is needed to protect the rim, rebound and score around the bucket.
While he wasn't going to start due to the presence of five-star forward Lauri Markkanen and Smith, he has the length and skills to be a force off the pine.
With Trier's status up in the air, Smith down with injury and Comanche dealing with off-court issues, Arizona is currently suffering in the depth department.
"We don't have any depth," Miller said following Tuesday's exhibition, according to The Daily Wildcat. "We'll have to play our walk-ons. They'll have to be ready."
Arizona is still going to have success even if they are dealt the worst case scenario (Trier can't play all year, Smith's injury is serious and Comanche is out for a long period of time) because of their head coach. Miller is a terrific defensive coach and will be able to mask the most out of his talent. Five-star freshman Kobi Simmons and Rawle Alkins aren't going anywhere, and of course, Dusan Ristic anchors the front court.
For now though, Wildcat fans just have to hold their breath and wait. Arizona could possibly go from a Final Four sleeper to a potential bust in a matter of days.
More from Busting Brackets
This article originally appeared on