Arizona Basketball: The Arizona Wildcats Survive Final Exhibition Game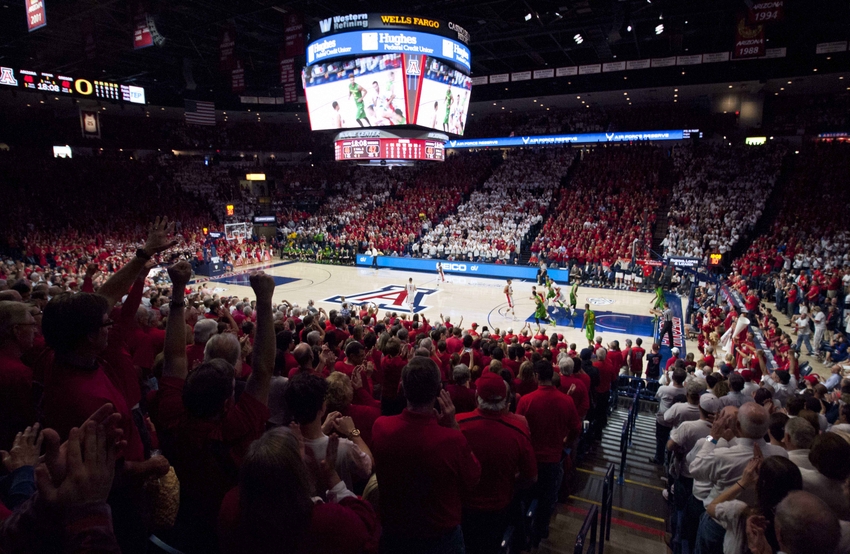 With the regular season only four days away, the Wildcats had one last exhibition to get through. The night turned out to be a lot tougher than expected, but the good guys prevailed.
"We have no depth. Our walk-ons better be ready." These were the words Sean Miller spoke after the last game. Ray Smith added his name to the list of scholarship players not available, joining Chance Comanche and Allonzo Trier. The team was hurting, but it was time to move on.
Sunday night was the last exhibition game before the team travels to Hawaii. The Chico State Wildcats were looking to avenge their loss from last year. From the beginning, the Wildcats, of the Chico State variety, showed no signs of being intimidated by No.10 Arizona.
The size, speed and athleticism heavily favored Arizona. But Chico State had the perfect counter: a veteran group of players who have played together for more than just a couple of months.
Chico State moved the ball well, attacked the paint and shot well from the 3-point line. With about ten minutes left in the first half, Chico State went up by 12 after a 3-pointer put the score at 29-17. Arizona was slow and lost on defense throughout the evening. Chico State was putting up uncontested shots one after the other.
Arizona showed flashes of really good basketball. They closed the half on an 18-11 run. The team began to play tough on defense and flexed their muscle on offense.
Chico State would go into the half up 40-37. Coming out of the break Arizona continued their dominant play by going on a 16-4 run. But the Wildcats fell back into inconsistent play.
Chico State got right back in the game with 9 minutes remaining. A deep 3-pointer, one of many for Chico State, made it a 58-57 game.
Arizona outscored Chico State 41-30 in the second half to squeak out a 78-70 win. Inconsistency and lack of execution are how I would describe the game. In the second half, Arizona would make great plays on both ends, only to follow it up with several minutes of undisciplined play.
Often Arizona had Chico State scrambling late in the shot clock. The team played stifling defense. But too often it ended with Chico State getting to the basket with ease.
Defending the 3-point arc was a big weakness for the night. Chico State finished the night 9-26 (35 percent) from deep.
In the second half, Chico State even hit back-to-back-to-back rhree's. Arizona was either late on the rotation, didn't fight through screens, or simply didn't have a hand up to defend.
Arizona was atrocious from behind the arc, aside from Lauri. The Wildcats finished the night 3-12. All three made baskets came from Markannen.
Defending the three and shooting the three are two areas Arizona needs to clean-up quickly. It's extremely difficult to win a game if you're giving up uncontested three's, as well as missing one after the other on the offensive side.
The rebounding statistic immediately grabbed my attention. Arizona has three players standing 6-foot-9 – 7-foot-1. Chico State's tallest player was 6-foot-8, yet they out-rebounded Arizona 30-28. Sean Miller pointed out how Lauri Markannen had 0 rebounds in the first half. The message was received as Lauri pulled in 7 rebounds in the second half.
He's young and only a freshmen. However, when you're 7-foot-1 and considered a potential lottery pick, it is unacceptable to grab 0 rebounds in half. His offensive game shined tonight with 21 points and 3-4 from deep.
When you lack depth, every possession becomes more important. It was concerning to see the struggle Sunday night on the boards, defensively and from deep. It is was very clear how not having Chance Comanche, and Allonzo Trier can affect this team.
According to Miller, Chance will back in uniform for Michigan State. In the post game interview, Miller commented several times on the importance of Chance and what him being available for Michigan State means to the team:
"With Chance, we're a much different team. You can't underestimate a 6-foot-11 offensive rebound, defensive rebound, the ability to give us great size and depth up front. And he's someone who can score as well. We're anxious to get him back, and I think against Michigan State, as long as everything here checks out, he should be back and with us."
"I think Chance Comanche, him playing versus not playing at all, affects a lot of things. He's not a cure-all, but believe me, I'm around him every day in practice, he's a big part of what we're doing, and it's really going to help our depth."
The tune-up games are finished, and Arizona walked out 2-0. The point of Exhibition games is to find out what needs to be fixed. Clearly, this team is still working out the kinks. A game like Sunday night is one where players can learn a lot. They have to learn quickly, however, as the regular season tips off Friday, November 11th, against No.12 Michigan State. Aloha and Bear Down!
This article originally appeared on