Arizona Basketball: No.16 Wildcats rattled by No. 8 Bulldogs in HoopHall Classic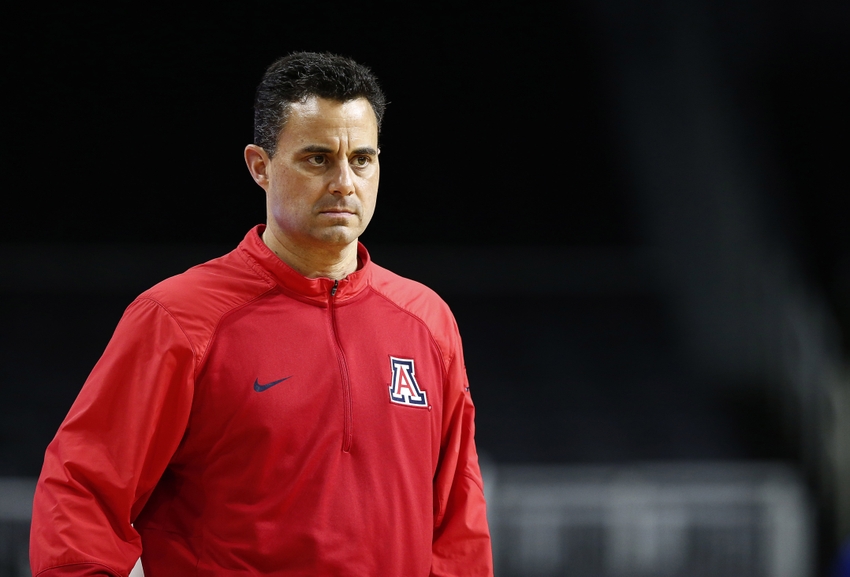 Arizona Basketball played out at Staples Center in Southern California and made a late run to cut a 13-point against Gonzaga Bulldogs down to seven, but fell short 69-62.
From the opening tip, the Arizona Basketball team was very extremely tense and unfocused as they started off the game with four turnovers in the first few minutes of play. The Bulldogs built a 12-point lead with the help of center Przemek Karnowski and who did not dress up for the matchup last season. The Wildcats had no answer for the big man as they did not seem to bother to double team him. Coach Sean Miller wanted UA to crowd the interior but they fell short.
"Today he beat us with our own scoring," Miller said. "He had timely baskets. Our one-on-one defense needs to get a little better. I thought Chance (Comanche) and Dusan (Ristic), that was a tough task for both of those guys. Now that they've played against somebody like him hopefully they'll be ready for the next time," according to the AZ Daily Star.
Arizona Basketball: Wildcats would benefit from a Gumby Revival
It was obvious though that this game was going to end up very different from previous matchups. Arizona was short-handed with Park Jackson-Cartwright out with an injury and the unknown question of when Allonzo Trier will or if he will return. Traveling with the team was a step in the right direction, but who knows what that means?
Kadeem Allen and Lauri Markkanen were the first two Cats to put up some points to breathe life into the team but it did not seem to be enough. In the first 8 minutes, Gonzaga shot five of seven from 3-point range. The perimeter defense was missing and that opened up the game for the Zags.
Towards the end of the half, Dusan Ristic came up with some huge buckets to cut the Zags FG  percentage  in half. By halftime, Gonzaga still held a 12-point lead and that continued for the majority of the second half. The Wildcats just couldn't get the deficit down under double digits. Zags SG Nigel Williams-Goss was not only their leading scorer in this game but he caused Arizona's offense to be off-balance prohibiting the Cats to penetrate his team's defense, passing the ball and grabbing rebounds.
As the second half was under way Lauri came up with five huge points but the Cats missed the next six shot attempts. This is very unlikely to happen again in the future but it was extremely surprising to see and experience for everyone.
A nice surprise was the surge led by true freshmen SG Rawle Alkins, who gave Arizona their first 3-pointer of the game. His shot boosted the morale of not only the team but the Arizona fans at Staples who passionately follow the Cats wherever they travel. Dusan Ristic continued to get the ball inside for baskets and ended up with 12 points, seven rebounds, and one assist. If he hadn't gotten into foul trouble, who knows how much more he could have contributed.
In the end, the firepower of Gonzaga was overwhelming for Arizona. As they scratched and clawed to within seven points as the game ended. It is very tough to see them lose to a team that in years past has not been that much of a problem. The Cats could not seem to gain control of the game. It slipped past them very early in the first half and it continued from there on out.
Optimistically, Rawle Alkins sees this not as a loss but as a learning experience for the future.
Never Lose, Either Win Or Learn ????

— Rawle Alkins (@Iam_RawleAlkins) December 4, 2016
I love Rawle's optimism after what was a disappointing loss. Wildcats (6-2) on the season will get going once again coming back home to McKale Center. Tuesday night the Wildcats face the Anteaters of UC Irvine. Maybe this will be the time we see Trier make his return. With that and PJC's injury looming over the Wildcats, they have a quick turnaround before getting into the meat of their schedule.
BEARDOWN and rise up Arizona!!!
This article originally appeared on