Arizona Basketball Escapes the Feisty Northern Colorado Bears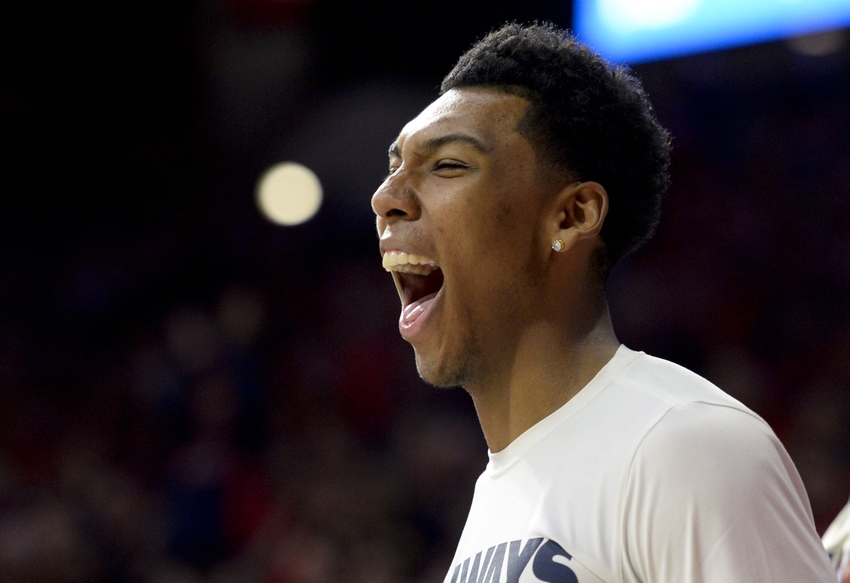 Arizona Basketball (4-0) escaped a feisty and gritty Northern Colorado team (1-3) in McKale Center Monday, defeating the Bears 71-55.
The 2016-17 season has been underway for a couple weeks now, and the Arizona Basketball team is rolling along, winning their first four games despite the myriad of injuries and suspensions.
As we learned as of Monday evening, Arizona is still without sophomore superstar Allonzo Trier. Despite the many rumblings on Twitter and Facebook of him possibly returning for this game, it was announced just prior to tip-off, that Trier was not dressed, nor was he taking place in any of the teams' warm-ups.
As the entire team goes through warmups, it will be interesting to see if either Allonzo Trier plays in his jeans or gets cleared.

— Jason Scheer ★★★★★ (@JasonScheer) November 22, 2016
That said, he was supporting his team in time-outs, giving Dusan some instructions or tips at one point.
Despite the non-appearance from Trier, Arizona looked a bit out of sorts for a large part of the game. From the tip, the Wildcats struggled to find any offensive consistency as the Bears used a suffocating zone, that Arizona had a tough time breaking.
Going back and forth for much of the first half, as well as part of the second, Arizona did not begin to pull away until about ten minutes were left in the game.
It was a fairly rough night shooting for the Wildcats, as Arizona finished the game shooting nearly 44 percent from the field and only 25 percent (4/16) from three-point land. Additionally, Arizona was out-rebounded by a team that was vastly shorter than the Wildcats.
"Can't say enough about Parker tonight… He runs our team right now and is so valuable in making it easy for his teammates…There's a lot of good plays happening because Parker's got the ball in his hands."
Thanks in large part to freshman Lauri Markkanen's 17-point performance, and Parker Jackson-Cartwright's double-double (15 points, 11 assists), Arizona was able to fend off Northern Colorado, by a 71-55 final.
Following the game, head coach Sean Miller was very complimentary of his junior point guard. "Can't say enough about Parker tonight 9-9 from the foul line. He runs our team right now and is so valuable in making it easy for his teammates…There's a lot of good plays happening because Parker's got the ball in his hands."
Beyond the great play of Markkanen and Parker, a big reason Arizona has been successful to start the year, has been their ability to get to the free-throw line, and also converting on those opportunities. Tonight, the Wildcats again were strong performers in the statistical category, taking 23 attempts, and making 19 of them (82.6%), and Miller definitely recognized this in his post game comments.
Our ability to make free-throws and get to the FT line – Miller attributes this to helping win games

— ZonaZealots Go Cats! (@ZonaZealots) November 22, 2016
Overall, the game wasn't pretty, but a win is a win, and for right now for a team without Trier, and senior Kadeem Allen still not quite at 100 percent, I'm sure head coach Sean Miller and the Wildcats are just happy to be victorious in a game that potentially screamed 'struggle' just days before Thanksgiving as well as coping with all the social media distractions.
The status of Trier moving forward is still in question although there is still a glimmer of hope he is cleared AND actually plays in the Wildcats' next game. For now, we are just waiting on official word from the school.
Sean Miller & Arizona will not comment on Allonzo Trier tonight.

— DailyWildcatHoops (@WildcatHoops) November 22, 2016
In the meantime, Arizona is learning a lot through these first few weeks that could pay off big time, later in the season. Assuming Arizona doesn't have too many set-backs from here on out, this young group is getting a ton of experience before the schedule toughens even more!
At Zona Zealots, we are glad to see the Wildcats victorious and of course hope to see a better performance on Thursday against Santa Clara. We also do hope that Trier does come back soon, as his presence will be greatly felt. BearDown, Arizona!
This article originally appeared on