Arizona Basketball: Cats remain ranked at No. 10 in the AP Poll, take on CSUB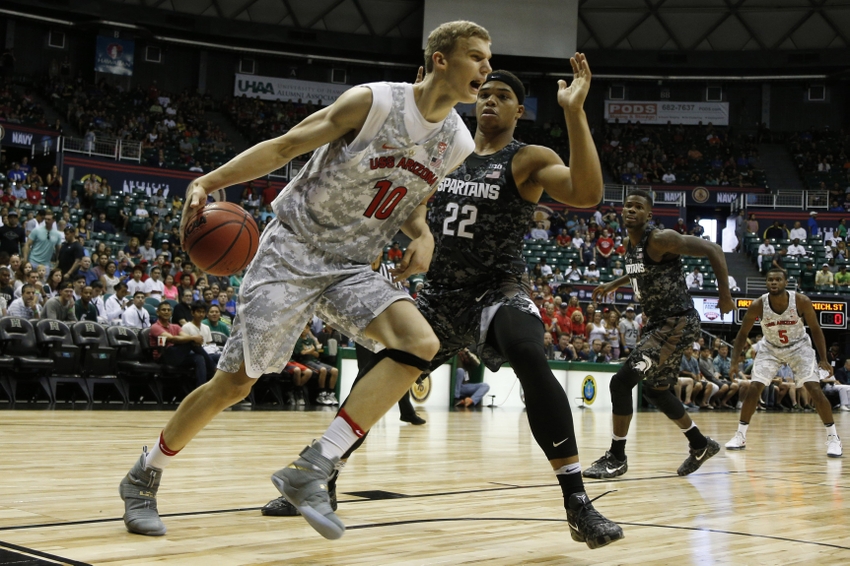 Following an inspired 65-63 win over No. 13 Michigan State in this past Friday's Armed Forces Classic in Hawaii, the No. 10 Cats remained unchanged in the AP Top 25.
Given the trend of this Arizona Basketball team's offseason, the first six minutes of Saturday's Armed Forces Classic seemed like a nightmare had come true for Sean Miller's team.
After falling into a 17-2 hole in Hawaii against Tom Izzo's young Michigan State Spartans, led by their star freshman forward Miles Bridges, the Cats dug deep and rallied to make a game of it, spearheaded by a stellar debut from a former five-star recruit, freshman guard Kobi Simmons.
After coming back to tie and eventually take the lead, the Cats and Spartans went back and forth, exchanging leads. Down by three towards the end of the game, MSU guard Tum Tum Nairn's three point shot, aided by a friendly bounce, tied up the ballgame.
While the shot was discouraging for the Cats at the time, it only set up Kadeem Allen's game-winning layup.
Regarding AP Rankings, it may seem as though the Wildcat's first game-winning shot since Lamont "MoMo" Jones' buzzer-beater against Stanford at Maples Pavilion on 2/27/2010 was in vain. Despite beating the preseason ranked No. 12 team in the country on a neutral court, the Cats remained unchanged at their No. 10 ranking in Monday's AP Poll. Here's MoMo's buzzer beater:
That being said, the Cats' offseason certainly hasn't felt like that of a top 10 team. After losing guards Ray Smith and Allonzo Trier in exhibitions, due to an ACL tear and eligibility concerns respectively, Sean Miller only has seven players on scholarship.
However, the AP preseason poll that initially ranked the Cats at No. 10 was revealed before Arizona's hardships. Due to a brutal preseason, the AP voters would likely have dropped the Cats between the 15 and 20 range if given a chance, so their initial ranking as No. 10 may have proved to be misleading. 0.
Regardless, Friday's win against the Spartans reaffirms this updated Arizona squad's status as a bonafide top 10 team.
There is still a very long way to go this season for the Cats and a rally against Sparty will be their first test of many. But for now, the Cats freshmen play a vital role in the success of this team as they continue to make us proud and find their groove against the Cal State Bakersfield Roadrunners on Tuesday night. Bear Down Arizona!
This article originally appeared on