Alabama Defeats Coastal Carolina 70-53 In Season Opener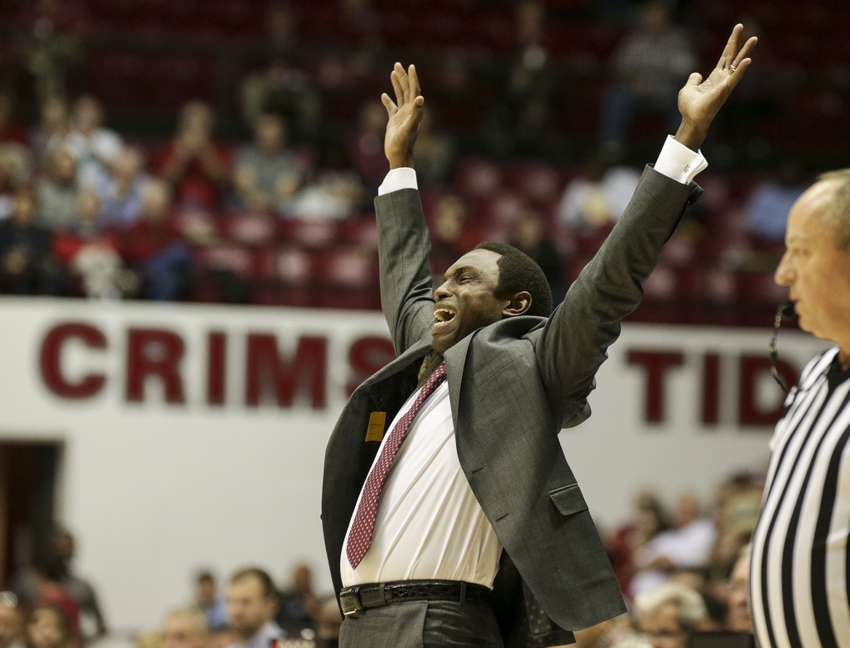 Alabama opened the season in Coleman Coliseum with a 70-53 victory over a tough Coastal Carolina team. This is one game, however, that the score doesn't explain it all.
Whether it was nerves, emotions of the season opener or just a complete lack of preparation, Alabama basketball started off the game extremely sluggish. Alabama was down by as many as 8 points in the first half and went into the locker room at the half with a 33-27 deficit to the Chanticleers.
It seems whatever head coach Avery Johnson said in the locker room sparked a new life for the Crimson Tide. The defense was suddenly closing gaps, which they were unable to in the first half especially from beyond the arc. The offense too saw a different look from the first half, making wise shot selections and knocking down the shots you're supposed to versus…not.
Talk about a Jekyll and Hyde.
Nonetheless, with the win, the Tide move to 1-0. Corbin Collins lead all scorers with 15 points, 3 rebounds and a couple steals. Jeremy Taylor led the rebounding category with 7 rebounds total, 6 of which were defensive. The team as a whole racked up 8 steals and was 39% accurate from 3-point land.
With the loss, Coastal Carolina moves to 0-1 on the season. Colton Ray-St Syr led all scorers with 15 points. The Chanticleers were also 39% from beyond the arc, which most of that was the reason Coastal Carolina was up at the half. They also had 13 turnovers in the game, something that probably was the demise of their team.
Next up for Alabama is a date with Dayton on Tuesday. Tip is at 12:15pm CT. The odd tipoff time is due to this game being a part of ESPN's annual Tip-Off Marathon where they run games from the morning through the overnight.
More from Bama Hammer
This article originally appeared on