Alabama Basketball: Avery Johnson raises Tide's stock with two major additions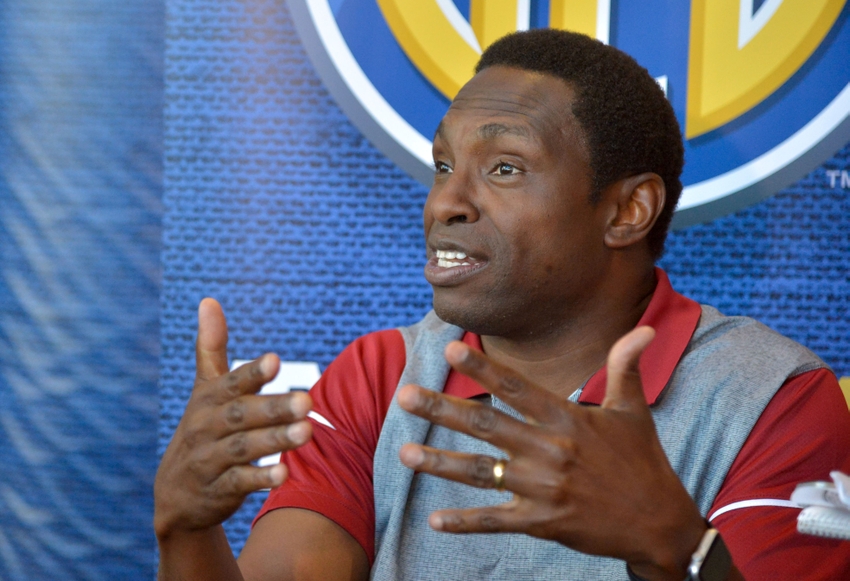 John Petty and Collin Sexton committed to Alabama basketball on Thursday evening.
No one had a better Thursday than Alabama head coach Avery Johnson.
The second-year coach landed two top-25 guards in the class of 2017, John Petty and Collin Sexton. This gives the Crimson Tide a total of five recruits for next season, including four-star power forward Alex Reese, three-star small forward Herb Jones and center Galin Smith.
The additions of Petty and Sexton give Alabama the second best recruiting class in the nation, according to Scout.com.
Alabama now moves to No. 2 in Scout's 2017 recruiting class rankings with the additions of John Petty and Collin Sexton today.

— Evan Daniels (@EvanDaniels) November 11, 2016
John Petty and Collin Sexton will be Alabama's first five-star signees since 2008. And they've come on the same day.

— Jeff Borzello (@jeffborzello) November 11, 2016
Petty, a five-star recruit who is ranked 25th in ESPN's top 100, chose the Tide over the Kentucky Wildcats. As the second best player in the state of Alabama, Petty opted to remain in his home state.
The shooting guard has the size (6'5″) and the athleticism to mold into one of the top all-around freshman in the SEC in 2017-18. Petty can attack the basket both in transition and in the half court, and is capable of finishing above the rim and over length. He has the potential to be a solid outside shooter, but remains inconsistent beyond the three point line at this point in his development.
On the other end of the court, Petty can guard either the two or three positions, and has the lateral quickness to stop his opponents on dribble drives.
While Petty is a terrific talent, Sexton is an even bigger addition for the Crimson Tide. The 6'3″, 175 pound combo guard, who chose the Tide over Kansas, is ranked 10th in ESPN's top 100 and is labeled as the second best player in the state of Georgia.
If you're a Crimson Tide fan and you haven't seen Sexton play yet, you are going to have loads of fun watching this energetic, passionate guard duke it out with opponents night-in and night-out. I've been raving about Sexton since watching him play this summer in the U-17 World Championships, when he won tournament MVP.
Sexton averaged 17 points, four rebounds and 4.2 assists per game off the bench, helping Team USA win the gold medal. But it wasn't just the stats that jumped off the screen, it was his motor and aggressiveness.
Sexton isn't the most consistent shooter and sometimes he can get out of control with the basketball in his hands. However, he is tough to stop in transition, he's almost impossible to limit when he's attacking down hill and he is crafty finisher at the basket. Sexton is what you call a flat out "bucket getter," as he can score in double figures any time he touches the floor.
Even on defense, where he needs to add strength, his feistiness bothers opposing guards and his quick hands create deflections and/or turnovers.
Most importantly, Sexton's love for the game of basketball is evident. He wears his heart on his sleeve and plays like every game is his last.
Between both Petty and Sexton, their consistency from downtown and their lack of true point guard skills could cause reasons to be concerned. However, they have plenty of talent surrounding them next year.
Corban Collins, Ar'Mond Davis, Dazon Ingram, Nick King and Riley Norris will all be back in the backcourt, giving Johnson plenty of depth to operate with. Petty and Sexton will be two of the faces of the program moving forward, but the pressure won't be applied solely on them right away.
We've been asking for months who could emerge as the challenger to Kentucky in the SEC in the coming years. Alabama could very well be that team, as they join Auburn and Mississippi State as programs that are rising thanks to their success on the recruiting trail.
More from Busting Brackets
This article originally appeared on