Addition of Lonnie Walker Moves Hurricanes Recruiting Class to Ninth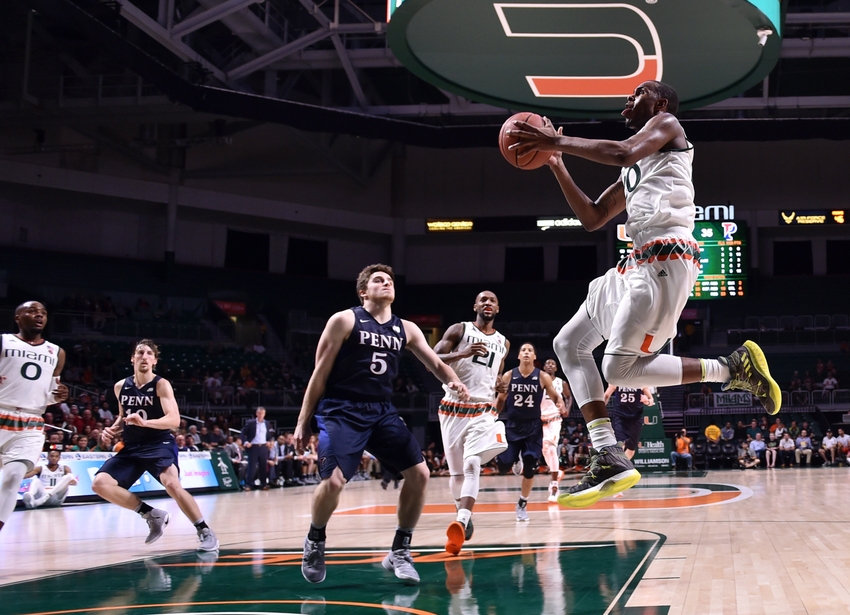 Miami's addition of the nation's 19th overall player and fourth best shooting guard Lonnie Walker has pushed the Hurricanes 2017 recruiting class to ninth in 247Sports' composite rankings.
Walker joins other early signees point guard Chris Lykes and Center Deng Gak as part of the 2017 class. Sam Waardenburg, a 6'9 Power Forward from New Zealand is also part of the class but has yet to sign a Letter of Intent.
Walker's choice to attend Miami was surprising. 247 had Walker as an 80 something percent chance to choose Arizona. Walker's hometown paper, the Reading Eagle tapped into how the seemingly underdog Hurricanes landed one of the nation's best players.
Miami assistant coach Adam Fisher a Pennsylvania native, laid the groundwork in Walker's recruitment. Villanova was one of the other finalists for Walker along with Kentucky. Fisher's high school coach was ironically Jay Wright's brother Derek.
According to the Eagle, Miami Head Coach Jim Larranaga and Walker have already developed a close bond over common interests and an infinity for Animal Planet. It was Larranaga's belief in Walker, the lessons he taught him and Walker's sense that Larranaga wanted him as part of his "family" that closed the deal.
Walker said: "One of the things he drilled into my mind is, basketball's temporary," Walker said. "What are you gonna do after basketball? He kind of sounded like my father. It hit me: This guy wants me to be part of his family."
Miami loses Forward Kamari Murphy and Wing Davon Reed after this season. Freshman Forward/Center Dewan Huell has also indicated he has an eye on the NBA Draft after this season.
Walker's biggest competition for playing time next season will come from freshmen combo guard Bruce Brown and wing DJ Vasiljevic. Brown is averaging 9.7 Points Per game and is one of Miami's most versatile players. Vasiljevic averages 11.7 PPG and is shooting 50 percent on threes.
Brown was the 30th ranked player in the class of 2016 and the fourth-ranked combo guard in 247's composite rankings. Huell was one spot above him and the ninth-ranked Power Forward.
Larranaga's demeanor lends to being a players coach. The trust he puts in his players was a key element in landing Walker. "I've got a lot of trust in that guy," he said of Larranaga. "That coach sees something special in me that I feel like no one else saw."
Larranaga continues to build Miami into a program, not just a team that will make the Sweet 16 runs every few years. Known as a football school, It's the basketball program that has had more success recently. Consecutive top 20 recruiting classes has laid the groundwork for continued success- for at least the next few seasons.
More from Canes Warning
This article originally appeared on