ACC Basketball: Top 5 Freshmen for 2016-17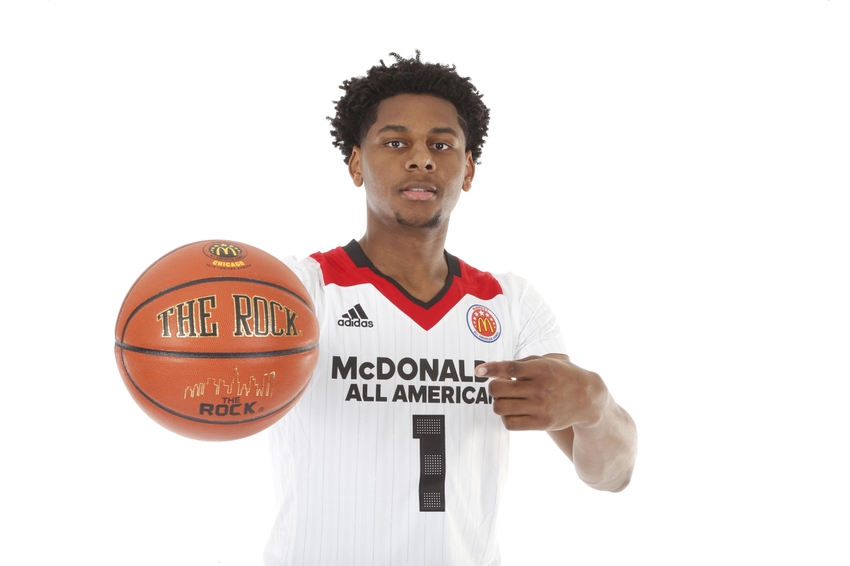 The 2016-17 ACC basketball season may very well be known as the "Year of the Freshmen".
There are a plethora of incoming freshmen who are capable of taking their respective teams to the top of the ACC. Perhaps the top of college basketball as well.
Several of our featured players are on the same team. And a number of players just missed the cut. But being an "honorable mention" on this list is a win, given the class of player that made the top five. And it's possible that one of those who just missed the cut could usurp those ahead of them.
Take a look at the top five freshmen in the ACC for the upcoming college basketball season.
Dennis Smith, Jr., North Carolina State, point guard, #4
Dennis Smith, Jr. is the No. 1 point guard in the class of 2016. He grew up in Fayetteville, North Carolina and was raised to as an N.C. State fan. Smith was recruited heavily by North Carolina and Duke. However, Smith chose to play for his childhood favorite – the North Carolina State Wolfpack.
Smith could end up being the best basketball player to ever play at North Carolina State. It's a bold statement to make, especially when you think about the basketball greats who played for the Wolfpack. Basketball greats David Thompson, Rodney Monroe, Chris Corchiani, Tom Gugliotta, Thurl Bailey and Lorenzo Charles can all lay claim to that title.
Smith is the only freshman selected to as preseason first team All-ACC. DraftExpress projects Smith to be the second overall pick in the 2017 NBA Draft. Nbadraft.net also projects Smith to be the second overall pick.
Smith is an elite talent with a diversified skill set. He is a true point guard that can score and play above the rim. He also defends very well and plays well off of his teammates.
Get acclimated to this young man with his high school highlights. View Smith highlights from N.C. State's exhibition game versus Lynn College:
Harry Giles, Jr., Duke Blue Devils, power forward, #1
Harry Giles, Jr. is a consensus top-three ranked high school player in the class of 2016. Like Dennis Smith, Jr., Giles represents another North Carolina-bred young man. Giles grew up in Winston-Salem, North Carolina so he remains close to home while attending Duke University.
Giles played high school basketball with North Carolina's Theo Pinson. Despite being teammates several years ago, Giles chose to attend Duke; the arch-nemesis of Pinson's Tar Heels.
Giles could be one of the best big men to ever play for the Duke Blue Devils. Yes, I made another bold statement. However, when you see this young man play he will back up that prediction. DraftExpress and NBAdraft.net project Giles to be selected fifth overall in the 2017 NBA Draft.
Giles is a unique big man. At times, he plays like a 6-foot-10, 230-pound guard. He handles the ball just as well as any point guard. Likewise, he shoots from the perimeter as well as any shooting guard or small forward. In the low post, Giles can bang down low with the best of them. He possesses a complete skill set and he will pose fits for opposing defenses.
Although he has undergone two knee surgeries prior to playing college basketball, Giles' skill level surpasses that of some NBA players. He will surely be a 'one-and-done' player, in addition to being a lottery pick.
Duke head coach Mike Krzyzewski will enjoy having this young man on his roster. Coach K can run a variety of plays to utilize Giles and get him involved.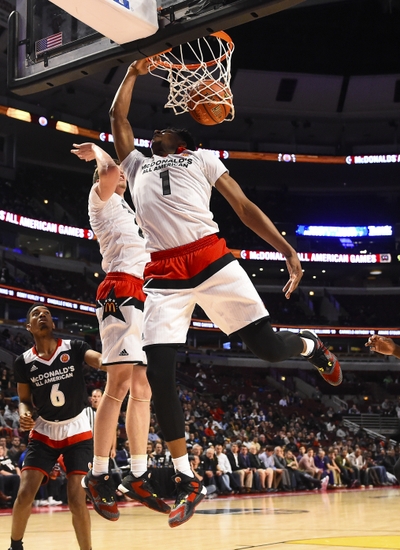 Marques Bolden, Duke Blue Devils, center, #20
Marques Bolden was a late commitment for the Duke Blue Devils. When he played in the 2016 McDonald's All-American Game, he was still uncommitted.
At 6-foot-10, 254 pounds, Bolden ranks as another five-star commitment for the Blue Devils along with Giles, Jayson Tatum and Frank Jackson. DraftExpress projects Bolden as the eighth overall pick in the 2017 NBA Draft. NBADraft.net predicts Bolden to be selected at the twelfth pick in the draft.
Bolden is a nice contrast to Giles because he plays strictly in the post. Bolden will be called upon to rebound, block shots and score in the low post. Although redshirt senior Amile Jefferson will start at the center position for Duke, don't be surprised if Bolden takes over the starting position soon.
Jayson Tatum, Duke Blue Devils, small forward, #0
Jayson Tatum is the No. 3 overall player in the class of 2016. This season, he will be part of the second-ranked recruiting class of 2016. DraftExpress projects Tatum to be selected third overall in the 2017 NBA Draft. NBADraft.net predicts that Tatum will be the eighth overall pick.
Tatum will start at the small forward position for the Blue Devils. In Duke's blue-white scrimmage game, Tatum scored 19 points.
Tatum possesses a smooth, all-around game. He may be the best small forward to play at Duke since Grant Hill. His skill level is actually NBA-ready right now.
Tatum may be the top scorer for the Blue Devils. Keep in mind that Duke still has Grayson Allen who ranked second in the ACC in scoring last season (21.6) and Luke Kennard.
Tatum's defense and productivity will be great additions to Duke. His game completes their starting lineup, which will be one of the best in the country. Tatum plays above the rim, can man the 'stretch four' position during 'small ball,' and plays well in transition.
Tatum will be a part something special in Durham, North Carolina this season. Many people predict that Duke will cut down the nets next April. Coach K reloaded his team with a superior freshman recruiting class.
Tatum will play well off of Harry Giles, Jr. and Marques Bolden. Although they may be young players, their skill sets surpass their youth.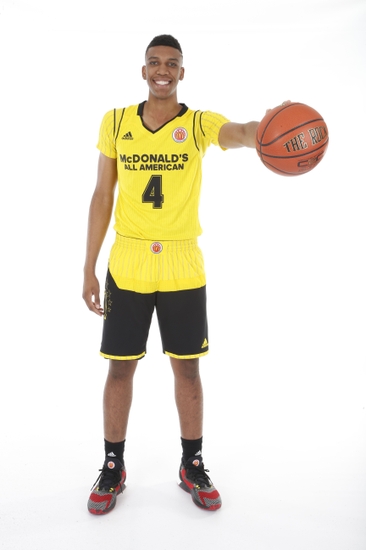 Tony Bradley, North Carolina Tar Heels, power forward, #5
At 6-foot-10, 240 pounds stands one of the latest additions to the Tar Heels, Tony Bradley. Bradley hails from Barstow, Florida.
Bradley will back up seniors Kennedy Meeks and Isaiah Hicks at the power forward and center positions. Bradley is  ranked No. 17 in the class of 2016.
He possesses an 'old school' game. Although you will see highlights from Bradley throughout the 2016-17 season, he represents a blue collar guy.
He excels in basketball fundamentals and his game is not flashy. Bradley commands the post and plays both sides quite well.
In addition, Bradley has a solid jump shot. Leave him alone on the perimeter and he will drain a three-pointer. He runs the floor as well as any big man in the nation.
He will compliment his teammates well at North Carolina. Check out what UNC head coach Roy Williams had to say about Tony Bradley:
Honorable mention:
More from Keeping It Heel
This article originally appeared on