ACC Basketball: Ranking the top 5 backcourts in the conference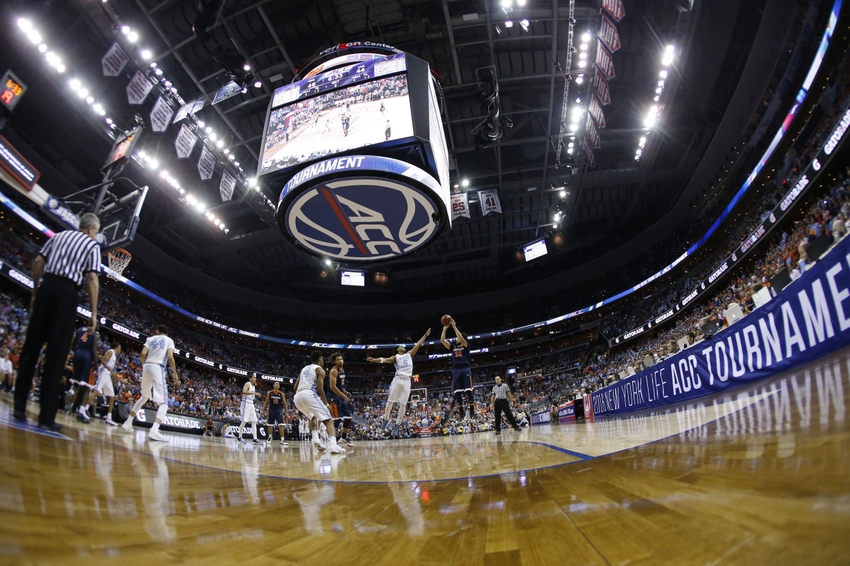 College basketball is back! With the first day getting this Friday, it will be our first time to see many of the top freshman in the country as well as the upperclassmen we either love or hate.
For the ACC, they return many top caliber players as well as have some of the best freshman in the country, especially in the back court.
With all the talent and experience in the back courts, lets take a look at the top five back courts in the ACC.
No. 5: Miami Hurricanes
Though they lost their starting back court and top two scorers from last year in Sheldon McClellan and Angel Rodriguez, they bring back two experienced and talented guards in Davon Reed (Sr.) and Ja'Quan Newton (Jr.).
Reed (11.1 ppg) and Newton (10.5 ppg) ranked third and fourth in scoring last year for the Hurricanes who finished 8th in the final AP Poll.  Davon Reed will return as the leading three point shooter for the 'Canes and will look to be the leader of the team.
Look for Newton's production to increase as he only played 22 min/game last year. He enters the season as the projected starting point guard.
Not only will Miami have the firepower from their experienced duo, they also bring in ESPN Top 100 guard in Bruce Brown.
Ranked #26 in the class, Brown averaged 26.9 points, 6.5 rebounds and 4.9 assists his senior year.  He will come in and be able to contribute right away, as a starter or coming off the bench.
No. 4: Florida State Seminoles
The Seminoles enter this season with some of the most talented and athletic guards in the ACC. Soph.
Dwayne Bacon and Junior Xavier Rathan-Mayes return to Tallahassee in hopes to compete for an NCAA berth.
Rathan-Mayes comes into this year with a career average of 13.4 ppg and 4.3 apg. The 6-4 guard has started 62 games in his Florida State career and has some of the most experience in the conference.
Bacon, who led the team in scoring last year with 15.8 ppg, will once again be the main scorer the the Seminoles. With the departure of freshman counterpart Malik Beasley, Bacon will get even more of an opportunity to score the ball.
No. 3: North Carolina State Wolfpack
This is one of the debut's fans' of college basketball have been waiting for. Enter Dennis Smith.
The 6-3, five star point guard who was regarded as one of the top players in the country joined the Wolfpack early as he enrolled in January.
This will be the first time many people will be able to see him nationally as he tore his ACL in the summer between his junior and senior years' during the Adidas Nations.
His junior year of high school he went on to average 22 points/game.
Dennis Smith has been adamant that his knee is back to normal and fully healthy. Here's what Fox Sports wrote:
"110 percent," Smith Jr. said, when asked, on a scale of 1-100 how his knee was feeling. "110 percent for sure."
When Doctors went in for surgery they found that Smith had an extra ligament in his knee, something only 20% of humans have. This is what has helped him come back from his injury so quick. Noted by his dad,
"I had to slow him down," Smith Sr. said. "He was dunking two weeks after he got out [of surgery]"
Tagging along in the back court is Maverick Rowan. Rowan reclassified into the 2015 class or he would be entering with Smith as well.
Last year Rowan was second on the team with 12.9 ppg, trailing ACC leading scorer Anthony "Cat" Barber.
Once again, this year Rowan will play in the shadow of another star point guard.
No. 2: North Carolina Tar Heels
The Tar Heels have something not many other ACC teams have in a deep and talented back court.
Led by junior Joel Berry II, Carolina returns Kenny Williams (Soph), Theo Pinson (Jr.), Nate Britt (Sr.) and adds Seventh Woods and Brandon Robinson.
Though the Heels took a hit with Pinson's injury, they still have one of the best back courts in the league.
Berry will become the go-to scorer for the Tar Heels this year after being second on the team last year with 12.8 ppg. Not only did he lead the team in assists, he also led them in steals, free throw and three point percentages.
It is unclear if Roy Williams will start Kenny Williams or Nate Britt at the other guard spot, but both will be a great option. Both Britt and Williams are proven defenders, so grouping one of them with Berry will give Carolina one of the best defensive back courts in the ACC.
Nate Britt gives the Heels another point guard on the floor which could help create open looks for Berry off the ball.
Kenny Williams, on the other hand, has greatly improved his play this summer and looks to provide Carolina with another knock down three point shooter on the wing to help with floor spacing.
Seventh Woods and Brandon Robinson will play sparingly but both are capable of providing Carolina with a change of pace and athleticism most teams don't have when they go to their fifth and sixth guards.
No. 1: Duke Blue Devils
Here comes preseason ranked #1 team in the country. Although Duke has been hit with the injury bug this preseason (Giles, Tatum, Bolden), none of those three affect the back court of the Blue Devils.
Surprisingly, a projected first round draft pick, Grayson Allen decided to return to school for his junior year. Averaging 21.6 ppg, 4.6 rpg and 3.5 apg last year, Allen comes back named preseason ACC Player of the Year.
Duke also returns junior guard Matt Jones and sophomore guard Luke Kennard. Both lethal three point shooters, the Blue Devils will rely heavily on these two to score the ball early on with no timetable to return for Giles and Bolden.
Kennard was third on the team last year in scoring (11.8 ppg), while Matt Jones was fifth (10.4 ppg).
That returning back court adds an All-American combo guard in Frank Jackson. Jackson averaged 28.1 ppg 6.4 rpg and 3.0 apg his senior year of high school.
Not only was he a top 10 scorer in Utah high school history, he became the first McDonalds All-American from Utah since 2000.
He looks to hold the keys to the car and is projected to start at point guard for the Blue Devils.
More from Keeping It Heel
This article originally appeared on