ACC Basketball Power Rankings: Preseason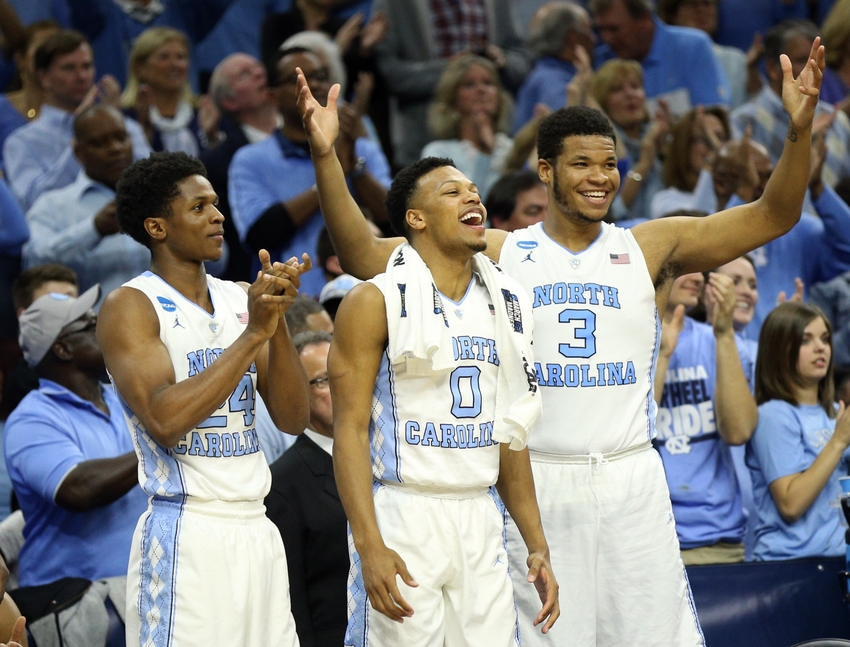 College Basketball Season is almost here. It is time for some ACC Basketball Power Rankings.
College Basketball season is back and ACC Basketball will be awesome.
Let's be clear, the ACC is loaded.
Need proof?
The ACC has five ranked teams in both the AP Top 25 and Coaches Top 25. Three of those teams are in the Top Ten in both polls.
The ACC also has six ranked teams in ESPN's initial Power Rankings. This includes four teams in the Top Ten.
Dick Vitale has eight teams in his early field, while Joe Lunardi has nine. Four of those teams are a three seed or higher.
In other words, the KIH Rankings Guru has got his work cut out for him. Luckily for you guys, I am more than willing to give this a try.
With no games played, these rankings are very fluid. The bottom three squads and the top three seem to be pretty set. The middle nine could be interchanged multiple ways and they still might not be right. So with all that said, let's delve into these ACC Basketball rankings.
(Note: All recruiting rankings are based off ESPN numbers for 2016). 
15
Boston College
Eagles
(7-25, 0-18)
Last week:
Lost 88-68 to Florida State in first round of the ACC tournament
Last rank:
14th
Last season Boston College lost to UNC 89-62 and 68-65. The Eagles also lost leading scorer Eli Carter. So with all that losing, how do the Eagles improve on a 0-18 conference season? The answer is why they start the season off in the bottom slot once again. Last year, this was the easiest team to rank. With four recruits, none higher than a three star, the Eagles will look to do something to climb out of the basement.
14
Georgia Tech
Yellow Jackets
(21-15, 8-10)
Last week:
Lost 72-56 to San Diego State in the NIT Quarterfinals
Last rank:
9th
Last Season Georgia Tech lost to North Carolina 86-78. They also lost their top four scorers. Additionally, their head coach was fired. I really wanted to rank the Jackets higher but that is a lot of losing. On the plus side, they did finish with a winning record last season and brought in Josh Pastner. Pastner, formerly of Memphis, does have success winning games. They also bring in three recruits, though only one is a three star.
13
Wake Forest
Demon Deacons
(11-20, 2-16)
Last week:
Lost 75-72 to NC State in the first round of the ACC Tournament
Last rank:
13th
Last season Wake Forest lost to North Carolina 83-68. They also lost leading scorer Devin Thomas. They did bring back second leading scorer Bryant Crawford. Crawford will be joined by four new recruits. Those include four star point guard Brandon Childress out of Winston Salem. After what looked to be a step forward season, the Deacons took a step back. They headed into ACC play at 9-3. They won two games the rest of the way against the two worst teams in the conference. Danny Manning will look to fix that this season.
12
Florida State
Seminoles
(20-14, 8-10)
Last week:
Lost 81-69 to Valparaiso in the second round of the NIT
Last rank:
11th
Last Season Florida State lost to North Carolina 106-90. They also lost second-leading scorer Malik Beasley. They did however return both Dwayne Bacon and Xavier Rathan Mayes. They will be joined by the number 12 overall recruiting class. That class includes two four star players and is highlighted by five star recruit Jonathan Isaac. This is where these rankings get hard. This is also why the ACC is so deep this season. On paper, this team should be ranked much higher. The thing is people have said that about them before. In other words, if they want to be ranked higher they need to prove it on the court. Leonard Hamilton's job might just depend on it.
11
NC State
Wolfpack
(5-13, 16-17)
Last week:
Lost 92-89 to Duke in the second round of the ACC Tournament
Last rank:
12th
Last Season NC State lost to North Carolina 67-55 and 80-68. They also lost leading scorer and first team All-ACC guard Anthony Barber. State also saw three more players transfer. They did catch a break when second-leading scorer Abu returned to school. State did have the 28th best class which is highlighted by Turkish center Omer Yurtseven, who is suspended for the first nine games of the season. The class is better than that as five star guard Dennis Smith Jr enrolled early and didn't contribute toward the rankings. Should State be better this year? That's a good question. But much like the Seminoles before them, they are going to have to prove it to move up said rankings. Also like their counterpart, their coach's job may depend on it.
10
Clemson
Tigers
(17-14, 10-8)
Last week:
Lost 88-85 to Georgia Tech in the Second Round of the ACC Tournament
Last rank:
10th
Last Season Clemson lost to North Carolina 80-69. They do return their top three scorers including draft hopeful Jaron Blossomgame. Actually if not for Blossomgame, Clemson would be ranked much, much lower. Clemson also didn't do much on the recruiting trail adding just one three star recruit. They did surprise teams last season and will look to build off that this season. Otherwise, they may miss the tournament for the sixth year in a row.
9
Virginia Tech
Hokies
(20-15, 10-8)
Last week:
Lost 80-77 to BYU in the Second round of the NIT
Last rank:
8th
Last Season Virginia Tech lost to North Carolina 75-70. The Hokies also return their top four scorers in Zack LeDay, Seth Allen, Justin Bibbs, and Chris Clarke. That's over 50 points a game. They also add two recruits, though neither are elite. Buzz William's team was a season before schedule last year. After eight total conference wins in the previous three seasons, the Hokies won ten last year. Is this the year Buzz gets things turned around and make the tournament for the first time since 07?
8
Louisville
Cardinals
(23-8, 12-6)
Last week:
Lost 68-46 to Virginia
Last rank:
N/A
Last Season Louisville beat North Carolina 71-65. They also lost their top two scorers in transfers Damian Lee and Trey Lewis. Those two guys transferred to Louisville to make the NCAA tournament. The cruel joke was the school decided to self-impose a postseason ban. That's the reason they didn't have a rank this time around. Louisville also lost third leading scorer and top rebounder Chinanu Onuaku. The Cardinals did add five star recruit VJ King. But that is their only recruit. Again this is why these rankings are so tough. Louisville could be a top four team in the league. For this round, they start off in eighth. Pitino won't let them stay here for long most likely.
7
Notre Dame
Fighting Irish
(24-12, 11-7)
Last week:
Lost 88-74 to North Carolina in the NCAA Elite Eight
Last rank:
4th
Last Season Notre Dame lost to North Carolina 78-47 and 88-74. They also beat UNC 80-76. Notre Dame lost their top two scorers from last season in Demetrius Jackson and Zack Auguste. However, they did return three double-digit scorers from a team that made it to the elite eight. That was actually their second straight season to make it that far. They also added three recruits including top 100 shooting guard Temple Gibbs. Mike Brey has a way of winning games and there is a good chance this ranking is too low.
6
Miami
Hurricanes
(27-8, 13-5)
Last week:
Lost 92-69 to Villanova in the NCAA Sweet Sixteen
Last rank:
3rd
Last Season Miami lost to North Carolina 96-71. Miami also lost their top two leading scorers in Sheldon McClellan and Angel Rodriguez. The Canes do have a top 15 class headlined by five star duo Bruce Brown and Dewan Huell. Miami had a strong season last year. Could they surprise once again? Jim Larranaga has done more with less, so nothing is impossible.
5
Syracuse
Orange
(23-14, 9-9)
Last week:
Lost 83-66 to North Carolina in the NCAA Final Four
Last rank:
7th
Last Season Syracuse lost to North Carolina 84-73, 75-70, and 83-66. They also lost their top three scorers in Michael Gbinije, Tyler Cooney, and Malachi Richardson. Though the team made it to the Final Four last year, that's still almost 45 points a game they will have to reproduce. They do bring back lottery hopeful Tyler Lydon and a top 15 recruiting class. They also add two top 100 players in forwards Tyus Battle and Matthew Moyer. The Orange are young, but Jim Boeheim isn't suspended this season. Last season they sneaked into the tourney. This season they should walk in.
4
Pittsburgh
Panthers
(21-12, 9-9)
Last week:
Lost 47-43 to Wisconsin in the First Round of the NCAA Tournament
Last rank:
6th
Pittsburgh brings back their top two scorers in Michael Young and Jamel Artis. The Senior Forward duo combined for 30 points and 11 rebounds last season. They also bring in two recruits including four star point guard Justice Kithcart. Having two Senior stars can do a lot for a team. Just ask North Carolina, Virginia, Syracuse, and Notre Dame. All four had two senior stars and all four made it to at least the elite eight in the NCAA tournament. Pittsburgh does have a new coach this season after Jamie Dixon ran off to TCU. Can Kevin Stallings keep the Panthers rolling into a top four ACC finish?
3
Virginia
Cavaliers
(29-8, 13-5)
Last week:
Lost 68-62 to Syracuse in the NCAA Elite Eight
Last rank:
1B
Last season Virginia lost to North Carolina 61-57. They also beat North Carolina 79-74. Virginia also lost ACC Player of the year, First Team All-American, and leading scorer Malcolm Brogdan. Second leading scorer and rebounding leader Anthony Gill is also no longer with the team. That's 32 points of offense no longer available for a team that doesnt score a ton of points to begin with. Virginia does bring in a top ten class. The class contains four Top 100 players and is headlined by five star shooting guard Kyle Guy. Tony Bennett has developed a lot of players. Imagine what he can do with some already top tier talent.
2
Duke
Blue Devils
(25-11, 11-7)
Last week:
Lost 82-68 to Oregon in the NCAA Sweet Sixteen
Last rank:
5th
Last Season Duke lost to North Carolina 76-72. They also beat North Carolina 74-73. Duke did lose second leading scorer Brandon Ingram. However that was about all they lost. They also brought in the number two overall class headlined by Five Star Forwards Harry Giles and Jayson Tatum. They are loaded, have veteran players like Grayson Allen and Amile Jefferson, and have a hall of fame coach. There are plenty of reasons why this team is number one and favored to win the NCAA Tournament. But here is why they come in at two. One, they bunch of players that haven't proved anything. Two, they lack a true point guard. Three, their two freshmen studs are both currently injured. They will probably ascend to the top before long, but right now they come in at number two.
1
North Carolina
Tar Heels
(33-7, 14-4)
Last week:
Lost 77-74 to Villanova in the NCAA National Championship
Last rank:
1A
As all Tar Heel fans try to forget, UNC came one basket away from OT and a possible National Championship last season. The Tar Heels did lose leading scorer and rebounder Brice Johnson. They also lost senior leader Marcus Paige. However, they did bring back three other starters from a team that was one shot away from a potential title. They also bring in a top 15 class with three Top 100 players. In other words there is enough there for UNC to hold the number one spot, at least to start the season. Roy Williams may be short
a stud in Theo Pinson
, but he has a veteran point guard and a strong post presence for a second consecutive season.
Well that does it for this round of rankings. I am sure there are some questions but that's what happens in a league with 12 legitimate contenders for a tourney bid. Of course that's what makes this preseason rankings. There is no clarity yet because no games have been played. So don't be surprised if there is a lot of movement between teams ranked 12 through 4. Anyways we will return in December. So enjoy this early College Basketball Action.
What did you think of this set of rankings? Let us know in the comments below.
More from Keeping It Heel
This article originally appeared on