5 Takeaways from Tennessee Lady Vols' Loss to Penn State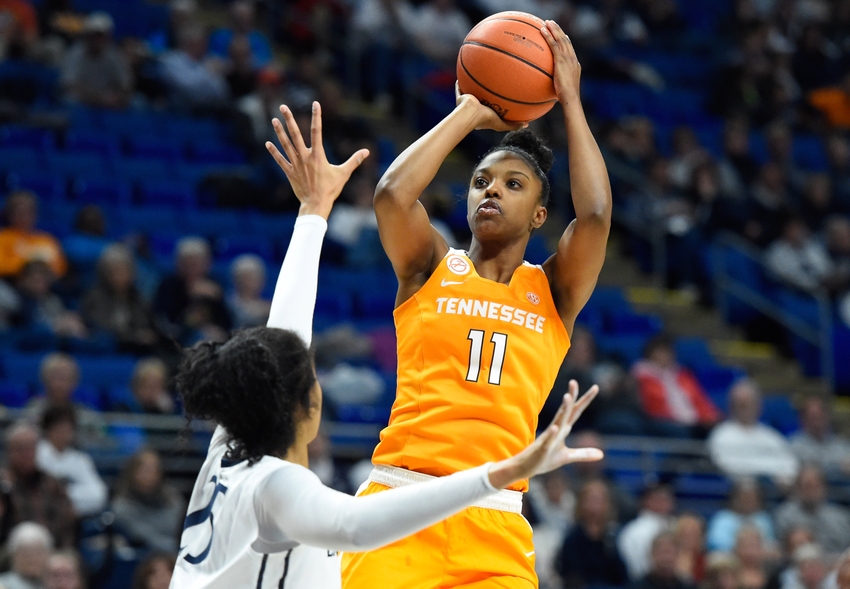 The Tennessee Lady Vols lost to Penn State on the road 70-56 Sunday night. Here are five takeaways from the women's basketball program's loss.
Can next year come already for the Tennessee Lady Vols. As Holly Warlick's team plays another year without an elite recruiting class, everybody in Knoxville is patiently waiting for the 2017-2018 season with the No. 1 class coming in.
The Lady Vols had a wake-up call Sunday night in all of their shortcomings with a bad 70-56 loss to the Penn State Nittany Lions.
The game was lost in the second and fourth quarters, when the Lady Vols could get nothing offensively.
Here are five things we learned from the Tennessee Lady Vols' road loss to Penn State.
1. Offense is wildly inconsistent.
This was a fear going into the season, and it has been confirmed. Despite excellent offensive play inside the paint, the Lady Vols have nothing on the outside if Diamond Deshields is not scoring. That renders the offense one-dimensional…and it sends them into wild funks.
The Lady Vols allowed Penn State to go on a 16-0 run in the second quarter while in one of those funks, and their atrocious play could simply be summed up by their 2-of-19 shooting from three-point range.
2. Front court truly is dominant.
While the back court is going to be a major issue for the Tennessee Lady Vols all season long, we can't take away from the success of Mercedes Russell and Jamie Nared. Together, they both had double-doubles on the night.
Russell had 19 points, Nared had 18 points, and both had 11 rebounds. Nared can be a high-post player on most nights, which is good news, but she struggled outside on Sunday. Still, she and Russell provide huge mismatches in the paint. They just need some help from the outside.
3. Depth is an issue.
Jamie Nared played all 40 minutes Sunday, and Mercedes Russell played for 37 minutes. Overall, the Tennessee Lady Vols had four players go over 30 minutes, and Diamond Deshields played for 26 minutes.
Off the bench, Holly Warlick only played three players: Alexa Middleton for 14 minutes, Kortney Dunbar for 11 minutes, and Schaquilla Nunn for 7 minutes. That's going to be a major problem for this program going forward. It was a problem Sunday. After all, the Lady Vols did cut Penn State's lead to four points at the end of the third quarter. But they ran out of juice in the fourth.
More from All for Tennessee
This article originally appeared on