4 Takeaways from Michigan Basketball's 2K Classic Run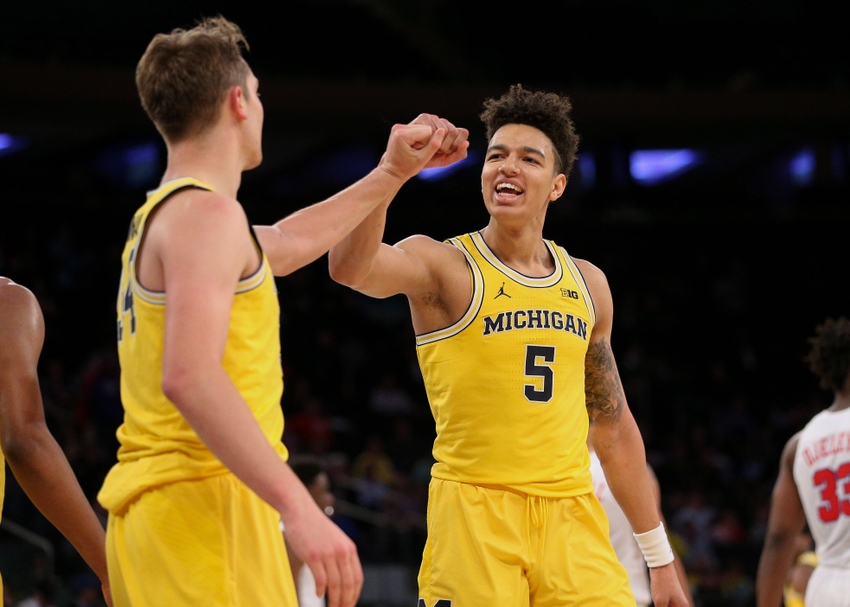 The Wolverines are your 2016 2K Classic champions. Here's what we learned about the Michigan basketball team in their two games.
Michigan basketball rolled over what seemed like a pretty solid Marquette team 79-61 Thursday night in Madison Square Garden. It was the Wolverines' first real test of the college basketball season,  and they rose to the occasion. Four different players reached double digits in points. The defense looked fantastic. Commentators were talking about the quality of Michigan's big men without a tinge of irony, something that hasn't been done in at least two years, if not longer.
Maybe Marquette wasn't as good as we initially thought they were, though. SMU in the 2K Classic championship game would be the true test to see just how good Michigan is right now. Marquette was a small team. Of course the Wolverine bigs could dominate them. The SMU Mustangs were a different story. They're the eighth-best team in average height, according to KenPom. If D.J. Wilson, Moritz Wagner and Mark Donnal could hang with them, then we would know if the positivity of Thursday night was warranted.
Michigan made it look easy. The Wolverines beat the Mustangs 76-54 Friday night. The big men were still dominating the paint. The defense still looked spectacular. Unlike the Marquette game, Michigan kept the game out of reach for SMU, not taking their huge lead for granted.
The Michigan Wolverines are the 2016 2K Classic Champions. There was little doubt in either game that they would come out on top. This team looks drastically different from what we've seen in years past, and it's hard not to be optimistic. After the game, Michigan jumped 11 spots in Ken Pomeroy's rankings, from No. 26 to No. 15. That's the third-best in the Big Ten after Indiana and Wisconsin. There's a lot to be excited about in Ann Arbor.
Here's what we learned during Michigan's victory run in the 2K Classic.
D.J. Wilson is Legit
Pick up your extra-short pair of Michigan basketball shorts from the M Den while you can, because the fashionable and phenomenal D.J. Wilson is going to make them sell out.
Wilson was the star of the tournament for the Wolverines. He played fantastic on-ball defense, got in opponents' faces and messed with their shots. He fought for rebounds like a man possessed. He's finally looking to become the player we've hoped he would become for the past two seasons.
The Marquette game was his first start of the season, replacing Duncan Robinson in the starting lineup. It worked wonders for the Wolverines. Wilson posted a double-double against the Golden Eagles with 10 points and 12 rebounds. He also had 2 assists and 2 blocks.
He followed that up with another great performance against SMU, although the numbers don't look quite as flashy – 6 points, 4 rebounds, 2 blocks, 2 steals, and an assist. His points were provided by some monster dunks.
What was most impressive in both games was what didn't show up on the stat sheet. Wilson is a tenacious defender. He made SMU's great frontcourt look like fools at times. The usually-confident Semi Ojeleye was hesitant in his shots because Wilson was making his life hell. The numbers might not be gaudy, but Wilson's making the biggest impact of maybe anyone.
Two years ago, Wilson looked absolutely lost on the court. Flash forward to now, and he looks to be one of the most exciting young players in the Big Ten.
Wagner and Donnal are improving
The improvements in the Wolverines' frontcourt don't end with Wilson. Michigan is looking like they're sitting pretty at the five spot with improved performances from Moritz Wagner and Mark Donnal.
Wagner took the starting spot at center in the offseason, and it looks like he's earned it so far. He's a strong finisher and looks much more mature compared to the project player we saw last season. Wagner is getting it together, and while he still has had some defensive miscues, he's playing solid basketball.
Like Wilson, Wagner plays with an intensity and energy that's infectious. Michigan's been missing that energy in the frontcourt since Mitch McGary was in the maize and blue. Just look at his highlight reel posterizing dunk from the Marquette game.
That's high art right there. Put that dunk in a museum.
Meanwhile, Mark Donnal is fitting in quite nicely in his role off the bench. He was 6-8 for 15 points in the Marquette game, adding 3 rebounds, a block and a steal. Against SMU, he put up 9 points, 5 rebounds, an assist, a steal and a block.
While Wagner is playing great, he still has some things to learn. Donnal brings a veteran presence from two seasons in the starting lineup. He's playing with more aggression than I've ever seen from him, and he's finishing nicely. That's exactly what you want to see from a backup center.
Often under Beilein, Michigan has had to depend too much on the three-point shot. Especially in the past two years, the over-reliance on the three made the offense one-dimensional at times. Now, Michigan has three players that have been able to hang with everyone they've faced in the paint. That opens more clean looks for players like Robinson, Zak Irvin and Derrick Walton Jr. to kill teams from behind the arc. Or Wilson, Donnal and Wagner can shoot those themselves. Everybody on this team looks like they can shoot from downtown.
Veteran presence balances out the youth
Players like Wilson and Wagner provide the youthful energy up front, but in the backcourt you have very experienced upperclassmen that can wreak havoc on defenses from deep.
Derrick Walton Jr. didn't score a single basket in the Marquette game. He barely needed to, anyway. He only attempted four shots on the night. What he did provide was facilitation and defense. He kept close on defense, made smart passes, and only turned the ball over once. Walton doesn't need to be flashy. He's perfectly content letting his teammates shine in big wins.
That doesn't mean he's not a threat for a scoring outburst, as SMU learned the next night. Walton made a career-high seven three-pointers and added a pair of free throws for a 23-point night. He added 5 assists, 3 rebounds, a steal and zero turnovers. Walton is playing incredibly smart, disciplined basketball right now.
Meanwhile, Zak Irvin looked great in both games. It likely has to do with the fact that Wilson's rise forces him to play less at the four and more at his natural three. The senior wing had 16 points, 5 assists, and at least 6 rebounds in both tournament games. He finished well at the rim, especially with some nifty left-handed finishes. It's still bizarre to see him with such a well-rounded game, considering that he did almost literally nothing but shoot threes in his freshman campaign.
The defense is… good?
I'm shocked too. You often don't think of "defense"  when you think "Michigan basketball," unless you also think things like "atrocious," "nonexistent," and "somebody pour me some scotch."
Yet here we are, and Michigan is No. 36 in adjusted defense according to Ken Pomeroy's rankings. Last year, Michigan was No. 95. The year before that, it was No. 99. The Stauskas/Hardaway/GRIII Elite Eight team was No. 88. John Beilein's teams have not had a lot of success on defense, often having to scrape by purely on offense.
Marquette only broke 60 points in garbage points. SMU got held to 54 points. Michigan forced 15 Marquette turnovers on Thursday (though that was partially due to whistle-happy refs giving any slight movement of the foot a travel call).  It forced another 12 turnovers for SMU. While the Wolverines gave up a ton of offensive rebounds to the Mustangs, that's partially because Michigan forced them to shoot less than 40 percent from the field.
The addition of Billy Donlon to the coaching staff to bring intensity and physicality to the defense looks like it's paying off. We can only hope it continues into the rest of the season.
This article originally appeared on