2016-2017 Men's Tennessee Basketball Preview: Vols Backcourt Off Guards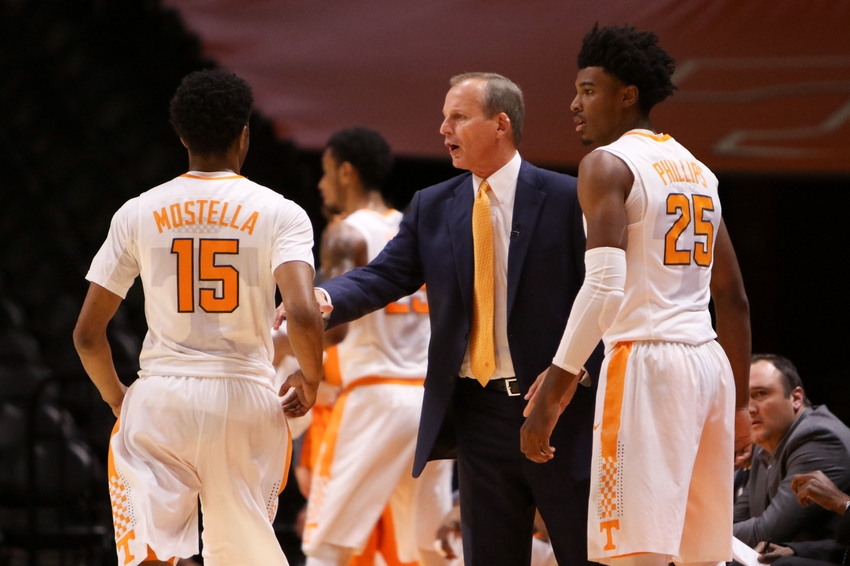 Here is a look at the off guards in the Volunteers' backcourt in our official men's Tennessee basketball preview for the 2016-2017 season.
Yes, basketball season is coming. It's right there with the heart of football. And Rick Barnes is clearly building something for the men's Tennessee basketball program.
Despite a losing record his first year as head coach, fans have bought into Barnes's up-tempo style of basketball. They loved the heart the team showed and grew very excited about the future.
Well, that future is here.
The up-tempo system is heavily based on off-guards, who need to be able to quickly drive to the basket and be able to shoot the ball on the break.
The Vols lost a key off-guard in Devon Baulkman, who averaged over nine points last year. However, they return their most important player, who we'll get to on the next slide.
They also return two other key contributors from the rotation, one of whom had to spend time at the point guard position last year due to the lack of depth.
But he should be back in his usual spot.
The mix of experienced talent in Barnes's system combined with the new recruiting should give the Vols some newfound depth. As we preview the two and the three positions, you can also consider them the shooting guard and small forward/wing positions. But we're calling them the off-guard positions.
And once again, we'll put our projected starters on one slide. Backups projected to play a lot go on another, and backups expected to see limited action are the final slide.
Here is the official off-guard preview for the 2016-2017 Men's Tennessee Basketball team.
2016-2017 Men's Tennessee Basketball Projected Off-Guard Starters
1. Robert Hubbs III; Senior; 6'5″ 207 pounds; Newbern, Tenn.
It's time. We've said it for three years, but Robert Hubbs III has not yet lived up to his expectations. He was a five-star recruit who committed to Cuonzo Martin for the 2013-2014 season, which seems like a decade ago.
To be fair, Hubbs has been a part of tons of turmoil in Tennessee basketball. He has played in three completely different systems, and he missed almost his entire first year due to injury. So this year is his first chance to really play hard in a system he's familiar with.
As a guy with proper size who can shoot, defend, pass, and rebound, Rick Barnes will rely on Hubbs to be the best player and the leader of the program. This is his year to shine and go out with a bang.
2. Detrick Mostella; Junior; 6'1″ 179 pounds; Decatur, Ala. 
Detrick Mostella took a major step forward last year in his sophomore season and progressed all year in Rick Barnes's system. His work ethic paid off and showed in the SEC Tournament with his coming out party.
At that point, with Kevin Punter out due to injury, Mostella scored 17, 18, and 19 points in three consecutive games. He helped the Vols score major upsets the first two nights and nearly a third upset. Now, as a junior, he's a veteran upper-class player and will likely start at the two. He may be a bit undersized, but he is a very solid player. Barnes needs him to step his game up once again.
Of course, if he doesn't, there are plenty of newcomers to take that spot. They are on our next couple of slides.
2016-2017 Men's Tennessee Basketball Projected Backups Expected to Play
1. Shembari Phillips; Sophomore; 6'3″ 192 Pounds; Atlanta, Ga.
Just like Detrick Mostella, Shembari Phillips was forced to play a much more critical role down the stretch of last year's games. He saw lots of action at point guard, where he wasn't familiar with the position. Thanks to Rick Barnes's recruiting, he can return to his natural role as an off-guard this year.
Phillips has a decent size and great versatility. If he can improve on his consistency, his potential is impressive too. After all, he shot over 36 percent from three-point range last year. At 6'3″, his decent size allows him to be a major offensive threat if he continues to develop. And he is a guy who can thrive in Barnes's system in the process.
2. Jordan Bowden; Freshman; 6'4″ 180 Pounds; Greenville, S.C.
Another one of Rick Barnes's solid pickups for his new class, Jordan Bowden is the perfect guy to help Shembari Phillips back up the off-guards. The two players can mix and match between the wing and the shooting guard positions, which makes this a perfect combination.
Bowden has hops, strength, athleticism, finishing ability, and he is a good outside shooter. With all of these things, he's likely to be a player that fits best on the wing while Phillips plays the two. But expect him to see action real soon, and there is a chance that he takes somebody's starting job if they are not careful.
You heard it here first…Bowden was Barnes's biggest steal of this recruiting class.
2016-2017 Men's Tennessee Basketball Projected Backups Not Expected to Play Much
Lucas Campbell; Sophomore; 6'2″ 178 Pounds; Knoxville, Tenn.
Lucas Campbell is clearly a guy to provide depth for Rick Barnes and the Tennessee basketball program, but you never know. Maybe the Knoxville native could step in and eventually surprise some people. With what little he has shown, he can shoot the ball. And as a track and field player, he also brings energy and a healthy amount of athleticism.
After joining the basketball team as a walk-on in October of 2015, Campbell saw action in four games last year. He averaged two minutes a game. And against the Auburn Tigers in the SEC Tournament, he hit a three-pointer. Maybe this year he'll see some increased minutes, even with the recruiting that Barnes has done. After all, he does have experience. And energy is the perfect thing to bring to Barnes's system.
Jacob Fleschman; Freshman; 6'1″ 160 Pounds; Austin, Texas
Another Tennessee basketball walk-on, Jacob Fleschman is a deadly shooting option for Rick Barnes if he ever needs to call his number. The guy shot 45 percent from three in high school, and he even somehow picked up four rebounds a game as a 6'1″ guy playing in Texas.
That means he brings some energy and has some skills as well. For now, Fleschman is another Lucas Campbell, but at least he provides some value if the Vols really need him and injuries start to occur. We could find out very quickly if something is there.
Final Take on 2016-2016 Men's Tennessee Basketball Off-Guards
The shooting guard and wing positions are crucial for the Vols to be able to run Rick Barnes's up-tempo system. As a team picked to finish 13th in the SEC this year coming off of a 15-19 record last year, the starting off-guards will dictate just how successful the Vols are.
After all, the best and most experienced player on the team is Robert Hubbs III, and this is the chance for the former five-star recruit to finally live up to his billing as a senior.
Meanwhile, they have the perfect class of other guys with Detrick Mostella and Shembari Phillips along with the arrival of Jordan Bowden, a guy who could get on the court very quickly.
They are a bit thinner here with two walk-ons on the third team, but that's okay since they have the best one-two punch in the first team.
That unit should see far and away the most minutes for Tennessee basketball this year anyway.
But really, the unit mostly comes down to Hubbs. He's got to turn into a superstar for the Vols and leave his mark on the program before leaving. Everything about the wing and shooting guard spots will come down to what he is able to do.
Hubbs is clearly the best player on the team and he's going to be the guy to carry this unit. His ability to live up to those expectations will dictate how the rest of the unit performs.
This article originally appeared on