2016-17 Notre Dame Mens Basketball watch list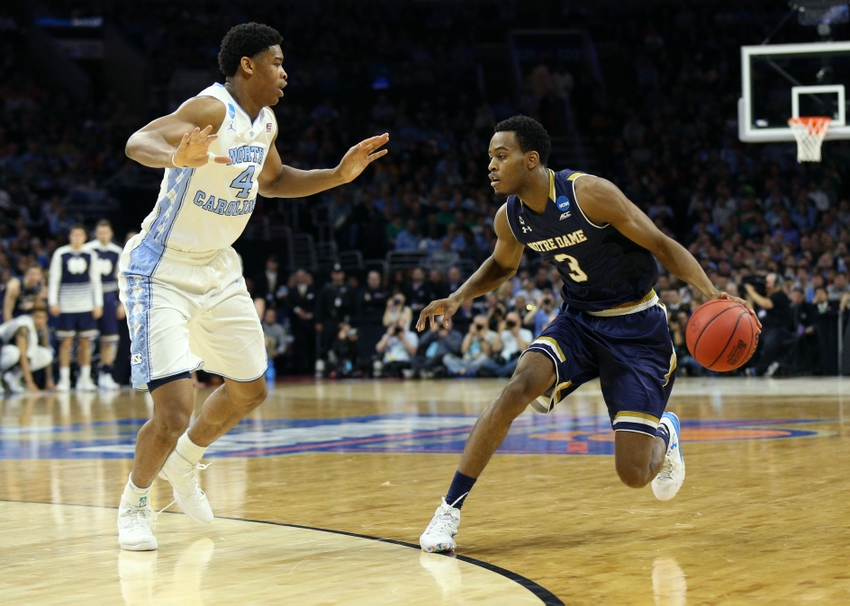 As Notre Dame begins their 2016-2017 season, we take a look ahead. Here is the 2016-2017 Men's Basketball Watch List presented by Slap the Sign.
The new season of college basketball has started, but that means something different for every school in the country.
With Notre Dame coming off of back-to-back Elite Eight appearances, they face new problems this season with the absence of Demetrius Jackson and Zack Auguste.
With this being a season that the Irish will have to earn their respect once again, here is a list of what you're going to watch out for this season.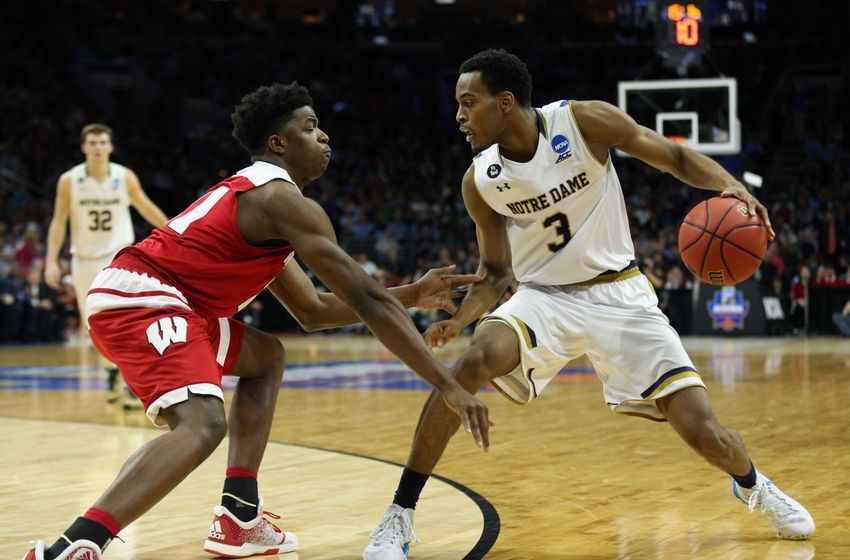 Players to Watch
V.J. Beachem
This season is going to ball all about V.J. Beachem. The Irish will go as far as Beachem takes them. Not only has he become the most talented player on the team, but the leader as well. Beachem is going to be a different type of leader. He's always quite and composed.
If Beachem hits a game winning shot, you might notice his excitement for .05 seconds. Watch for Beachem's composure to keep this team down to earth all season. We can leave the excitement for Mike Brey and Austin Torres.
He's always quite and composed. If Beachem hits a game winning shot, you might notice his excitement for .05 seconds. Watch for Beachem's composure to keep this team down to earth all season. We can leave the excitement for Mike Brey and Austin Torres.
Temple Gibbs
The other player you want to watch this season doesn't start, and at times this season might not even play. Let's hope that's not the case.
We're talking about the freshman Temple Gibbs. He will have to find his role on this team and in a program that retains it's players for at least a few years, that's not the easiest task. Gibbs is the biggest recruit Notre Dame has had since Jackson. Only fitting that he's in South Bend to replace Jackson.
Gibbs might be a freshman, but he cannot let that hold him back this season. With his skill set and his versatility as a point guard, Gibbs has the potential to make his impact already.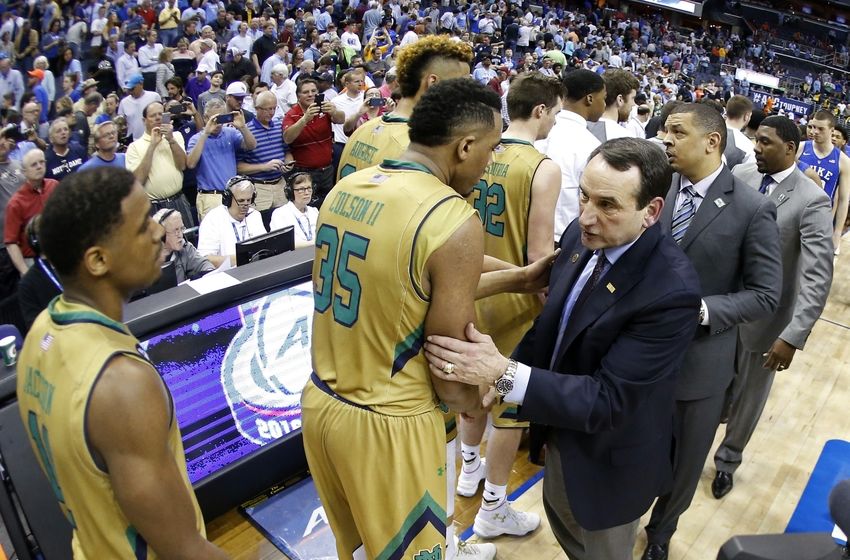 Games to Watch
Duke
The Irish will have a very tough week transitioning from January into February. That Monday Notre Dame will play Duke. And even with Duke's recent loss to Kansas, we can all expect a more polished Blue Devils team that late in the season.
Say Duke happens to be #1 in the nation, this game is at the Purcell Pavilion. I think we all know how that ends up.
Ever since Notre Dame joined the ACC, this has seemed to become an unlikely rivalry. A lopsided one in fact. Duke has only defeated the Irish once. Of course, that came in the 2014 season when the Irish couldn't handle the Camron Crazies and lost by 30. Besides for that Notre Dame has won every other match up. That includes twice in the ACC tournament.
North Carolina
To round out that week Notre Dame will play North Carolina. The team that continued Notre Dame's tradition of losing as a top-ranked team in the nation inside Purcell. But last season North Carolina got the last laugh, twice.
UNC was playing spectacular basketball especially at the end of the season, proving to be too much for the Irish. The Tar Heals knocked Notre Dame out of the ACC tournament as well as the NCAA tournament in the Elite Eight.
That after taste will still be savored by the Irish in their regular season match-up.
Villanova
Earlier in the season, Notre Dame will have a huge test. Not only will Notre Dame have to play the NCAA runner-ups, but the reigning National Champs as well. Villanova will be the Irish's first real test of the season, and a test it will be.
Villanova will be the Irish's first real test of the season, and a test it will be.
Nova, currently ranked 3rd, is a team that will be strong all season. After starting out 3-0, much like Duke, we can see some flaws. Also, much like Duke, we can expect them to but a much more polished team once they meet up with the Irish.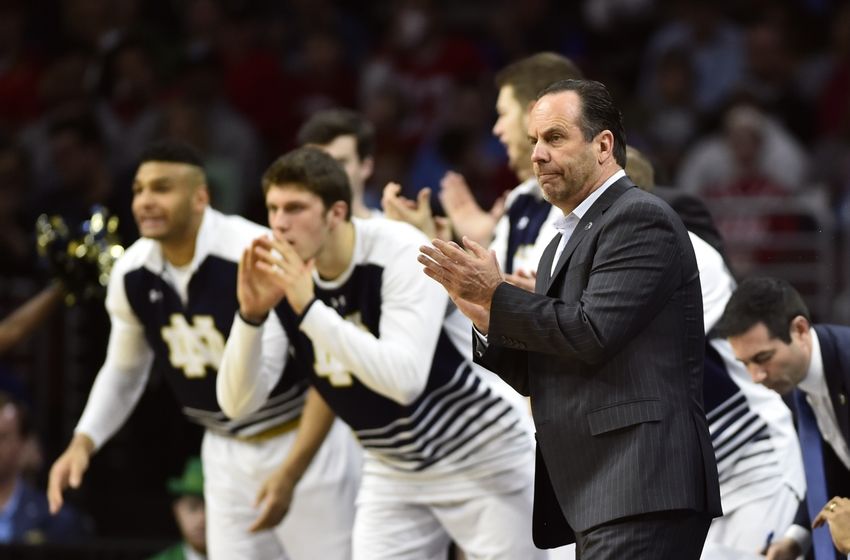 Season prediction
Chase: Notre Dame has some questions that must be answered this. If not, teams will find a way to roll through the Irish. Along with that, the ACC is a tough conference. There's no question there. Notre Dame will grab some big wins throughout the season. To accompany that, there will be some losses that no one will understand. That's just something Irish fans will have to accept.
Overall Prediction:
21-10
Noah: The Irish have some major issues with their post game. Unfortunately, their noncoference play doesn't feature many teams that can help them develop their big men. It's going to take some major changes down low in order for Notre Dame to compete against teams like Duke and North Carolina. They have the backcourt, but if they can't fix their rebounding troubles they could be in for a bad second-half of the year.
Overall Prediction:
22-9
Recruits to Watch
Notre Dame has handed out 12 of the 13 available scholarships after signing D.J. Harvey. With that being said, the class of 2017 is basically set in stone.
Mike Brey could consider a transfer student, even in December, but Brey has never done that. At least not that late in the season.
So, we move on to the class of 2018.
Robby Carmody
Out of some of Notre Dame's top prospects who do not already have ties to different universities, Robby Carmody is one to keep an eye on.
The 4-star Shooting Guard knows his position well. The shot is smooth and deadly. Leave Carmody open you might as well expect to add three more points to the scoreboard. He's a smart player and defensively he always knows when to go for the steal. He's a great high school player, but he needs to continue to develop to compete at the college level.
Simisola Shittu
Simisola Shittu should be very high on Notre Dame's radar. The only problem is, he will be on everyone's radar.
The 5-star 6-8″ Power Forward looks like the complete player. What do you want, speed? Skill? Versatility? You name it, he's got it.
Shittu reminds me a lot of V.J. Beachem from his style to his skill. And that is said will all respect to Beachem. He's the type of player that could get the Irish to a Nation Championship.

Final thoughts
This is a season that will have its ups and downs. At times this team will make you feel like they are something special. Other times they will drive you insane and make you lose any hope of a good season, let alone a good seeding in the tournament.
You have to look at this roster and see what game plan will help them cause the most damage.
This team has shooters and great team chemistry. Play up tempo and selfless, and This team can do big things. Overall, if everyone plays their role with confidence, you will still see struggles throughout the season, but come tournament time, expect another deep run.
This article originally appeared on