2 Chainz beat Dominique Wilkins in game of HORSE
By Ryan Wong.
It's March 27th which means that it is 2 Chainz night (Hawks Are Holding An Epic 2 Chainz Night" href="http://nextimpulsesports.com/2015/03/17/the-atlanta-hawks-are-holding-an-epic-2-chainz-night/" target="_blank">technically T.R.U. to Atlanta Night) for the Hawks.
As a part of the festivities, 2 Chainz and Dominique Wilkins faced off in a game of HORSE.
Chainz was so confident that he even turned his back on a shot that he knew was going in.
2 Chainz won the game of HORSE against the Hawks legend. As FOX Sports points out, the fact that the game was competitive shouldn't be a huge surprise. 2 Chainz did play college basketball at Alabama State. However, the results had to be disappointing for Dominique given the good ribbing that 2 Chainz gave him after he missed his final shot.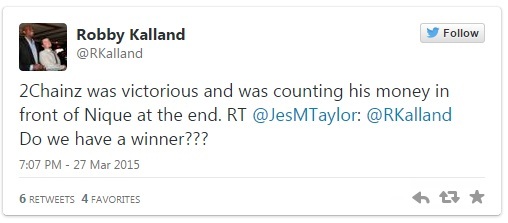 The video of 2 Chainz victory is somehow even more hilarious than I could have imagined.
More from Next Impulse Sports: