Three Hits: Iowa State stuns UNC in controversial finish
In a game that will likely be remembered more for a late-game blunder than its high level of play and pace, Iowa State advanced to its first Sweet 16 in coach Fred Hoiberg's tenure and the program's first appearance in the regional semifinals since Marcus Fizer, Jamaal Tinsley & Co. advanced to the 2000 Elite Eight.
This time around, behind star guard DeAndre Kane, the Cyclones erased a seven-point deficit in the final five minutes without one of their best players to pull off a comeback win against the sixth-seeded North Carolina Tar Heels, 85-83. Iowa State, the No. 3 seed in the East Regional, advances to take on 7-seed UConn on Friday. But first, here are three observations from the game, starting out with the standout play of Hoiberg's point guard:
Before delving into controversy, it's best to talk about the good parts about this game, because there were many. It was an uptempo slugfest, with both teams challenging the other at the rim, shooting over 50 percent from the field (effective field goal percentage) and coming up with pivotal plays on both ends of the court. UNC's five starters — Marcus Paige, J.P. Tokoto, James Michael McAdoo, Leslie McDonald and Kennedy Meeks — each hit double figures and put up a fair share of highlights. Naz Long came off the bench for Iowa State to knock down four big-time 3-pointers to finish with 12 points. Melvin Ejim, the Big 12 Player of the Year, punished the Tar Heels' defense all over the court.
But it was Kane's night pretty much from start to finish.
The All-Big 12 point guard was a matchup nightmare for Roy Williams' team, using his 6-foot-4 frame to get into the lane and wreak havoc. He finished with 24 points and hit just one outside shot — the majority of his work coming around the rim, putting Paige, McDonald, Tokoto or anyone else guarding him on his hip and daring the UNC bigs to make a play. He was 9-of-18 from the floor and made five of his seven free throws (factoring in the 36 points scored by Providence's Bryce Cotton, UNC allowed 60 points to opposing point guards in its two NCAA Tournament games). Kane also added 10 rebounds and seven assists in one of the top individual performances in a tournament full of them.
With all of that in mind, it came as little surprise that with 16 seconds remaining in a tie ballgame, Hoiberg spread the floor with shooters and let his playmaker go to work. The only curious thing about the situation was that Williams subbed in 6-foot-7 reserve Jackson Simmons for Meeks (6-foot-9, better block and defensive rebound percentages) — Simmons ended up as the "rim protector" on Kane's game-winner (GIFs via SBNation):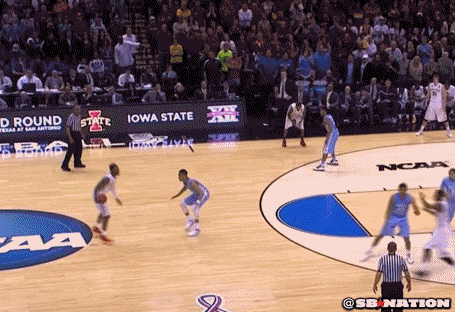 It was a highlight-worthy final play for an excellent game, a fitting walk-off shot for one of the best players left in the tourney's field as the Cyclones move on to face a physical, grind-it-out UConn squad, setting up one of the best point guard matchups around: DeAndre Kane vs. Shabazz Napier. But the game didn't just end there. Controversy had to be thrown into the mix.
After the Kane shot, everything went downhill. UNC inbounded the ball to point guard Nate Britt, who then sprinted across the halfcourt line and called a timeout. There was just one problem with this strategy: when Kane's shot went in, just 1.6 seconds showed on the game clock. It takes longer than two seconds to sprint up the court and call a timeout, especially if one wants to have enough time to get up a shot after the break.
The problem came down to the game's clock operator, who did not start the clock when Britt received the ball in the backcourt (some have argued that the operator did not stop the clock soon enough following Kane's basket, but that's probably nitpicking). The frozen clock led Britt to believe there was more time remaining in the game than there was or should have been, meaning he rushed across midcourt and called time instead of throwing up a last-second prayer. Here's the play: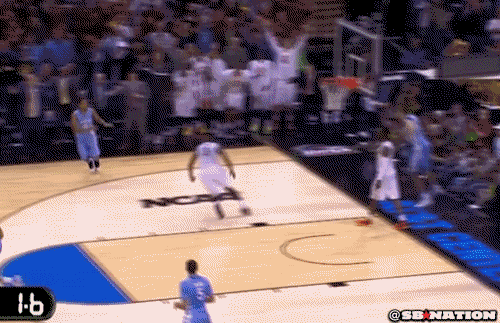 Confusion ensued.
After going to the monitors to review the play, officials finally called the game. UNC would not be rewarded a timeout or a mulligan or any more time on the clock. And while it was probably the "correct" call considering the time that elapsed during Britt's on-court actions, that's a gut-wrenching way to lose a game — with an official telling you (Williams) that the game is over and there's nothing left to say about it other than the clock operator messed up.
It was a strange and disappointing end to a season for UNC and, by extension, all of the North Carolina-based schools that have done so well in this tournament over the years. With Wake Forest looking for a new coach and Duke (upset by 14-seed Mercer), N.C. State (coughed up game to St. Louis in the closing minutes) and UNC (see above) each headed home early, it's the first time since 1979 neither of the state's Big Four will participate in the Sweet 16. Times are tough. (As is keeping time, apparently.)
The loss of sophomore forward Georges Niang during its tournament opener against North Carolina Central was devastating news for the Iowa State program. Niang had blossomed into one of the Big 12's better players in his second season on campus, and his broken foot was — and still is — a huge blow to the Cyclones' Final Four chances.
But it didn't long for the Tar Heels to find themselves in a similar, if not quite as troublesome, situation, as sophomore forward Brice Johnson, the team's most effective player off the bench this season, left with an ankle injury five minutes into the game and never returned. And with that news, two of the best 12 players in this matchup were taken away. Johnson did not put up quite the numbers Niang did this season (thanks in large part to playing time), but the two forwards meant quite a lot to their respective teams:
The result forced the undersized Cyclones to go even smaller, notably with Long (6-foot-4), while UNC turned to freshman big man Kennedy Meeks.
Meeks turned in the best performance of his college career to date, helping to exploit the Tar Heels' size advantage inside by putting up careers highs in points (15) and rebounds (13), including some key baskets down the stretch as UNC stood clinging to its late lead. Still, Hoiberg found a way around the situation, as Long put added even more pressure on the perimeter. Six different Cyclones made a 3-pointer against the Tar Heels. It paid off particularly down the stretch as Long got hot, erasing the lead and providing a threat UNC had to respect when Hoiberg spread the floor for Kane's game-winner.
So how far can Iowa State go without Niang? As far as Kane and Ejim and those outside jumpers can carry it.