NC State off to uninspiring start after loss to East Carolina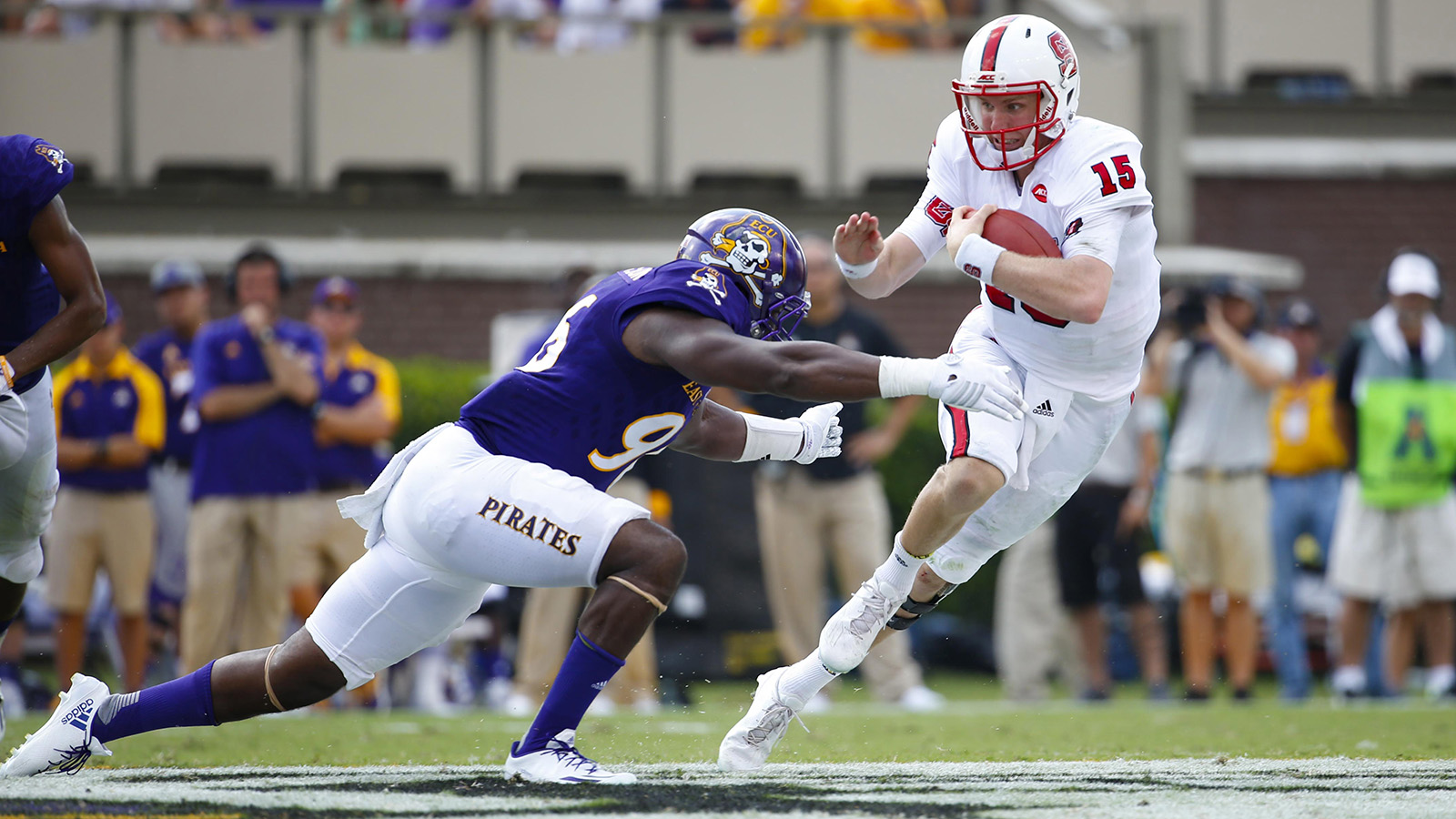 Hot-seat chatter often ramps up too quickly in college football, but Dave Doeren's NC State program entered the 2016 season with something on the line.
It's been a strange three-plus years since the former Northern Illinois coach took over in Raleigh, with back-to-back bowl appearances largely built on wins outside the Power Five and just one signature win under his belt. His tenure needed substance.
Instead, Doeren's program took another step backwards on Saturday.
Visiting East Carolina, the state's preeminent "mid-major" powerhouse, the Wolfpack lost a 30-26 lead with five minutes remaining for their sixth loss in the past 10 games dating back to last season. Now comes another week of second-guessing. The Pirates handed NC State its first non-conference loss in the regular season since Doeren's first season on campus, though that's largely been a product of soft scheduling — as wins over Troy, Eastern Kentucky, Old Dominion and South Alabama last season set perhaps the lowest possible bar for undefeated records. Doeren's 6-18 ACC record has not helped his case, either.
Dowdy-Ficklen after #ECU beats #NCState 33-30, improves to 2-0. pic.twitter.com/jpvAqM4mQT

— Marilyn Payne (@marilyn_payne) September 10, 2016
The Wolfpack were faced with their fair share of challenges this summer. First and foremost, replacing productive quarterback Jacoby Brissett was bound to be a difficult task, though graduate transfer Ryan Finley and former four-star recruit Jalan McClendon gave the coaching staff options and running back Matthew Dayes provides the offense with its best rushing security blanket in years. (Dayes is poised to become the program's first 1,000-yard rusher since T.A. McLendon in 2004.) And just looking at the early numbers, the offense would appear to be in good shape. After posting 48 points on William & Mary, the Wolfpack claimed more total yards, more explosive plays and fewer turnovers than East Carolina.
And still, a 33-30 loss.
NC State left points on the table at virtually every turn, missing two field goals and stumbling on an early two-point conversion.
If this season is going to provide the in-conference turnaround the program needs, there's work to be done.
Of course, East Carolina handing out losses to intrastate Power Five programs is nothing new. The Pirates are 4-0 against North Carolina and NC State since the start of the 2013 season, and they won their last meeting against Duke in 2005. East Carolina has also beaten Virginia Tech twice and taken Florda and South Carolina down to the wire in recent years — it is not a pushover. The fact that East Carolina now owns just as many ACC wins (6) as Doeren's Wolfpack since 2013 just poured more salt into the wound.
Still, this was Year 4 under Doeren and the Pirates just went through a coaching change (former Duke assistant Scottie Montgomery) this past offseason. Things were supposed to be different. This was not the time to stumble.
So, back to the original question: Is Dave Doeren in trouble?
Only Clemson has a longer winning streak vs. ACC competition than East Carolina.

— Paul Myerberg (@PaulMyerberg) September 10, 2016
There's plenty of opportunity ahead, but things are not looking up. The loss to East Carolina might have suddenly turned this into a make-or-break season for NC State.