Hornets playoff preview: Charlotte seeking first postseason win since 2002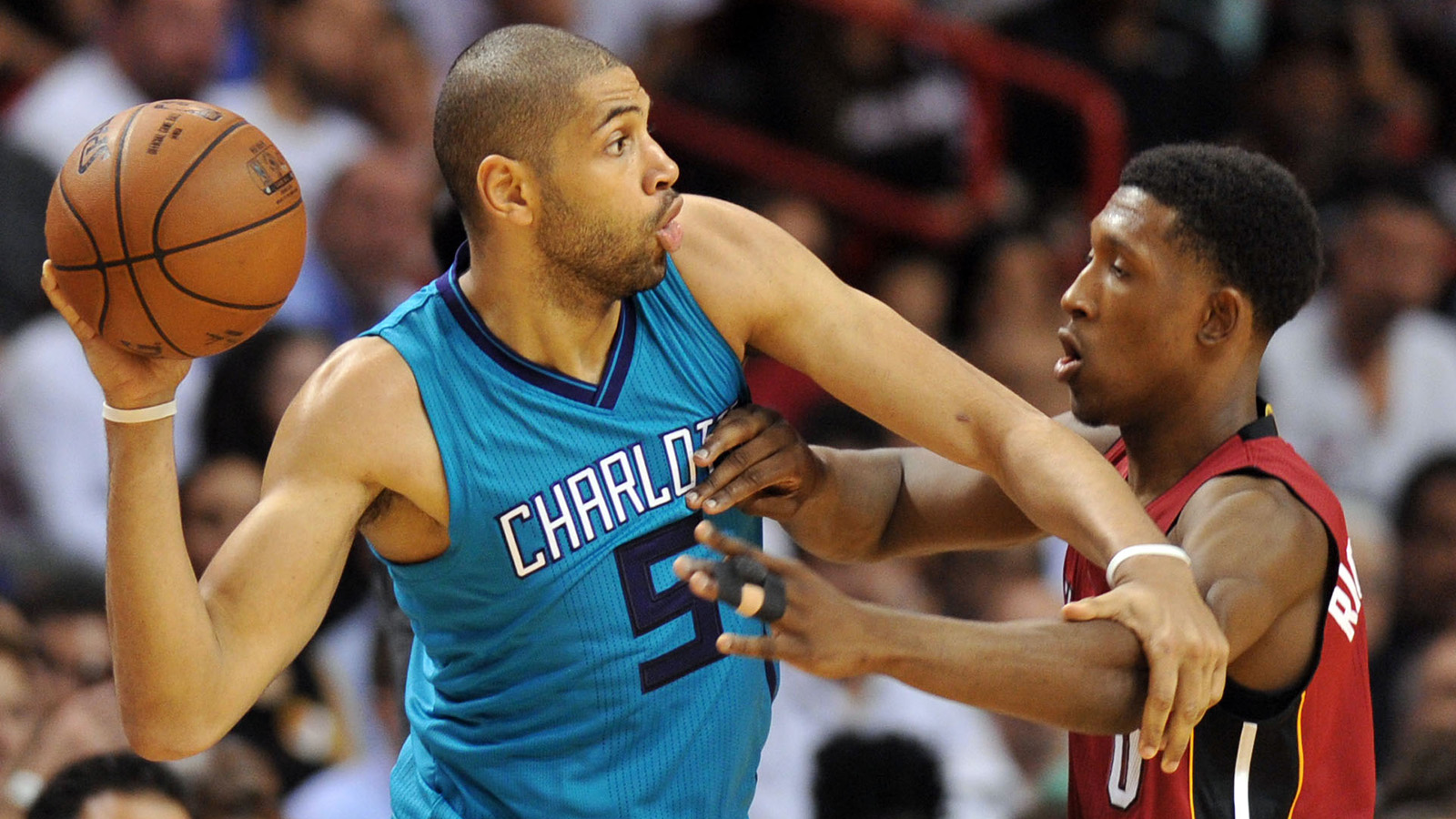 The Charlotte Hornets finished the season strong, posting the NBA's third-best record (21-8) after the All-Star break, trailing only the Warriors and Spurs, but it was not enough to push them over the hump in the Eastern Conference's playoff picture.
Kemba Walker & Co. finished in a four-way tie with the Hawks, Heat and Celtics — and did not own a single tiebreaker, leaving them with the East's No. 6 seed. So the Hornets take on the third-seeded Heat without homecourt advantage, and even without star big man Chris Bosh, Miami will not be an easy out.
Steve Clifford has this NBA coaching thing down.
The third-year coach leads the Hornets back to the playoffs following a one-year absence after transforming his team's offensive identity, losing standout wing Michael Kidd-Gilchrist for all but a handful of games and infusing multiple new pieces into the starting lineup. The results? The Hornets made a convincing statement to re-join the postseason picture in an improved Eastern Conference, and now they are looking for their first playoff win — not series win, by the way — since the Baron Davis-Jamal Mashburn days.
While the Hornets' rapid rise in offensive efficiency, jumping from 28th in the NBA to ninth after improving their true shooting percentage by nearly five points in a single season, was the biggest difference between making and missing the playoffs this time around, Charlotte clung to Clifford's coaching staples. The team limited opponents' second-chance opportunities and once again took care of the basketball on offense.
In short, they made 375 more 3-pointers while still sticking to their fundamental identity.
Employing those core concepts — and, of course, knocking down shots — would serve them well against a Heat roster teeming with wing depth (Dwayne Wade, Luol Deng, Joe Johnson, Justise Winslow, Josh Richardson) and one of the league's better rim-protecting big men in Hassan Whiteside.
Kemba Walker: Following his career-best season, Walker is drawing Most Improved Player mention and now he'll get his second taste of the NBA playoffs. It will still come at the hands of Wade's franchise, but at least LeBron James isn't around this time — the Hornets/Bobcats were swept by Miami 4-0 in 2014 — and Walker is much, much better. The fifth-year point guard averaged a career-high 20.9 points on 55.4 true shooting. His win shares and efficiency rating leave no doubt as to whether he took steps forward.
The Hornets certainly helped matters by adding outside shooting all around him, replacing the likes of Lance Stephenson and Bismack Biyombo with Nicolas Batum, Courtney Lee and Frank Kaminsky. (Marvin Williams' 3-point explosion didn't hurt.) Walker remains the key, though. When he's attacking and making shots, defenses are forced to collapse. He delivered quality minutes down the stretch, too, as his net efficiency rating jumped from 1.8 to 8.6.
Dwyane Wade: Who else could it be? Wade did not lead the Heat in any major advanced metric, but he averaged 19 points, 4.6 rebounds and 4.1 assists per game while taking on less of the workload than a season ago. Pat Riley & Co. have made that transition possible through the draft (Winslow, Richardson) and free agency (Johnson, Deng), and fresher legs could serve Wade well if the Heat are going to make a run this postseason.
While he's not the same player he was during his previous three title runs, Wade still owns a 21.2 points per game career postseason scoring average. Charlotte kept him in check in each of the four regular-season meetings, holding him to 11 points twice in the two Heat losses. Time will tell if that's possible — or if it matters — over a seven-game series.
3: In each of the Hornets' three seasons under Steve Clifford, they have led the NBA in defensive rebounding percentage and offensive turnover ratio. They limit possessions and take care of the basketball. It's their calling card.
269: Hassan Whiteside, the 7-footer out of Marshall, led the NBA with 269 blocked shots this season — 92 more than the second-best mark held by DeAndre Jordan. Much has been written about how Whiteside isn't as big of a defensive difference-maker as his gaudy block and rebounding numbers suggest, but he's worth mentioning as an intriguing matchup for the likes of Kaminsky, Cody Zeller and Al Jefferson.
18: The Hornets and Heat both struggled away from home this season. Charlotte's 18 road losses tied the eighth-seeded Detroit Pistons for the most among East playoff teams. Miami's homecourt advantage seems important here.