Dwyane Wade outduels Kemba Walker as Hornets fall in Game 6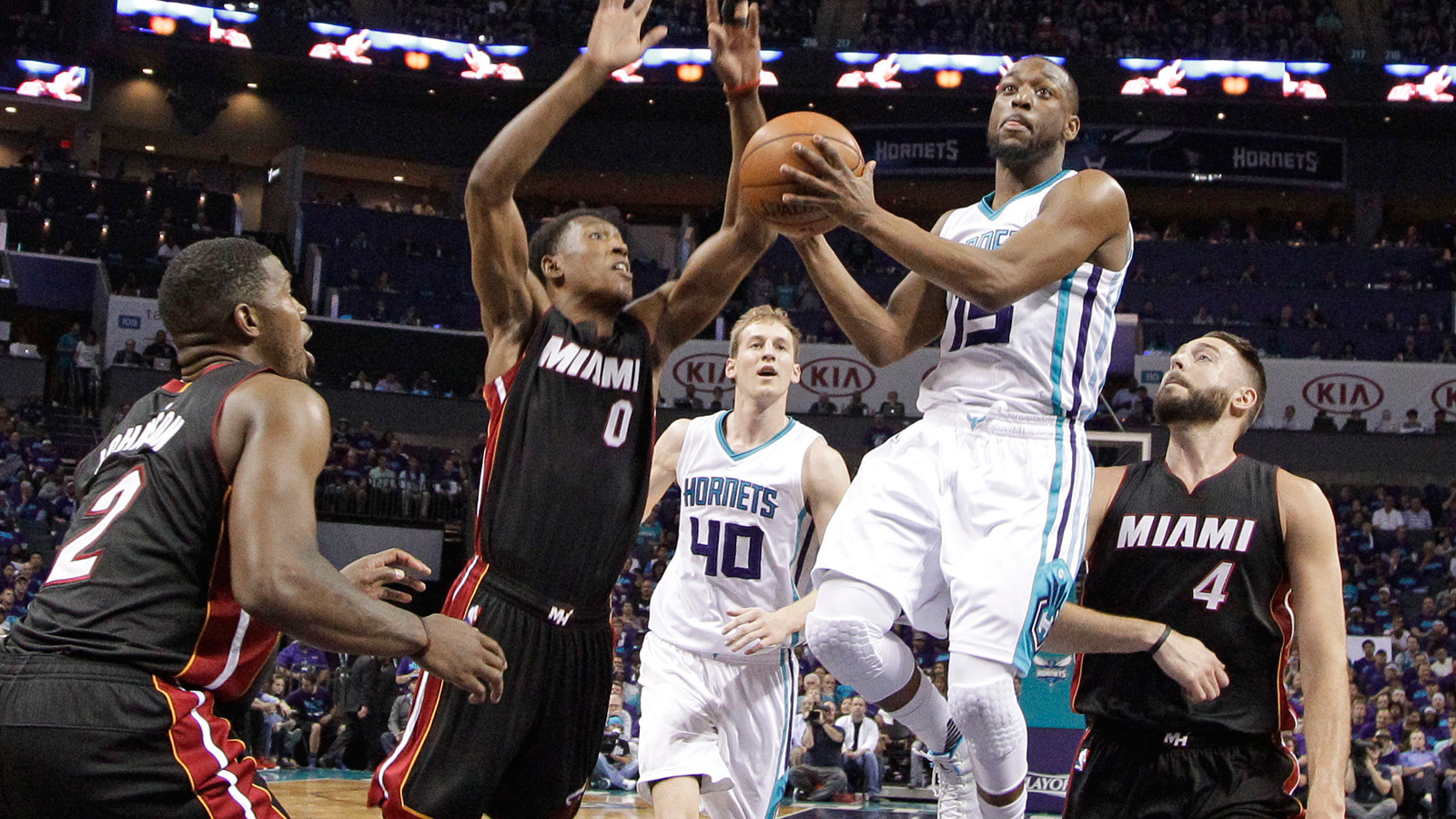 Kemba Walker turned in a Game 6 effort for the Hornets record books.
Dwyane Wade simply came up with a few more daggers.
The Heat's future Hall of Fame guard helped force a Game 7 in Charlotte by coming up with eight of his team's final 10 points to hold off a Walker-led rally, finishing with 23 points in the 97-90 win. Two of his final three field goals hailed from 3-point range — the veteran guard made just seven 3-pointers the entire season, and zero since Dec. 16 — which buried the Hornets' comeback chances and surprised even Hornets coach Steve Clifford and his coaching staff.
"I think he's made four above-the-break 3s all year, if I'm not mistaken, and at like 12 percent. But he's a great player," Clifford said. "Game on the line, Dwyane Wade did was he's done for years. Showed why he's been one of the great competitors and great winners in our league for a long time."
Gameplans occasionally fail. When a 15.9 percent 3-point shooter hits two outside shots in the final three minutes to erase your own star's dominant run, that's an unexpected turn of events. It's one thing if Dwyane Wade beats you — welcome to the playoff club — but when Dwyane Wade circa 2016 beats you from the outside, there's reason to question your luck. Wade said he worked on his outside shot with teammate Dorell Wright after their Game 5 loss; still, just playing the numbers, there's a chance he doesn't make two more 3-pointers the rest of the playoffs … even if the Heat advance.
Added Wade in his postgame news conference: "I've been itching to get a couple (3-pointers) up. The craziest thing is you just never know what happens."
The shots cemented Wade's first win in a road elimination game without the help of LeBron James. Not that his legacy as one of the top 2-guards in NBA history needed further validation.
Kemba Walker's legacy in Charlotte, on the other hand, is just starting to hit its stride.
The franchise's first-round pick in 2011 drew Most Improved Player mention after his career-best season, and, for the most part, he's carried that increased production into the playoffs. And while the Hornets were picking up the pieces following Wade's surprise 3s, Miami's defense was still trying to figure out how to slow down Walker.
"He's a beast, man," Wade said of Walker. "He's hard to guard off that pick-and-roll when he has it going like he had it tonight. And there's only so much you can do."
Added Miami coach Erik Spoelstra: "Look, I thought both our point guards did a great job on Walker. He made big-time plays. He really did. Man, it's not just one thing. It's splitting our pick-and-roll defense, getting into the pain, dishing off, scoring and then 3s. But against very good competition you have to find ways to overcome."
Walker finished with 37 points, joining Glen Rice and Jamal Mashburn as the only players in the Hornets/Bobcats franchise history with 35-plus points in a playoff game. Walker's Game 6 single-game scoring output ranks just behind Rice's outing against the Knicks (39 points) in 1999.
As Wade alluded to, he continues to plague the Heat in Charlotte's two-man game — Walker was the seventh-most efficient player among high-volume pick-and-roll ball handlers this season, sandwiched between Damian Lillard and Reggie Jackson with 0.89 points per possession — and even when longer defenders like Josh Richardson make like difficult, he's navigating narrow paths to the basket.
The problem for Charlotte in Game 6 was finding complementary pieces. With wing Nicolas Batum sidelined again with an ankle injury, only Al Jefferson (18 points) and Cody Zeller (12 points) finished in double figures.
"That's where I have to help more," Clifford said. "I've gotta figure out other ways, especially for Kemba. Without Nic (Batum), he just doesn't get the ball with a lot of room."
Heading back into hostile territory, Charlotte will need another big-time effort from its point guard, more from his supporting cast and, if all goes well, no more Dwyane Wade fourth-quarter 3-pointers.