The most entertaining Wikipedia edits for athletes and sports events
The recent explosion of exuberance for the U.S. men's national soccer team was marked at its height by a new sports tradition: the happy vandalization of a player or team's Wikipedia page to reflect a heroic feat or total humiliation.
After Team USA goalkeeper Tim Howard's epic 16-save performance in a loss to Belgium, someone with a sense of humor modified Howard's page to show that he had become the secretary of defense, reporting to the president. It's one of the best examples of Wikipedia "vandalism" done well — a relatively new tradition we can get behind as long as the edit is creative, entertaining and not distasteful.
Check out the Howard edit and 12 more we enjoyed. Drop a comment if there's a good one we missed.
Someone changed the US Secretary of Defence on Wikipedia to Tim Howard. Fantastic. pic.twitter.com/haPrHWPLjx

— Cam (@_camwba) July 1, 2014
This is not up for debate: #USA #USMNT pic.twitter.com/egye4OA0W2

— FOX Soccer (@FOXSoccer) June 17, 2014
Anyone checked out Brandon Knight's Wikipedia page lately? RIP pic.twitter.com/Wc6S1umjkK

— Garrett Tucker (@GTuckerF150) March 11, 2013
Whoever did this on Wikipedia is a genius… @BIGLON8 what do baseballs taste like? Greatness and America? pic.twitter.com/tylNCXbGQL

— Zak Dietz (@Dietz68) June 10, 2014
@BleacherReport browns new head coach according to Wikipedia. pic.twitter.com/qbuwfeQx3D

— John Hetrick (@hetrick32) December 30, 2013
The Rockets wikipedia page has been updated to show who owns the team. "Damian Lillard" pic.twitter.com/VpF0dNV0OI

— NBA Legion (@MySportsLegion) May 3, 2014
Lol Robert Morris basketball Wikipedia page!!! pic.twitter.com/jSB43p4pbT

— David Flynn (@DFlynnOU) March 20, 2013
As per Wikipedia, Jason Terry died on March 18 2013, due to being dunked on by LeBron James via @crabdribbles pic.twitter.com/FAy7XMMXG8

— Sportando (@sportando) March 19, 2013
I go to Kawhi Leonard's wikipedia page and find this… (in red) pic.twitter.com/ZVcnxmnV0Y

— nathan (@NCohen_DBN) June 16, 2014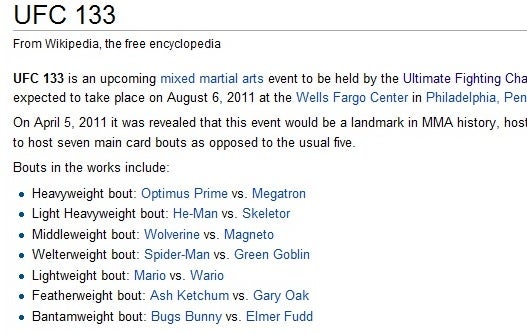 Amazing edit to the Latvian goalie's Wikipedia page is amazing. pic.twitter.com/HQmUNRcfcg

— Sarah Kliff (@sarahkliff) February 19, 2014