All Purpose Playbook: Week 3 NFL survivor pool analysis, fantasy picks and more
Welcome to the All-Purpose Playbook, a Buzzer column that is (1) either a guide to many things NFL and wagering, such as survivor pools and teasers and fantasy football or (2) a roadmap to hell. Check back here on Thursdays for more football picks, a smattering of GIFs and occasional nonsense.
Follow me @brettsmiley on Twitter and you can e-mail me with any questions or comments at basmiley@gmail.com.
"We suck." — Raiders veteran cornerback Charles Woodson, following Oakland's 30-14 home loss to the Texans this past Sunday.
In his honest and accurate postgame remarks, Woodson also described the team's performance multiple times as "embarrassing" and lamented that "every drive, every first drive, teams are able to go and get points." Woodson also said "we look bad" and "we're not very good," which isn't quite as severe as sucking, but not encouraging.
Yes! This is exactly the kind of talk you want to hear from a member of your survivor pick's opponent. This is also quite obvious.
In FOX Survivor pools right now, 38 percent of players have tabbed the 14.5-point favorite New England Patriots to send Woodson into another soul-searching dissection of the lowly Raiders at Gillette Stadium Sunday afternoon. A much more pronounced 65 percent of Yahoo! poolsters have chosen the Pats.
You should be one of them. It won't make for an exciting survivor experience on Sunday, since as much as two-thirds of your pool may be crowded onto one ship, but it's better than stepping onto a shoddy wooden vessel coming off short rest, even if the Indianapolis Colts are playing the league's other laughingstock, the Jacksonville Jaguars. (more on that to come)
Sometimes it's good to zig when the rest of the pool zags but Week 3 is not yet the time, not when you have the rookie quarterback-led Raiders traveling cross-country for the Patriots' home opener, of which the Patriots have won 11 of past its past 12. Last time the Pats fell in their home opener was Week 2 in 2012 . . . actually, uh oh.
The Patriots were huge 13.5-point favorites over the mediocre post-Warner Arizona Cardinals with Kevin Kolb under center. And Kolb, who one year earlier duped desperate Arizona into a five-year contract for about $64 million with $21 million guaranteed, had lost the starter's job during the preseason to backup John Skelton who was sidelined with a sprained ankle.
Spoiler: The Cardinals upset the Patriots 20-18. The Cardinals mounted a 20-9 fourth quarter lead as millions of poolsters decomposed before their televisions. Rattled fans briefly came back to life when Tom Brady mounted a comeback, but then they melted in a puddle of despair when Pats kicker Stephen Gostkowski sent the would-be 42-yard winning field goal wide left as time expired. Step into the time machine:
Wow! The #Arizona Cardinals lead the #Patriots as the 3rd quarter is coming to a close. Survivor leagues will be over!

— Tom Oestreich (@TomOestreich) September 16, 2012
Majority of survivor pool players in trouble Week 2 with #Patriots.Those #betting on NE too.Big upset brewin'. Cardinals lead 20-9 4th qtr

— Fairway Jay (@FairwayJay) September 16, 2012
He missed it! Patriots lose to the Cardinals! And countless Survivor participants are out.

— Jeff Borzello (@jeffborzello) September 16, 2012
Fun fact of the day: approximately 50% of all Survivor Pool players were ELIMINATED by Patriots loss to Cardinals. (@RJinVegas)

— Ben Maller (@benmaller) September 17, 2012
So, should you be a least a tiny bit concerned that New England may come out flat, and that this all seems a bit too obvious?
No. The Raiders are terrible and their league-worst rush defense may have to go to battle without starting linebackers Sio Moore (ankle) and Nick Roach (concussion).
Still, there are no locks in the NFL. What if the Patriots fumble as many times this week as Roger Goodell?
But seriously, take the Patriots, people!!! A final word on this from Forrest Gump, sponsored by mixed messages:
As for everyone else: I see the Colts as the second-most popular FOX survivor pick at 18 percent (crazy), followed by the Falcons at 12 percent (less crazy, but still crazy) and the Saints at 9 percent (yes!).
This is about as far as I can make it without humble-bragging about my strong words of caution last week about taking the Saints on the road at Cleveland. Refer back to the handy Saints chart I made, because I think the Saints are the second-best option for those of you in multiple survivor pools who don't want to invest 100 percent in the Patriots this week. The Saints are a different team on the turf inside the Superdome.
They draw the embattled, Adrian Peterson-less Minnesota Vikings for their home opener on Sunday and I think they're going to . . . must choose words carefully . . . win convincingly.
As for the Colts at the Jaguars: you're just asking for trouble with that pick. I won't go so far to say that Jacksonville will win or even cover, but they're familiar divisional foes and a Jaguars win wouldn't be shocking. Avoid taking road teams until you run out of better options.
They're not an underdog by much but the Cleveland Browns (+1.5, your mileage may vary, I'm going off the current Vegas lines) are a home dog, the best kind of dog. Same underdog pick as last week, too. I'm just going to ride the Browns Gravy Train until it derails. Choo choo!!!
eturned to practice and may suit up on Sunday.
Ravens head coach John Harbaugh is curious about Cameron's status, too. "Can I ask you guys a question?" the coach asked when Cameron's name came up during a call with local reporters. "Did he practice today? Looking for some injury information."
Baltimore's offensive line has played better than expected in Gary Kubiak's new zone blocking scheme and made lots of lanes for Justin Forsett and Bernard Pierce.
Generally I don't this kind of trend information spanning many years in the past, but for the sake of confirmation bias: Since returning as an expansion team in 1999 the Cleveland Browns are 12-2-1 ATS in their 2nd home game of the season." Sounds great!
If Cleveland doesn't do a better job against the run (both the Saints and Steelers ripped them on the ground), I'm going to dive — not step — off the gravy train.
As of this writing (Thursday afternoon), 73% percentage of spread bets are on the Ravens, according to SportsInsights. Like I said, no respect.
NFL teams receiving 40% or less of bets are now 15-6 against the spread this season.

— SportsInsights.com (@SportsInsights) September 15, 2014
Let's go Brownies, +1.5!
Please go here if you need an explanation on how teaser bets work. Here I'm picking a two-team, six-point teaser)
Last week's teaser was over before it started. I pegged the Vikings at +9 before the Adrian Peterson child abuse case began to unfold. The other half of the teaser was doomed, too: I both overestimated the Seahawks on the road and the Chargers in general. Week 3 means we have more information, so better things ahead.
This week I'd like to start buttering some bread with the winless (oh, no) Kansas City Chiefs (+4.5) visiting sunny Miami. The 2014 Chiefs are looking more like the team that lost six of its final eight games last season (playoffs included) than the squad that reeled off nine wins to open its campaign. Their best player, running back Jamaal Charles (ankle), is banged up though he surprisingly returned to practice on Thursday; his backup Knile Davis showed some flashes and ran well in relief.
Miami has a formidable front seven led by defensive end Cameron Wake but on the other side of the ball, running back Knowshon Moreno is out and backup Lamar Miller is nursing an ankle injury. Most importantly, however, quarterback Ryan Tannehill continues to look inaccurate and wobbly and took four more sacks last week in Buffalo.
The Chiefs defense gave the Broncos a bit of a scare last Sunday and didn't allow Peyton Manning to shred them too badly (held Denver to 3-8 on third downs), so I think they can contain Tannehill who's got lesser weapons on the outside. Give the Chiefs +6 in a tease, and they move past a key number to +10.5.
Let's make a match out in Arizona where the Drew Stanton-led Cardinals are getting 2.5 points (+3 in some places) at home against divisional rival San Francisco 49ers. First off, Arizona's defense is pretty solid. It helped last week that the Giants activated DESEAN JACKSON PUNT RETURN MODE for its special teams units, basically giving the game away.
But Calais Campbell is a beast on the defensive line and that unit can shut down any running game. The Cardinals will probably pressure Kaepernick into forcing the ball into coverage, as he is prone to do. Kaepernick also hails from the Plaxico Burress school of palming the ball like a loaf of bread and holding it out when he's running, which remains terrifying to watch as a fantasy owner.
Also, Vernon Davis will probably be out for the Niners.
The 49ers may win a close one but kick the line to +8.5 for the Cardinals and I think (read: pray) it should work.
So it's: KC +10.5, ARZ +8.5
(Teaser picks this season: 1-1)
Throw in the Cincinnati Bengals, currently -7. Six points in the teaser move them to -1. They may not cover the spread but they will win.
Start: Jeremy Hill (Bengals, RB) — The rookie bruiser is no secret anymore but it's tricky when you have him as a Giovani Bernard handcuff and have to worry about the timeshare. The Cowboys wrecked the Titans on the ground last week. Bengals offensive coordinator Hue Jackson called Bernard and Hill a tandem and I think if you have them both, start them both this week, unless you have a clear RB2. Who remembers the days of starting both Priest Holmes and Larry Johnson for a combined 40-plus fantasy points?
Let's go under 53 on GB-DEN.
Last Saturday my wife Michele and I held a birthday party for our 6-year-old. His name is Chief, a boisterous, active English bulldog.
"Oh my God, this is like a real thing" our friend Jamie exclaimed when she walked into the room cover with banners, table settings, balloons, signs, catered food and party hats.
It was the real deal. For years we talked about throwing him a party with all his favorite people — the "dog people" — a subset of folks like who like dogs, who probably like dogs more than they like humans.
This year Chief's birthday happened to fall on a Saturday. No excuses. I had heard of birthday parties for dogs but never attended one.
Chief waited at the stairs with a party hat and a Giants jersey greeting guests one by one. About a dozen of our friends and family who know him well joined us and he whizzed around the living room from human to human until he got so tired that he almost fell asleep on his birthday treat — a cup of FrostyPaws ice cream with a cookie on top. Yeah, we all sung "Happy Birthday to You."
One of the inescapable truths simmering in my mind, some motivation for actually doing it, is that dogs don't get very long on this Earth. It's unpleasant to think about and to write. I wanted to make sure Chief got his damn party, however crazy it may seem.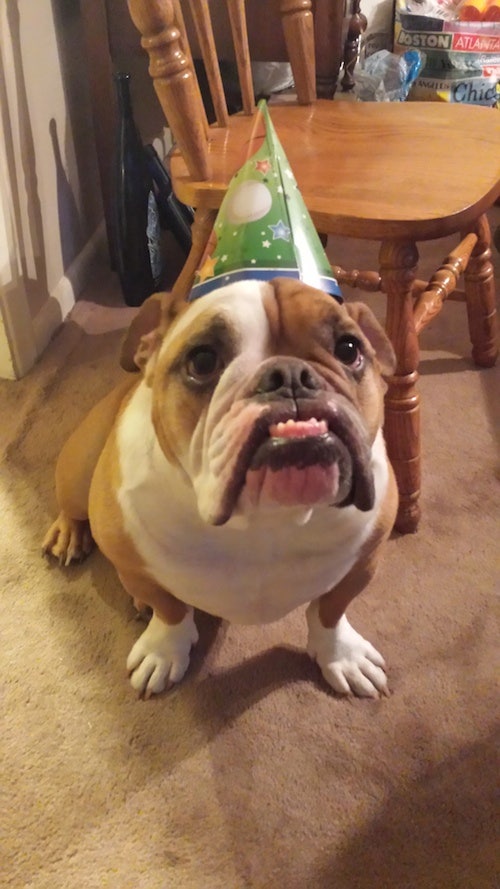 I want every moment of his furry life to be packed with as much happiness as he brings me.
As for my emotional well-being, well, I'm banking on the Browns again this weekend.