Video of Rodman and Americans in N. Korea is painfully awkward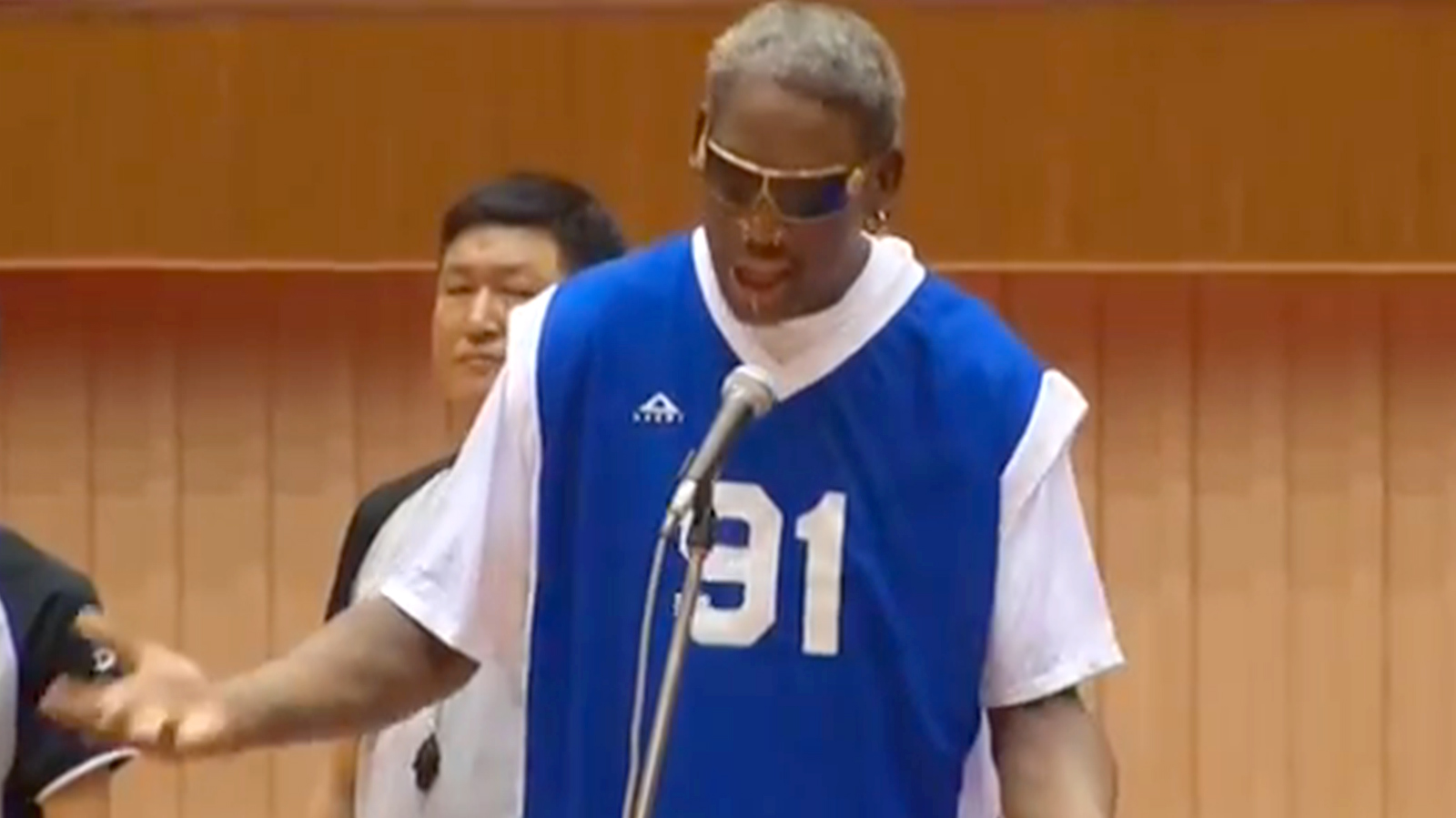 As the Worm turns has turned into a daily day-time soap opera.
By now you're probably aware of the extremely strange, outraged interview Dennis Rodman did on Tuesday.
In case you're not, here's a snippet of that.
Yeah, so just when you thought things couldn't get any weirder, here are some clips from the game that was played. Give it a watch and when you're done cringing, we're going to do some play-by-play on what we just saw.
OK, so let's do a little review here:
12 seconds: This is a pretty ominous start to the video. These fans don't seem to know what's going on, or whether to cheer or sit on their hands. Clearly, there is no Del Taco giveaway if the home team holds the Americans under 100 points.
18 seconds: Cue up Rodman's rendition of "Happy Birthday" for his "friend" and North Korean leader Kim Jong Un. Not only is Rodman way off key, the crowd probably starts clapping to drown him out. The looks of "this is not what I signed up for" on the faces of the American team says it all. Then Rodman wraps it up and doesn't quite seem to know what to do with himself and takes an awkward bow. It wasn't quite this:
1:10: It looks like someone just hit the applause sign and these fans know they're on camera – or being watched. The guy in front doesn't know whether to stand or sit and clap. Notice, there are only about three people actually smiling, but they're all clapping.
1:33: We see a similar shot of the crowd. Everyone is clapping but no one seems to actually be enjoying themselves. This is what Knicks fans look like these days at the Garden, minus the clapping.
1:39: Here's our boy Rodman back to philosophize. "This is a very historical day today for everyone in the world." Yup, we'll rank this exhibition basketball game right up there with the Geneva Convention.
2:12: Trophies and medals are handed out by Rodman (who is no longer playing), but somewhere along the way Vin Baker looks to have swapped jerseys and started playing with the North Koreans. We're guessing at some point the teams were mixed up. Either way, with no box score, we're going to assume the Americans let the home team win.
2:24: "It all just worked out," says Charles Smith, who sounds like he wants to cry — if he hasn't already. He also seems to be looking around to see if he's being watched.
In addition to Smith, members of Rodman's team included former NBA players and ex-All Stars Kenny Anderson, Cliff Robinson and Vin Baker. Also on the roster were Craig Hodges, Doug Christie and four streetballers.