Johnny Manziel's Pro Day causes Twitter to go crazy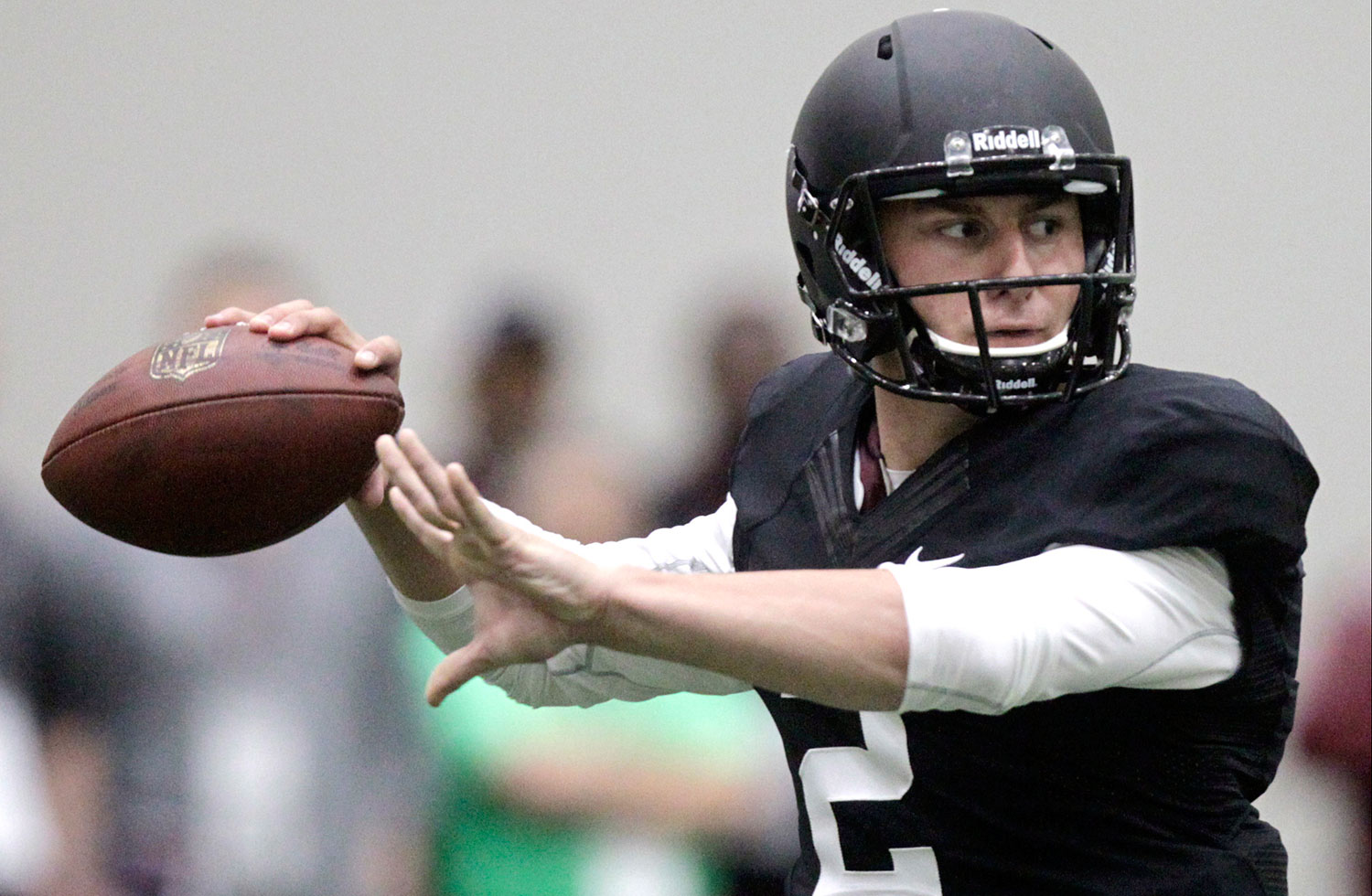 Johnny Manziel's Pro Day took place earlier.
You may have heard about it.
The tweets about it were coming in fast and furious.
Everyone had an opinion. Some people lost their minds. A good time was had by all.
Let's take a journey through Manziel's Pro Day via some tweets.
Packers quarterback Aaron Rodgers set the tone early.
Crazy to see how the coverage of pro days has changed in 9 years.

— Aaron Rodgers (@AaronRodgers12) March 27, 2014
New York Daily News writer Peter Botte put it all in perspective.
Johnny Manziel's pro day AND Taco Bell now serving breakfast. Historic day.

— Peter Botte (@PeterBotte) March 27, 2014
NFL writers were actually analyzing these passes even though there was no defense and it wasn't during a game and … oh, you get the picture.
Manziel's first incompletion — catchable but not perfect — comes on a deep dig.

— Albert Breer (@AlbertBreer) March 27, 2014
Of course, with something this big, you have to make money off of it.
The future starts today. Don't get left behind. The @JManziel2 Pro Day Collection http://t.co/B6TDicu0db pic.twitter.com/GFp2raByoV

— Nike.com (@nikestore) March 27,

2014
Wait, back to Aaron Rodgers. He wasn't happy with the coverage.
2 of the 3 guys commenting on this workout right now have opinions that shouldn't be taken very seriously.

— Aaron Rodgers (@AaronRodgers12) March 27, 2014
Then, experts analyzed Manziel's performance. Wait, he has nothing to with football.
Jim Boeheim on Johnny Manziel: "He's going to be a great NFL quarterback.. he has great drive and competitiveness" #ScheinOnSports

— Mad Dog Sports Radio (@MadDogRadio) March 27, 2014
Wait, he has nothing to do with football.
Just finished watching my bro @JManziel2 pro day!! Don't take him if u want 2. He's a flat out STAR! Accuracy on point! #StriveForGreatness

— LeBron James (@KingJames) March 27, 2014
Wait, he threw 12 touchdowns and 18 interceptions in his career.
Would of liked to seen more deep outs and comebacks. Those are my only complaints.

— Chris Simms (@CSimmsQB) March 27, 2014
OK, finally an NFL quarterback weighed in.
Johnny Manziel will be a star in the NFL. I can't wait to watch him play!!!!

— Mike Vick (@MikeVick) March 27, 2014
And this was how Manziel's crazy day ended.
With @JManziel2 before his pro day @TAMU. I could have used this helmet in my previous day job. pic.twitter.com/m0QvMR1GHe

— George Bush (@GeorgeHWBush) March 27, 2014